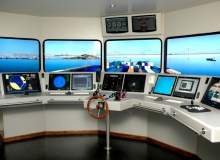 VSTEP , a leading European developer of simulators and virtual training software, is currently making a big splash in the shipping industry with its cost-effective DNV-certified maritime training solution: NAUTIS. Starting at desktop trainer level and scaling all the way up to Class A simulators, the software is based on the latest PC graphics technology, allowing NAUTIS to offer realistic and intricately-designed scenarios and environments for a fraction of the cost of traditional simulation equipment. This is possible because the equipment needed to power the software is simply a desktop PC, and the screens required for the display are standard LCD flat screens.
Redefining maritime simulation
"We have redefined the whole concept for maritime simulation," says Pjotr van Schothorst, VSTEP's chief technology officer. "We make products that are running on standard PCs, Windows 7, and have downscaled the technology to a level that everybody can understand."
This has meant that clients – the company's customer base is rapidly expanding all over the world – can source most of the hardware locally. They can buy the PCs, the screens and create the bridge consoles locally, so the only items of the simulator that have to be shipped in are the software and the ship control boxes, making delivery and installation straightforward anywhere in the world.
The ease of installation, the enormous improvement of graphics and lower purchase price means that VSTEP is seeing a lot of interest from the developing economies in South America and Asia. "This is where new seafarers are coming from," says Schothorst. "They want to have local schools, they don't want to pay too much and they don't like complex technology – so that's where we come in."
NAUTIS simulators allow complete training of a wide range of maritime skill areas: navigation, passage planning and execution, ship handling and manoeuvring, collision avoidance regulations, navigation in confined waters and open sea tug assistance. It also offers simulations for emergency response, such as Search and Rescue (SAR) and Man Over Board (MOB), as well as bridge team and general ship management.
---
---
The recent rescue of 52 scientists from a vessel trapped in Antarctic ice has brought icebreakers into the spotlight.
---
Traditionally complex simulators
Schothorst explains that traditional simulators being sold 10-15 years ago were focusing on the Western European and US markets, where at that time the largest maritime schools were located. "Those countries could handle a great deal of complex technology, and they were used to paying a lot of money for their simulation equipment," he says.
At that time there were only a few big players globally with very expensive solutions, he explains, and a full mission bridge set up could cost something in the region of €2-3 million due to the need for exact replicas of bridges, complex installations and projection systems for the view around the ship.
But when the new generation of PC graphics and TV display technology penetrated the market, VSTEP saw an opportunity to use these for the delivery of training applications – not just for the maritime industry, but also for other sectors of society, such as fire fighters and first responders.
"VSTEP was started 12 years ago with the concept of using the new generation PC gaming technology for the delivery of training applications," says Schothorst, who explains that VSTEP was approached by the maritime industry which suggested it could play a role – so the VSTEP team initially started by introducing the desktop trainers.
Game-changing DNV certification
"We have redefined the whole concept for maritime simulation."
Schothorst describes the company's first maritime customers as "visionary", but most clients were more suspicious than seduced by the fact that such realistic scenarios could be run from a standard PC. "They thought that it must be more like a game and not good enough for big ship training," says Schothorst. But once VSTEP gained DNV Class A certification – confirmation from the world's largest ship and offshore classification society and world-leading provider of testing and certification – it was a turning point that the company has never looked back from.
The entire product line comprises: desktop trainers, console trainers, DNV Class A and B Full Mission Bridge Simulators, OSV simulators and tug simulators. The cost starts at the entry level desktop simulator at around €10,000 (for which a couple of screens and a PC are required) and goes up to a full mission bridge simulator, for which entry level for the Class A type costs less than €250,000 – dependent upon what features are required (different modules, ports and extra functionality can be implemented).
But when you compare this with the cost of the traditional equipment, the difference is significant. "We have a Dutch School that's already a client from one of our competitors and they needed to upgrade the projectors for their bridge simulator, which alone was €400,000," says Schothorst. "A large ship bridge replica and a cylindrical projection system for the outside view around it used to cost a couple of million as a new building was designed and built for it, but for the cost of that one projector upgrade the client could have had two new NAUTIS' bridges or a whole classroom of desktop trainers in the same space."
Maintaining a competitive edge
One client, Miclyn Express Offshore Singapore – a leading provider of service vessels to the offshore oil and gas industry – recently purchased a NAUTIS Offshore Supply Vessel Simulator and the company was so impressed by the 240-degree field of view, that it bought another.
But although client stories like this are common, and VSTEP is benefiting from the continual advancement of graphics cards and large-size, low cost LCD displays, its competitors are also benefiting, so how can VSTEP now keep hold of its competitive edge?
Schothorst says the competition is not as advanced with its PC and software technology as VSTEP is. "For example, usually for desk simulators you have to buy one PC per screen, so if the Class A simulator has seven outside view screens, seven navigation displays, two overhead panels, plus some screens for the instructor control station, you will need around 22 screens," he says. "In that case, traditionally you'd need 22 PCs, but our client would need just three PCs – that also means less complexity, less cabling, less maintenance, and so on."
---
---
With ECA limits due to change for SOx at the start of 2015 ship owners are being forced to consider a range of solutions.
---
Another area where VSTEP have the edge is through the relative ease of software customisation. The company is just about to launch a port creation tool which allows customers to create ports from scratch. "Someone with experience of a 3D tool, like 3D Studio Max, would find it very easy to learn," says Schothorst, adding that in the past it cost around €100,000 to outsource the creation of one port. "It is a completely new tool where everything from trees to houses and cranes can be added to make a lookalike port in a very easy drag and drop kind of fashion."
The cost of the application is less than the price of just one port the old way, meaning money is saved on just one port not being outsourced. "This tool is also useful for port authorities who wish to undertake cost-effective port modification study work," he says.
Another application currently in development targets the offshore industry and supports offshore vessel training, ice navigation, and incident management for offshore platforms. Passenger evacuation software – to help manage disasters and avoid accidents such as the Costa Concordia incident – is also in development. This uses technology of the Crowd Control Trainer that VSTEP recently developed – although it will take another year before this new product is on the market.
"In the future you'll see products where the same crowd technology – thousands of virtual humans acting the wrong way with their own intelligence – will come on the market as evacuation training tools," says Schothorst. "I don't think our competitors are close to even thinking about it, as it's so different from the maritime training, but as we have this technology in-house, we will definitely be using it for future products."