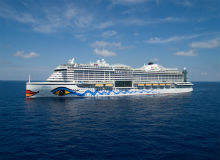 It is not uncommon to see organisations pool their resources and talent, most of the time in recognition of the fact that going it alone makes the task considerably harder. In the maritime industry, shipping alliances are the popular choice of the day as companies strive to lower costs. The SEA/LNG coalition, however, is a call to action, one that is saying loudly: 'Let's make LNG the marine fuel of the future'.
It is a diverse group, bringing together suppliers such as Shell and QatarGas with shipowners Carnival Corporation and TOTE , as well as Lloyd's Register and DNV GL, and GE and Wärtsilä. In total 14 organisations have signed up. In numerous press releases they all more or less give the same reasons for their participation: LNG poses many complex and global questions, which therefore require smart and collective answers.
US shipowner Tote's executive vice president and SEA/LNG coalition chair Peter Keller said in July: "SEALNG aims to address market barriers and help transform the use of LNG as a marine fuel into a global reality."
This is a bold statement and one that resonates throughout the industry as it attempts to play a meaningful role in cutting global emissions.
Demystifying LNG and spreading awareness
"I think for us what was interesting is that we saw there was need to have a broader group," says Carnival Corporation's senior vice president of maritime affairs Tom Strang. "This isn't just end users or LNG suppliers; the intent is really to bring in everybody."
SEA/LNG has a broad remit; one that is likely to change as time passes. For now, the main focus is on the development of LNG bunkering infrastructure (more on that later), educating people on why they should move to LNG, spreading awareness of what it is and its benefits (and risks) and how regulations can help.
"The SEA/LNG coalition consists of 14 organisations."
For Strang, one of the tasks is to demystify some of the conjecture that surrounds LNG. "If you look out there, there are a lot of questions, but also myths that need to be broken," he says. "There's an education process that needs to take place."
It is not because of a lack of media coverage in the trade press. LNG is a hot topic, regularly filling column inches and website home pages. Despite this, some accept that things have not moved as quickly as expected.
"Yeah, I would agree with that," says Wärtsilä vice president of flow and gas solutions Timo Koponen, when asked if he thinks progress has been slow. "That is one of the reasons why this coalition has been established."
So, what is the current state of the LNG market?
The world LNG fleet and infrastructure
First, let's look at the global fleet. Last April, Tote, in partnership with General Dynamics NASSCO , launched the world's first LNG-powered containership, the Isla Bella. More recently, Carnival Corporation unveiled the AIDAprima, defined as the "first cruise ship in the world with a dual-fuel engine that can be powered by LNG while in port". Strang also highlights how the company has recently ordered four ships from MEYER WERFT that will use LNG as a fuel.
Looking at the industry more broadly, research from DNV GL, updated in June, shows 79 LNG-fuelled ships in operation worldwide, with a further 90 LNG newbuilds in the pipeline. That 79 is an increase from 56 in 2014, while back in 2011 the number was only 25.
The creation of new LNG bunkering facilities is also picking up steam. Among many examples is the Blue Baltics project, an attempt to expand the bunkering network across the Baltic Sea. This has received support from the European Union's Connecting Europe Facility and is expected to be complete by the end of 2019.
In addition, South Korea has announced its intention to become a bunkering hub. "The government will take necessary measures for LNG bunkering," Lee Kwan-Sup, vice minister of trade, industry and energy, said in July.
At the time of writing, the Port of Rotterdam is set for its first LNG bunkering operation in August (the port is also part of the SEA/LNG coalition). In the US, Tote completed its first LNG bunkering on the MV Isla Bella in January, using a specially developed transfer skid technique.
There has been some progress, then. "It's like any new technology; you don't enter into and try to do things too quickly," explains Strang. "If I look at the predictions five years ago, there was a feeling – with the new emission regulations and the way the price of oil seemed to be going – that LNG was a no brainer in many respects."
Challenges: the price of oil and building infrastructure
The birth of the SEA/LNG coalition should not be viewed as an indicator that LNG is no longer "a no brainer"; rather that overcoming the challenges ahead needs industry-wide thinking. The main sticking point is a lack of infrastructure. The industry needs more LNG bunkering facilities.
"Today, the main challenges in introducing LNG are not the technological and legal hurdles, but the logistics and availability of LNG," says DNV GL's business director for LNG-fuelled ships Gerd-Michael Würsig.
Added to this is the fall in oil price, according to Würsig. "The recent significant drop in oil price is [also] causing…uncertainties for investment decisions in LNG as a shipping fuel," he says.
"The challenge will be to harmonise bunker procedures."
Strang agrees: "I think if you looked two or three years ago, where you saw predictions of where fuel prices would be and where they are today, there's a big disconnect," he says. "Consequently, it's more challenging to make a business case now than it was."
What is the answer? On infrastructure, Strang sees a need for small-scale LNG facilities, as opposed to just large terminals. Koponen, meanwhile, underlines the necessity of standardisation, so "when you sail to certain areas, you can be sure that the bunkering is at least similar [to other places]".
Maarten Bekaert , also from DNV GL's LNG team, adds: "Collaboration with ports is essential as the storage of LNG and the fuelling of ships will become a standard practice for ports. The challenge will be to harmonise bunker procedures between ports to avoid confusion caused by complying with different port regulations."
LNG's future in shipping
The success of the SEA/LNG coalition will be determined not in the next few months but in the years to come. The number of LNG ships, bunkering options, a cut in industry-wide emissions – all will feature when it comes to measuring what has been achieved.
As such, the time will come when there's a need to move away from rhetoric, says Strang. "Very often people talk about projects and there's a theoretical answer," he adds. "If we can show what is being done and achieved with hard data that tends to send a much more powerful message.
"In some respect, we're leading the charge. It's exciting to be on the cutting edge but also a bit daunting. We continue to learn through the process, and we hope that by being a leader in this space will be able to identify best practices and continue to build up the infrastructure for the future."
In truth, no-one knows for sure just how quickly LNG use will spread. But, there's no doubt that it has won the argument on whether or it not it will at least play a part in the fuel mix of the future.
"Of course," says Koponen, "the million dollar question is: where does it go [from here]? There are elements that are beyond the control of any coalition, such as the price of oil."
Nonetheless, LNG, says Bekaert, does have "the potential to become the most relevant fuel for environmentally-sustainable shipping". SEA/LNG's work to realise that potential has only just begun.