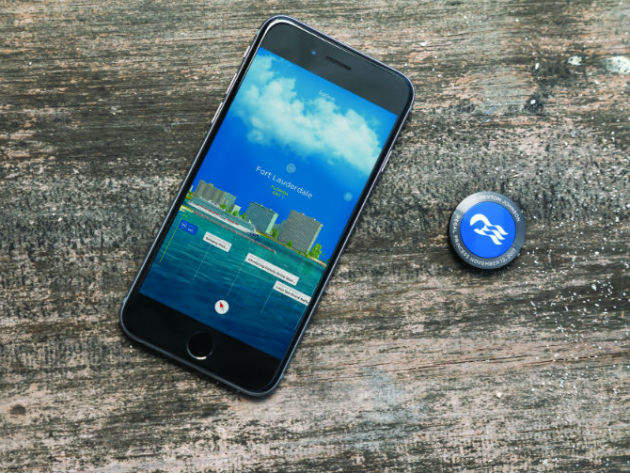 Medallion" class="fullwidth" src="https://www.ship-technology.com/wp-content/uploads/image-digitalinsightresearch/Active/2016Q3/2.NRI/Ship/Features/OM ship.jpg" />
The Ocean Medallion is a quarter-sized, 1.8 ounce disc. It has no on-off switch, no charging point, or menu to navigate. From a design perspective, it doesn't look all that futuristic. There's nothing spectacular about its exterior.
With the Medallion, it's all about what happens on the inside, and wirelessly through the airwaves. It can be worn as a pendant, on a wristband, in a clip or placed in a pocket and learns about its host to create what Carnival says is a first-of-its-kind experience.
The wearable was unveiled at CES 2017, a global consumer electronics and consumer technology tradeshow, held in Las Vegas in January. "It provides the physical connection to unique digital experiences that will allow guests to maximise their vacation," explains John Padgett, Carnival's chief customer experience officer.
But just how powerful is the technology? And, can it really personalise every trip, for every passenger? We spoke to Padgett to find out.
Gary Peters: In a nutshell, what is the Ocean Medallion?
John Padgett: The Ocean Medallion is at the heart of Carnival's new guest experience initiative, One Cruise Experience Access Network, or OCEAN.
[It's there to] provide personalised experiences without guests having to push a button or take any action. The device – laser-etched with the guest's name, ship and date of sailing – is provided to all passengers at no cost.
Inside each one are multiple communication technologies, including near field communication (NFC) and Bluetooth low energy (BLE). The device communicates with thousands of readers and sensors that recognise guests as they pass by, both onboard and in other facilities, including buses, cruise terminals and select ports of call.
GP: What are its key features?
JP: It elevates the experience to a level never before considered possible, including food and beverage on demand, anytime, anywhere interactive gaming, personalised entertainment, sophisticated wayfinding and much more.
And while it's a highly technologically advanced device, to the guest the technology is indiscernible. The device itself is non-invasive. It's simple. No swipes or taps are required.
GP: How is it different to other wearables, such as Royal Caribbean's Wow Bands?
JP: Ocean Medallion fundamentally changes interaction, starting long before guests even step foot aboard our ship.
We believe it is special because it is contactless. The guest doesn't touch anything or need to remember anything. A Medallion-class voyage will be different in literally every aspect.
It's also important to note that this includes Ocean Ready, which streamlines the planning process, facilitates travel logistics and makes embarkation day a more seamless experience.
Ocean Ready guests traveling with their Ocean Medallion will be recognised by crew members at the airport upon arrival and travel to the port in comfort aboard OceanLand Express motor coaches. Upon arrival at the port, guests who are fully Ocean Ready will be able to board the ship, as their Ocean Medallion also serves as the key to their room.
[It] was designed to transform every aspect of cruising.
GP: Is this a one-off gimmick or a fundamental shift?
JP: This is a significant advancement. More and more surveys are showing that consumers are demanding personalisation. Ocean Medallion has the power to bring about substantial change, not just in cruising around the world, but throughout all of the hospitality and travel sectors.
The technology is the enabler, but in the hospitality business everything is ultimately about people. This will succeed because it's focused on the human dynamic – how our crew interacts with guests, how guests interact with each other and how every experience takes place.
GP: From a technical point of view, how does it work?
JP: It interacts with thousands of readers and sensors. That data is shared with the Ocean Compass system, which allows crew members to recognise guests and know their preferences from profiles they've previously provided, as well as activity from prior cruises.
The personalisation is powered by xiOS – the Experience Innovation Operating System – an invisible network of interactive intelligent sensors and embedded devices mounted throughout the ship, cruise terminals and select ports. It uses an Internet of Things approach.
GP: What's the cost of introducing the technology?
JP: We are not sharing the investment costs at this time, but it does involve a substantial investment.
GP: What modifications will you need to undertake on the Regal Princess in preparation for the launch in November?
JP: [The] ship will feature more than 4,000 interactive portals, including touchscreen TVs in guest staterooms. But that's just the tip of the iceberg. We will be installing thousands of feet of cable throughout the entire ship, and virtually every aspect will be updated.
The task is to transform the entire Regal Princess into an Ocean Medallion-class ship without taking the ship out of commission even one day beyond its normal service and operation.
GP: Any plans to launch the Medallion on other ships in the near future?
JP: [It will extend to the] Royal Princess and Caribbean Princess in early 2018.
We plan to roll out the Ocean Medallion-class across the entire Princess Cruises fleet over multiple years. Following this, Ocean Medallion-class cruises will be available to all brands under the Carnival Corporation umbrella.
GP: How about security? How can passengers be sure their information is safe?
JP: The Ocean Medallion contains no personal information. Each Ocean Medallion is associated with a guest profile that contains the guest's on-board security picture.
Crew members will have systems that recognise every guest and provides the photograph associated with each Medallion. If that picture does not match a guest when a purchase is being made or when someone other than the original guest is nearby, access will not be granted and purchases cannot be made. Additionally, anyone who loses or misplaces their Ocean Medallion can contact any crew member at any time to get a new one.
In terms of security, the Ocean Medallion exceeds security of all current state cruise industry media. It contains no specific or personal digital information, unlike magnetic stripe cards. It is essentially an individual license plate with a non-meaningful encrypted number. The encryption exceeds the security levels used in financial institutions and passports.
Not unlike a magnetic key card, there is always a risk of loss or theft. However, the Medallion has multiple advantages compared to magnetic key cards. It can be deactivated immediately by the guest or any appropriate crew member. As well as this, all Ocean Medallion-class guest information is encrypted and anonymised. The most advanced software security models, tools and methods are fundamental to the Ocean Medallion-class.
GP: Do you think we will see more gadgets of this ilk emerge in the cruise market over the coming years?
JP: The Ocean ecosystem and Ocean Medallion establish a new standard. We believe we are at the forefront of this transformation. Since we made our announcement in January, we have seen much interest in our guest experience platform. We believe this is just the beginning.