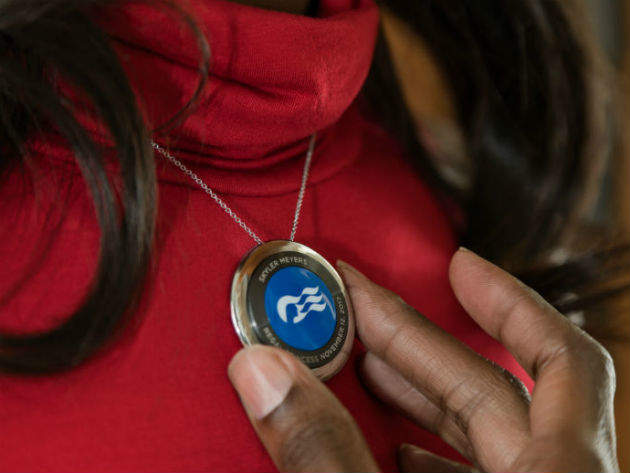 The Ocean Medallion has received big billing. Defined by Carnival as a "game-changing guest experience", this wearable gadget aims to bring a touch of personalisation to cruising.
To be worn as a necklace, clip or keychain, or carried in a pocket, the 1.8-ounce disc connects to an Internet of Things (IoT) network and uses near field communication (NFC) and Bluetooth low energy (BLE) to interact with onboard sensors.
The Medallion does not have an on/off switch or menu. Instead, Carnival promises that passengers will barely notice it is there, although it will have their name, ship and sail date listed. "They're not going to realise how much [technology] is in here," the company said.
Guests will be able to unlock cabins by simply approaching the door, locate friends and family around the cruise ship, personalise meals based on dietary requirements, and purchase merchandise, among other things. And, the more passengers do on the ship and the more they use the device, the more the Ocean Medallion learns about likes and dislikes; in a sense 'knowing' who the passenger is on a far more intimate level.
"I think initially most people won't comprehend it," said Carnival president and CEO Arnold Donald, earlier this year. "And they will say, 'we have stuff like that' and they are wrong. They don't."
So then, what features define the Ocean Medallion? And, could we see more gadgets of this ilk emerge in the cruise market over the coming years, or is it a temporary fad?
'Recognising' the passenger
Ocean Medallion was formally launched at CES 2017, a global consumer electronics and consumer technology tradeshow, held in Las Vegas in January. Here, it is seen in its necklace form, with the passenger name, vessel and date of voyage visible. During his keynote speech at the event, Donald said: "With this interactive technology platform, we are poised to have our global cruise line brands at the vanguard of forever changing the guest experience paradigm – not just in the cruise industry but in the larger vacation market and potentially other industries." Carnival has also announced that each passenger will receive their medallion for free.
"The device interacts with onboard sensors."
Carnival is keen to push the flexibility of the device, highlighting that is comfortable to wear and easy to use. While the development of the technology is of course paramount to the success of the Medallion, making it small and lightweight will also broaden its appeal. For example, passengers would likely shy away from carrying around a heavy, cumbersome object for their entire cruise.
The location capabilities in the device mean that as people move around a ship, so too will their choices of activities. Ocean Medallion can also be synced with credit cards, reward cards and gift cards, to create a payment service known as Medallion Pay.
Speaking at CES 2017, Martin Garner, from CCS Insight, told the BBC: "Because people go on cruises as a relaxing holiday, the system will have to work flawlessly and be super-easy to use."
Staff will be able to learn more about their guests through the Ocean Medallion. According to Carnival, it will "streamline and expedite the port embarkation and disembarkation process", as those with the device can board the ship "at their leisure" as they already have the key to their room.
Earlier this year, Carnival's chief experience and innovation officer, John Padgett, explained how the objective was not merely about adding more and more things for people to do, but instead fine tuning what's on offer to ensure every guest is catered for.
Learning, in real-time
"It's actually evolving in real-time, multiple times per second," he added. "It's completely frictionless. You don't have to do anything. Every service interaction on your cruise vacation is completely personalised."
The Ocean Medallion links to an invisible network of embedded sensors and computing devices, using NFC and BLE to 'interact'. This interaction and subsequent learning is what enables the device to create a personalised cruise. The technology essentially 'recognises' the passenger through their choices, location, and any information they provide.
"[It's a] level of service that's made possible by technology, but doesn't feel like technology," said Padgett.
"Whether guests are exploring new experience options, having a drink delivered to their seat at the night's show or trying their luck gaming while lounging poolside, we will assist our guests wherever they are, while engaging with them in a uniquely personal way."
Medallion can also be paired with Carnival's Ocean Compass, a digital concierge service available online, on smart devices, on kiosks in port terminals, and via TVs and interactive surfaces throughout the ship, as well as on devices carried by the crew. Together, Compass and Medallion form the "Experience Innovation Operating System", or xiOS™, which is deployable on any ship regardless of ship age or size, according to Carnival.