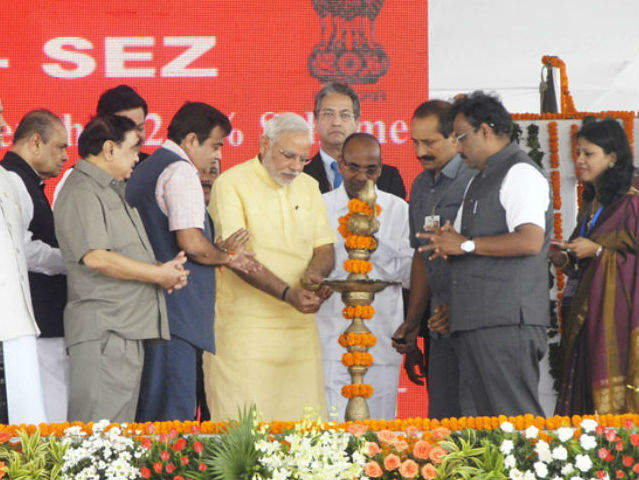 It was only a few days after the Indian government announced cargo traffic at twelve of its largest ports was up by 6.2% that a major step forward in US-India maritime cooperation took place. During a week-long trade delegation to the US back in 2016, India's shipping, road transport and highways minister Nitin Gadkari met what his office described as "captains of trade and industry" to push forward major investment plans for new ports and new berths and terminals at existing ports.
For many, those investment plans can't come soon enough. While traffic continues to grow – up to 159 million tonnes from 149.74 million in the previous fiscal year – India's ports remain crippled by problems around infrastructure, connectivity, and low funding.
"India has about 212 ports, but only about 12 of them are major ports," says Hemal Shah, manager, transport logistics & real estate at the U.S.-India Business Council.
"Currently, 70 percent of total trade (by value) is handled by ports that are over capacity and lack proper infrastructure and an efficient customs processes. The way non-major ports are used and the low share of inland waterways in moving goods and passengers really obstructs the economy from reaching its full trade potential.
"The lack of funding for long-term infrastructure projects is also a big problem and acts as a major deterrent for potential private investors. Public banks are either risk averse, overextended, or saddled with non-performing loans while public-private partnerships have been problematic and risky for the private sector."
India's four pillars of maritime growth
At the centre of India's maritime strategy – and its pitch to U.S. investors – is the Sagar Mala Project – an ambitious plan to modernise and develop its ports and maritime sector and drive economic development and employment in coastal areas.
"The government envisages four key pillars to support this project," Shah says. "Port modernisation, connectivity, industrialisation and coastal community development. The Program encompasses about 150 projects and with this, India is looking to position itself not only as a trade entrepôt, but also boost its 'Make in India' program."
"At the centre of India's strategy is the Sagar Mala Project."
According to a report in The Economic Times the Indian government hopes to raise between USD 50 and USD 60 billion in foreign investment to help with the infrastructural costs of the Sagar Mala Project and a further USD 100 billion for industrial development around the ports. In doing so they'll hope to leverage what Shah calls "the best of American technology and technical expertise", epitomised, she adds, by the Mississippi River inland waterways at St. Louis Port, which particularly impressed Gadkari on his trade visit.
"He was intrigued by the 40,000km of navigable water," she says. "He sees it as the most commercially viable inland waterways system in the world, given it covers almost all of North America. They discussed the feasibility of replicating this for India's River Ganga and its graduation to an effective inland waterways system to move goods and passengers."
What's on the cards for U.S. Investors?
Some US West Coast ports including the Port of Long Beach have already expressed an interest in participating in the Sagar Mala project, but what does the wider project offer to US investors?
"I think it offers investment opportunities in the world's third largest economy and a chance to partake in the fastest growing large economy today, against the backdrop of global economic gloom," Shah says. "There are opportunities in so many different areas: building new ports, terminals, shipbuilding and repair, exploiting the benefits of coastal economic zones, coastal and cruise shipping, solar and wind power generation. When Gadkari spoke to American investors at the U.S.-India Business Council back in July, his team also highlighted six greenfield port locations for development and four waterways including the 1,620 km-long River Ganga. They also highlighted investment opportunities in 106 national waterways for specific projects. So there's a lot to be excited about."
Is India really open for business?
One thing that may hold back US investors is the recurring complaint that Narendra Modi's Bharatiya Janata Party has been slow to match its rhetoric on economic development with actual reforms. A report published by the US State Department back in July, noted that a number of changes proposed by the BJP have struggled to pass through the Parliament of India including the all-important Land Acquisition Bill.
"India has a decentralised federal system of government in which states possess extensive regulatory powers, the report stated. "Regulatory decisions governing important issues such as zoning, land-use, and the environment vary between states. Opposition from labor unions and political constituencies slows the pace of land acquisition, environmental clearances, and investment policy".
"A lack of funding for infrastructure projects is seen as a problem."
Positive changes have happened though. Since the State Department's report was published one of the most important and intractable reforms – the Goods and Services Tax – passed through Parliament enabling the streamlining of a previously convoluted tax structure. While Shah admits "economic reforms have been slow" she says this is a sign that things are moving in the "right direction".
"I think despite the deep legislative challenges, Prime Minister Modi has incrementally worked on micro-level reforms to boost investor confidence," she says. "These include accelerated infrastructure investment, greater openness to foreign direct investment in defense, civil aviation, railways, and insurance, passage of a bankruptcy code, and facilitating a transparent auction of key natural resources. Perhaps the biggest policy win was the passing of the Goods and Services Tax (GST) Bill in the upper house which is also great news for the shipping/logistics industry."
Whether other reforms can make their way through Parliament in the coming months and years remains to be seen. What is clear is that if India can succeed in attracting American capital and other foreign investment to its maritime sector the benefits could be vast. "Gadkari estimates that resuscitating the shipping sector could add around two percent to India's GDP and create nearly five million jobs," Shah says. "Addressing all the issues simultaneously could very well catapult the economy into reaching close to its actual potential."