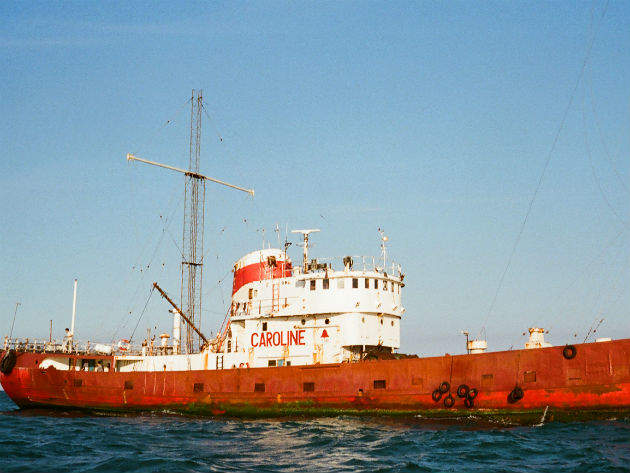 "It's our intention to broadcast to the same people we used to when we had the ships off the Essex coast. It will be the same sort of service they would have heard in the past delivered in the same way and presented in many cases by the same people as before. It's like a living time capsule."
Those were the words of Radio Caroline manager Peter Moore, in May, as the former ship-based pirate station, Radio Caroline, was given its first full-time AM broadcast licence, to operate on medium wave to Suffolk and parts of north Essex. It was, before that, an internet and digital station.
For Caroline, it completes the transformation, full circle, from its founding in 1964 with one main purpose: to play popular music all day, as opposed to the BBC's antiquated, strait-jacketed approach of just a few hours a week.
The formation of the UK's pirate radio phenomenon had its roots in the unlicensed ships in Europe that would beam their music to audiences in the Netherlands and Scandinavia. Caroline's founder, Ronan O'Rahilly, an Irish pop manager, was tired of the status quo, and taking his cue from Europe, put a ship off the waters of Essex from which it was outside the reach of British jurisdiction.
Pirate radio: an explosion of music and excitement
DJ Johnnie Walker, a former member of the Caroline team, told the Guardian in 2009: "While you were broadcasting it was this really vibrant exciting place, but if ever it went off air you realised you were just on this rusting hulk in the middle of the sea and you wanted to get off."
As the popularity of Caroline and other stations grew, so too did the clamour – from varying sources – for the government to act. Walker recalls how "the lid had been kept on" the "explosion of music". Therefore, "when it burst, it really burst, and it did scare the government".
And so, in August 1967 came the Marine Broadcasting Offences Act, introduced by Harold Wilson's Labour government, which was intended to stop pirate broadcasting. It dented the pirate movement, and some DJs went back to working on land, including at the newly launched BBC Radio 1, which was created, in part, as a reaction to pirate stations.
The Act, designed to "suppress broadcasting from ships, aircraft and certain marine structures", had its origins in the Wireless Telegraphy Act 1949, but aimed to extend its powers and make the operation of offshore, pirate radio stations illegal, if they were operated by people subject to UK law. A similar act emerged in Ireland, the Broadcasting (Offences) Act, 1968
Caroline subsequently moved its base to the Netherlands, but others such as Radio London, fell silent. The law continued to spread it tentacles, however, and a Dutch version emerged in August 1974. Caroline continued to transmit in various forms, including on the Ross Revenge ship, which docked in Santander, Spain.
"While you were broadcasting it was this really vibrant exciting place."
To a degree, the Act had the desired effect of damaging the pirate radio movement, at least in terms of forcing the likes of Caroline to move location. Nonetheless, unlicensed radio continues to this day.
It is estimated that hundreds of pirate radio stations are still active, many of which are land-based and operating in London. In 2015, it was revealed that Ofcom, the communications regulator, had closed 400 stations in the previous two years. Ofcom's head of spectrum enforcement, Clive Corrie, said at the time that stations were a risk as they "interfere with vital radio communications used by the emergency services and aircraft systems".
He added: "It's about protecting the spectrum from harmful interference. It's a big problem, especially in London."
Additionally, just this month it was reported that Ofcom was trying to track a pirate who, it is alleged, has hijacked Mansfield 103.2 numerous times to play a rather crude song.
Ofcom's action shows that, while pirate radio has drifted from its heyday, it still has the knack of being a thorn in the side of the establishment.