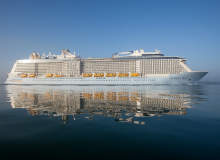 In April, Royal Caribbean christened its latest Quantum class sea-gem, Anthem of the Seas, ahead of her maiden voyage out of the port of Southampton. The sister vessel of Quantum of the Seas, Anthem follows in the same technological footsteps, offering a range of state-of-the-art entertainment and leisure facilities scattered across 18 decks aim to transport over 4,000 guests at a time in a multidimensional, digital whirlpool.
Smart check-in
On boarding, a smart check-in at Anthem's Next Generation Cruise Terminal promises guests can go "from sidewalk to ship in ten minutes", after scanning their boarding pass and passport with a simple tap of a barcode. Before passengers part with their luggage, a radio frequency identification (RFID) tag is attached to bags, enabling them to live-track their possessions for the duration of the trip.
Virtual balconies
Once on board, passengers have the option to check into one of 375 private rooms equipped with virtual balconies which broadcast real-time ocean views around the clock. With the help of high-speed, high-definition cameras strategically positioned across the ship, guests can experience ocean views akin to the real experience from their cabins. The structures of a balcony are digitally overlaid against the background image of the ocean. As a real tech-treat for the senses, the "quality of the sound is on par to what you would expect if you were on a balcony", according to a video presentation of the system.