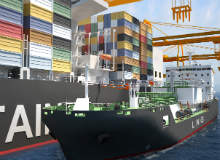 Considering the massive contribution it makes to the economy of the United Kingdom, and the central role it plays in the nation's history, the shipping industry remains a mystery to most people. A 2014 survey conducted by charity Seafarers UK found that only four in ten members of the public know that a great majority of food imported into the country – 95%, to be exact – comes by ship, with 27% answering air and 20% road.
"The model's aim is to raise the profile of the industry, educate and inform would-be mariners."
This lack of knowledge of what shipping is all about contributes to the difficulty that the merchant navies of the UK and other European countries are having attracting new recruits. Many jobs at sea require candidates not just to pick a career but to make a lifestyle choice, to sacrifice the comfort of home and family for what will hopefully be a well-paid, exciting and fulfilling career. Given the nature of this commitment, potential recruits have to learn at a young age about the possibilities that a career at sea can offer.
There have been many attempts over the years to promote the industry to young people. Events like Seafarers Awareness Week, a Seafarers UK initiative that takes place in June each year, made 'Maritime Jobs for Future Generations' its main theme for 2016, carrying out a number of events in which maritime professionals could impart information and advice to landlubbers. In May, the Scottish Fishermen's Federation began an initiative that will allow school leavers in Aberdeen to undertake a three-week introductory fishing course at the Scottish Maritime Academy in Peterhead, followed by a two-month work placement aboard a working vessel.
Gamification, virtualisation as an outreach tool for prospective seafarers
Last month, events company Podium 4 and Wärtsilä Marine Solutions announced a project that takes a slightly different, more technological approach to getting the message out. Known as The PartnerShip, it is a two-year project that will see the creation of a web-based virtual ship. Fusing the components of a number of types of different merchant vessels into a single generic design, the model's aim is to raise the profile of the industry, educate and inform would-be mariners, and raise money for good causes by getting manufacturers and service providers to sponsor components of the ship – from the widgets to the engine, as well as associated services such as brokers, crewing agents and even maritime lawyers.
The idea is the brainchild of Mike Porter, director of Podium 4. A former ship designer with 20 years' experience, he wanted to launch a campaign that had the ship itself at its centre. He found that the industry had been slow in taking information about how ships are designed, built and run out of textbooks and into the digital realm. The information that did exist was scattered, making it difficult for people to get a good idea of what a ship really is and how it might be of interest to them.
"The final result resembles a cross between a passenger ship, an oil tanker, a container ship and an LNG tanker."
"There are various bits and pieces – you can pick up images, you can pick up text and definitions of components," he says. "But there was nothing that was really concise and brought everything together as a platform. I had an idea in my head but I didn't know exactly how I was going to achieve it – to create this platform as an educational tool not just for the industry but for the public.
"I was at the Posidonia exhibition in Athens two years ago and on the Wärtsilä stand they had an image of a ship, a generic ship made up of a number of different merchant ship types. And when I saw that I knew it was exactly the sort of model I wanted to utilise to make this project work."
Modelling the process
The modelling process was challenging, with the team at Wärtsilä taking four attempts to come up with a design that contained all the important features and still looked like a real ship. The final result resembles a cross between a passenger ship, an oil tanker, a container ship and an LNG tanker. The depth of the model is impressive, with often overlooked parts – such as turbochargers in the engine room, dehumidifiers on the cargo deck and bilge alarms in the tanks – all making an appearance.
Once each part of the ship has been sponsored, hopefully in two years' time, people will be able to click on a component or service and access press releases, white papers, technical drawings, images or videos about the part and the company that sponsored it, creating an interactive experience. A proportion of the sponsor's donation goes to a good cause of their choice.
"The age of autonomous vessels could be a very attractive proposition to young people."
The PartnerShip is designed to engage industry in the education and recruitment game, and is in line with the growth of virtualisation in the shipping industry and the massive popularity of gaming among younger people.
"We are trying to create something that's visually pleasing and attractive for the next generation rather than something that's just giving text," Porter says.
"You've probably seen the project Rolls-Royce has been developing on the autonomous ship [controlled and monitored from land]. That gives a good indication of what's going to be expected of seafarers in the next 10-20 years. There's going to be a lot more shore-based operational management, a lot more towards the gaming side of technology."
Stuck between the old ways and the new
In some ways, shipping's recruitment problem is due to the industry being in a transitional phase. Samuel Johnson once said that "being in a ship is being in a jail, with the chance of being drowned," a sentiment that many in the industry say, only half in jest, is relevant today.
The promise of travel and adventure, which was a big draw 30 or 40 years ago, is no longer anything like as strong given the rapid turnaround of modern vessels and greatly reduced stopover periods.
The age of autonomous vessels could be a very attractive proposition to young people. Until it arrives, initiatives like The PartnerShip project will play an important part in plugging the recruitment gap.