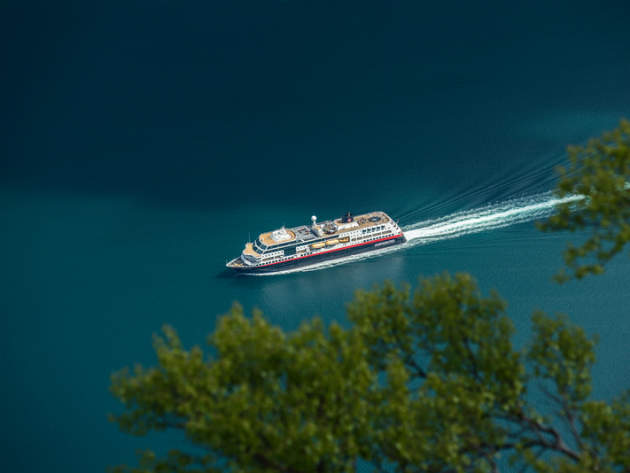 The growing popularity of eco-tourism is hardly surprising.
On the one hand, the global tourism industry is booming, with almost one billion international arrivals in 2016, according to the latest UNWTO World Tourism Barometer. At the same time, green operations and sustainable practices are becoming a shared international goal and a priority to many consumers, opening up a market rife with opportunity.
This year was designated by the United Nations (UN) as the International Year of Sustainable Tourism for Development, in an effort to raise awareness and support a change in policies, business practices and steer consumer behaviour towards the sustainable tourism sector.
This is particularly relevant to the cruise industry, a major polluter.
On average, a cruise ship can generate 15 gallons of hazardous chemical waste per day. On a weekly basis, a cruise ship generates 2,137lbs of CO2 per passenger, while ocean-going vessels discharge about 100 million gallons of petroleum in the ocean every year, according to statistics from Friends of the Earth (FOE).
Last year, the Cruise Lines International Association was forced to defend itself against a "regrettable" FOE Report Card, which grades cruise lines against criteria such as sewage treatment technologies, air pollution reduction compliance with Alaska's water quality regulations and transparency in its operations. FOE accused the industry of "greenwashing to hide its dirty practices from the public" and refusing the disclose information on their operations.
However, not all seem to be complacent. A handful of cruise lines old and new pride themselves on their green credentials, from cutting-edge emissions offsetting technologies to ongoing support of various conservation funds.
Peace Boat's Ecoship project
Japan-based international non-governmental and non-profit organisation Peace Boat is travelling the world with the sole purpose of promoting peace, human rights, equal and sustainable development and respect for the environment. The NGO has been active for over 30 years, organising three-month long voyages that visit between 15 to20 countries at a time, whileholding educational programmes, projects and advocacy activities.
Its next goal is the Ecoship project, which aims to create a state-of-the-art vessel that incorporates a combination of factors, such as propulsion efficiency, hull forms, accommodation efficiency, hull air bubbles and renewable technologies.
The project, which gathered the expertise of naval architects, marine engineers, experts in renewable energy, maritime law, biomimicry, and biophilia promises a 40% cut in CO2 emissions compared to conventional cruise ships.
A green card for Disney Cruises
US line Disney Cruises was the only provider to receive an A certification on FOE's 2016 Cruise Ship Report Card. The company stood out among 17 cruise lines for its transparency regarding its environmental efforts.
Although its ships continue to be big energy consumers and polluters, since 2011 the company raised over $12m for 750 wildlife programs around the world.
Since 2011, the line has also donated more than 60,000 gallons of used cooking oil to Bahamas Waste Management, which turned it into biodiesel that fuels a fleet of vehicles in Nassau.
Disney Cruises' on-board laundry facilities use water that is generated from the air conditioning system, the equivalent of 280 tons of water a day. All materials from the ship, like aluminium and cardboard, are recycled, and reusable objects and materials are donated to needy communities in port communities.
Sustainable cruising in Alaska
As an alternative to the big, luxurious cruise experience, travellers can choose a smaller, more interactive type of trip.
The Boat Company prides itself in its 35 year-long history of sustainable cruising to Alaska, for which it uses far smaller vessels than the traditional cruise ship for unobtrusive navigation in the sensitive Alaskan waters.
Measuring around 150 feet in length and around 30 feet wide, the boats are staffed by knowledgeable crew members, who can educate the travellers on Alaska and the Tongass ecosystem.
Social impact travel aboard Fathom ships
Around the time when the relaxation of the embargo between the US and Cuba was announced in 2015, Carnival Cruises launched its Fathom brand, serving both Cuba and the Dominican Republic.
The Fathom ships pioneered a new trend, called "social impact travel", meaning that during the trip, passengers can "come alongside" locals at their various destinations and can get involved in hands-on community schemes such as planting trees and clean drinking water projects.
The "small-ship experience" transports 700 passengers on each trip, but hopes to "build a long-term partnership with local communities and partners, not just a one-time trip with a short-term spike of preparation".
EcoVentura: long-standing dedication to Galapagos
Over a decade ago, EcoVentura was one of the pioneers of sustainable travel, when it decided to help preserve the ecosystem of the Galapagos Islands, a UN World Heritage Site.
In 2009, the company became the first to operate a hybrid energy tour boat in the Galapagos, following the installation of 40 solar panels and two wind turbines that were fitted to the upper deck of the vessel. That year, the scheme helped offset 4031 tons of CO2.
Together with the World Wildlife Fund, EcoVentura also established the Galapagos Marine Biodiversity Fund in 2006, which helps the local community to manage the area's natural resources through environmental education and marine conservation.