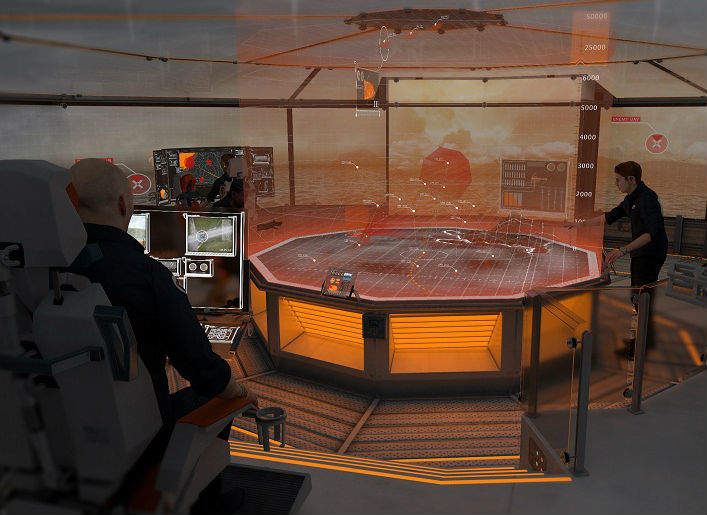 Innovative ship design has played a significant part in the success of the Royal Navy since the middle of the 18th Century, and undoubtedly helped cement Britain's position as the pre-eminent naval power in the years up to the First World War.
The high point arguably came with the launch of the Dreadnoughts – a revolutionary new-generation of vessels so advanced that other warships were rendered obsolete virtually overnight. For a time HMS Dreadnought and her kind became the most prominent and conspicuous symbols of British Imperial might.
While Britannia does not rule the waves quite so freely today, Startpoint, a group of the country's best naval defence experts from industry and the MoD, intend to ensure that Britain's maritime interests, at home and abroad, will still be effectively protected in the years to come.
Enter the Dreadnought 2050 (T2050).
Weaving the future threads
"Dreadnought 2050 is a vision of what a frigate might look like when we weave the current threads of naval research and development in the UK, and the Royal Navy's future thinking on maritime warfare, into a single point in time," says a spokesperson for Startpoint.
The result is a highly capable stealth vessel with outrigger hulls, built in ultra-strong acrylic and coated with drag-reducing graphene, armed with directed energy weapons, an electromagnetic rail gun, hypersonic missiles and high-speed, super-cavitating torpedoes. The ship's crew would be smaller too -with as few as 50 sailors replacing the typical 200 needed today.
"Like the Type 26 Global Combat Ship, it is a multi-mission vessel that continues to emphasise the importance of credible sea power and credible technology, and the need for flexibility and agility to respond to threats in an unpredictable maritime battlespace. Our use of robotics highlights both the UK's expertise in this area and a trend toward operating ships at range to keep people out of harm's way," Startpoint's spokesperson explains.
Hullform
The Dreadnought 2050 continues the trend towards trimaran hullforms already shown by the Royal Navy's former prototype RV Triton and the US Navy's Independence-class littoral combat vessels, but beneath that superficial resemblance, she is a very different kind of ship.
Formed from ultra-strong acrylic that can be made see-through to provide uninterrupted exterior views, the low-observable triple-hull configuration provides the optimum blend of speed, stability and efficiency, while allowing the 155m-long vessel to accommodate the largest possible flight deck. All three of the graphene-coated hulls could also house profile-reducing ballast tanks, which can be filled with water to transform the vessel into an ultra-stealthy, semi-submersible for covert operations.
Power and Sensors
Silent, electrically-driven water jets in the outrigger hulls, powered either by a fusion reactor or highly efficient turbines, give the vessel's wave-piercing sea-frame a cruising speed of 50k anda potentially limitless range.
The T2050 replaces the conventional warship's mast with a hovering quadcopter attached to the ship by a cryogenically-cooled tether made of carbon-nanotubes, which transmits the electricity required for the UAVs onboard multi-spectral sensors and high-powered laser weaponry.
Main Weapons
In addition to the quadcopter's laser weapons the vessel has an array of equally high-tech main armaments. At the bow, an electro-magnetic railgun would be able to fire hypervelocity projectiles up to 200km to engage and destroy targets using kinetic energy instead of conventional high-explosives.
Along the ship's sides would sit launch tubes for defensive hypersonic missiles capable of speeds in excess of Mach 5, and an array of directed energy weapons for close-in-combat, while the outrigger hulls, known as 'amahs', would be equipped to launch super-cavitating torpedoes capable of more than 300k.
Flight Deck
The extendable flight deck and hangar at the aft of the ship is principally configured to operate unmanned aircraft/remotely piloted air systems and is large enough to accommodate the simultaneous launch and/or recovery of two UAVs, which may have been 3D printed onboard.
If the need arises the surrounding superstructure can be rotated to allow helicopters to land side-on, and the hangar space itself could house a medium-sized helicopter.
Floodable Dock
Beneath the flight deck lies a large 'garage' and floodable dock area in the vessel's transom to enable the amphibious deployment of Royal Marines and other troops, as well as the launch, recovery, maintenance and storage of a range of manned and unmanned vehicles.
The area is also fitted with a 'moon pool' to allow swimmer deliver vehicles and unmanned underwater vehicles to deploy when the transom door is shut.
Ops Room
Cutting-edge technology fills the fighting heart of the ship. A 3D holographic command table dominates the Ops Room, which can be rotated and zoomed to enable commanders to examine particular areas of the battlespace, and see what is going on above water, underwater, in the air or onshore.
Smaller holographic pods allow tactical systems operators to focus on specific tasks in great detail, using GoogleGlass-style walls, where information can be overlaid on 360° external views, while secure real-time communications allow the data to be transmitted to wherever it may be needed.
As a result, future Ops crews might be just five, not 25, in number.
Sci Fi or Feasible Future Tech?
On the face of it, directed energy weapons, rail-guns, fusion-reactors and optionally transparent materials, sound more suited to outer space than the open sea, but it is not all sci-fi; a significant amount of the technology being touted is here now, and more is on the way.
Stealthy design is already a feature of most modern warships, the US Navy has long been working to develop functioning EM railguns and energy weapons and a fully 3D printed drone has already flown from the deck of a Royal Navy vessel. While some of the other technologies undeniably push the boundaries of today's science and engineering capabilities, it is not a huge leap to envisage their development in future.
However, in these days of straitened defence spending, the big question is, just how affordable would all this be for tomorrow's Royal Navy?
Cost Effectiveness
Although the technologies being proposed sound costly, the most expensive component of any ship is the manpower required to build, operate and maintain it. As a result, increasing automation to reduce crewing levels and using more cost-effective technologies, such as energy weapons, which potentially fire a shot for pence rather than pounds has been central to the Dreadnought 2050 concept.
"Hence what sounds like an expensive ship might be less expensive to operate through life than the current generation of ships," the Startpoint spokesperson says.
Next Steps
According to Startpoint, many of the key steps towards making such a vessel a reality – the introduction of Modular Open Architecture Combat Systems, using modular mission bays in vessel design and the extensive use of robotic systems – are being developed now, with the goal of incorporating them into the Type-26.
With the Royal Navy shortly set to showcase a range of robotic systems at Unmanned Warrior 2016, and having recently announced its intention to conduct at-sea demonstration of directed energy weapons by 2020, it seems Britain's warship of the future is already beginning to take shape.