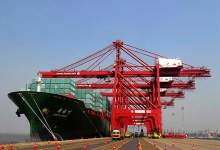 If awards are seen to be a barometer of a business's success, Eniram has enjoyed a particularly fruitful 2014.
Over the year, the Finnish marine data group was named by Cleantech Group as one of its European companies of the decade, while, in October, it was also included in the same market intelligence organisation's top 100 list of companies with "the most innovative and promising ideas in cleantech".
In November, Slush 14 – a conference for Eurasian startups and green technology companies – named Eniram in its top 50 list of promising companies. An impressive feat considering 2500 were in attendance at the Helsinki-held event.
Reflecting on his company's string of triumphs shortly after Slush, CEO Henrik Dahl remarked in an interview: "I founded Eniram because I want to change the world."
Dual benefits: helping the shipping sector to reduce CO2 emissions and cut costs
One may be forgiven for interpreting Dahl's pledge as an exercise in hubris, but it is this self-evident confidence that has seen Eniram emerge as a leading provider of energy management and vessel performance systems to the shipping industry.
The central goal, explains Dahl, is to help ship operators curb their CO2 emissions, while simultaneously cutting costs.
---
---
A recent survey found that, on average, 1,679 containers are lost at sea each year.
---
"Last year, we helped our customers save $35m in fuel costs, which equals to the reduction of emissions by 163,000 tonnes of CO2 [the equivalent to 32,000 cars]," he says. "The results we have gotten together with our customers are a clear proof that our approach is right."
Put simply, Eniram's offering centres around measurement and data analytics. The group's software and products, such as Eniram Speed 2.0 – winner of the best ship energy efficiency solution at the Ship Efficiency Awards 2014, held by Fathom and Lloyd's Register – are able to collect, measure and analyse real-time vessel-specific data.
This takes into account factors such as the prevailing sea state, in order to shed light on how vessels consume energy and the impact of performance on fuel consumption.
"Every ship where we have a system is not a ship for us, but a data measuring point," clarifies Dahl.
It's an interesting insight into Eniram's clear technological bent. Looking back on the company's modest beginnings in 2005, Jussi Pyörre, CTO – who co-founded Eniram together with Dahl -says the rationale was to bridge the gap between the software and shipping realms – which, up until that point, had existed almost mutually exclusive of one another.
"It was actually in 2006 when we realised that software nerds and sea captains found a common language for the first time," explains Pyörre. "That the sea captain can say this is what we need, and then the software person can turn it into code. That is the point when we realised that whatever we did, it would be good."
Eight years later, Eniram's mission statement, Pyörre explains – in characteristically unequivocal terms – is to "help shipyards to save fuel. I can't put it any simpler than that."
"The central goal is to help ship operators curb their CO2 emissions, while simultaneously cutting costs.."
Challenge-ridden waters: the effect of the IMO's Marpol Annex VI regulation on fuel usage
The shipping industry – particularly cruise lines – has received unfavourable scrutiny in recent years over its environmental practices and use of cheap heavy-fuel oil. The sector is said to contribute roughly 3% to the world's greenhouse gas emissions.
However, attitudes to fuel consumption are undeniably shifting, as prompted by new sets of regulations. The most pressing of which is the International Maritime Organisation's Marpol Annex VI regulation, which aims to drive down sulphur emissions in Emission Control Areas (ECAs) – comprising of the North Sea, Baltic Sea, most of the US and Canadian seaboards, and the US Caribbean.
Since 1 January 2015, fuel used by ships operating within these ECAs must not have a sulphur content of more than 0.1%.
Operators are left with either two choices: use cleaner distillate fuels – which are more expensive than heavy fuel oil – or install expensive scrubbing technology to remove the sulphur dioxide from emissions.
Both choices carry with them a palpable financial impact. For a shipping company or cruise line that spends the lion's share of its time in an ECA, and burns 10,000 tonnes of fuel a year, switching to distillates could cost an extra $3m to $4m a year, estimate analysts.
Satisfied customers: serving the cruise industry and looking to the future
---
---
By extracting CO2 and hydrogen and converting it to a liquid hydrocarbon fuel, researchers proved that seawater fuel was possible.
---
Subsequently, major cruise operators, such as Carnival, Norwegian Cruise Line (NCL) and Royal Caribbean are all looking to display their green credentials, while reducing fuel expenditure in the process. All three, as it happens, are Eniram customers.
NCL makes use of Eniram Trim, software which is designed to ensure maximum performance in actual variable conditions through the collection of prevailing trim, propulsion power and vessel movement data. Since first deploying the solution in 2008, the group has reported fuel savings of roughly 5%.
"Having now used Eniram Trim for some time, we are clearly using less energy to achieve the same speed," says Bjorn Ove Hansen, NCL's director of nautical operations. "The benefit in percentage that we are talking about is a decrease of around 5% in fuel consumption, and this is a conservative estimate."
So, what next for the group that in the last five years has opened new offices in the UK, Singapore, Germany, Japan and the Middle East? With the shipping industry now facing the said implementation of Marpol Annex VI, Dahl is confident that its analytics software will remain in demand.
""Whatever we can do to help this field adopt technology faster, we will do it," he says. "At the same time, we can reach our goals faster."
And the goal? "To make the world a better place."