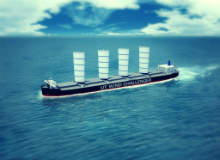 With a long list of industry drivers supporting their case, award-winning wind propulsion systems are proving their viability for the commercial shipping market of the future.
Currently in a period of transition and facing an even more volatile future, the shipping sector is turning to new technologies as an answer to commercial pressures, tightening regulation and fluctuating fuel prices.
Now, industry players are putting a modern spin on one of the oldest concepts in shipping: harnessing the power of wind for ship propulsion.
According to the International Windship Association (IWSA), "the shipping industry is increasingly convinced that wind power is a renewable energy source with a viable future within various sectors of the global shipping fleet". The collaborative organisation was established in November 2014 to facilitate and promote wind propulsion for commercial shipping worldwide.
The market certainly seems ready to embrace it: at this year's Ship Efficiency Awards, wind power was strongly represented in three different categories: IWSA and Deltamarin were finalists in the Initiative of the Year and the One to Watch categories respectively, followed by Finnish marine engineering company and IWSA member Norsepower Oy, who was crowned as the winner of the Energy Efficiency award for its successful Rotor Sail Solution.
While a cohort of wind propulsion systems have been under development for a few years, the technology is only now getting commercial recognition and meeting market demand, under renewed pressures for change.
The International Maritime Organisation (IMO) estimates that between 2007 and 2012, the world's marine fleet consumed between 250 and 325 million tonnes of fuel, contributing approximately 2.8% of annual global greenhouse gas emissions and 3.1% of CO2 annual emissions.
"Between 2007 and 2012, the world's marine fleet consumed between 250 and 325 million tonnes of fuel."
At this current level, emissions could triple by 2050 if left unchecked, warns the UN-Affiliated International Renewable Energy Agency (IRENA) in their "Renewable Energy Options for Shipping Technology" report.
The demand for wind propulsion solutions could also grow after the Paris climate talks in December, according to Gavin Allwright, IWSA Secretary. Allwright, who also contributed to the IRENA report analysing the potential for wind power systems, says that "the one aspect that would have a dramatic effect [would be] any talk of carbon caps and regulated caps on carbon emissions. That would then signal very clearly to all industries, including the shipping industry, that this is going to be tightened up – and that would incentivise the industry to look at what's available much more."
Wind propulsion and its potential for commercial shipping
Lloyd's Register defines wind-assisted propulsion as "the use of a device, such as a wingsail, soft sail, kite or Flettner rotor, to capture the energy of the wind and generate forward thrust."
The concept, dating back from the 1920s, can work in two ways: either by maintaining the same ship speed for reduced engine power, fuel consumption and resulting emissions, or by increasing ship speed for the same engine power for shorter voyages and increased ship profitability.
"The potential is huge" says Allwright. "Lloyd's Register have identified about 6,000 vessels in the world fleet, which represents around 10%, that would be very clearly available for retrofit [with wind propulsion systems] at the moment," although IWSA thinks the number could be even bigger.
There are currently five different types of wind propulsion technologies, each at various stages of development and implementation and each presenting their own set of advantages: while wind turbines have had no successful prototypes to date, the sail-based systems featuring soft, fixed and kite sails are already in operation, followed by the Flettner rotor, the world's top-performing wind propulsion system and currently on the brink of commercialisation.
The fuel savings associated with wind propulsion vary wildly, from 5% to as much as 80%, depending on technology and type of vessel used. Nevertheless, in their review of wind-powered shipping, Lloyd's Register specifies that "wind-assisted propulsion is one of the few technologies potentially offering double digit fuel savings today".
With retrofitted vessels, savings between 10% and 30% can be achieved, Allwright says, with up to 50% fuel savings for new builds. Although the main and most important commercial driver for wind propulsion, the price of bunker fuel, is currently at a historic low -the market's medium-term projections place prices at $500-$600 per ton of bunker fuel.
"At that kind of price, wind propulsion is commercially viable," Allwright says. "But what we're actually saying is the stability – when I talk to ship owners, it's not just about the price, it's saying to them 'look, if you could actually remove 30% of your fuel cost for the lifetime of the vessel, that would create much more stability in a much more unstable transitional period in fuels and propulsion options."
"We don't really know exactly where the industry is going, whether it is distillate fuels or LNG or a combination hybrid of all of those – so having that stability and that certainty in a very uncertain marketplace would be a major benefit."
Norsepower's solution helps prove the technology
Although still in its infancy, wind propulsion is consistently faring very well in a cohort of trials, prototype fittings and international R&D projects.
A market status overview published by IRENA shows that between September-October 2014, wind power technologies were predominantly in the design stage for ships ranging from 400t and 50,000t, with soft sails already in commercial use for small and medium-vessels between 400t and 10,000t.
One of the largest vessels using a four Flettner rotor prototype system is the 13,000t E-ship1, which has been at sea since 2010. Although its detailed operational data is kept privately by Enercon, the operating company, Allwright says the "data is good".
"Although still in its infancy, wind propulsion is consistently faring very well in a cohort of trials."
Furthermore, details provided by Enercon in 2013 specify 25% savings registered on the E-ship1 after 170,000 nautical miles. But maybe the most telling example of the power of wind propulsion is this year's efficiency award-winner Norsepower. The Rotor Sail Solution is a modernised version of the Flettner rotor, currently the market leader amongst wind propulsion technologies. Acting as a spinning cylinder, the system uses the Magnus effect to harness wind power to propel a ship.
"When the wind conditions are favourable, Norsepower Rotor Sails allow the main engines to be throttled back, saving fuel and reducing emissions while providing the power needed to maintain speed and voyage time," the company said in a press release.
After two successful sea trials undertaken last year on board Bore's 9,700 DWT Ro-Ro carrier MS Estraden, the technology was found to cut fuel consumption by 20% "for vessels with multiple, large rotors traveling on favourable wind routes", and a steady 5% efficiency savings on an ongoing basis.
The Rotor Sail marks the first practical, tested and class-approved auxiliary wind propulsion system on the market and it can be used on ferries, ro-ro vessels, tankers and bulk carriers, both for new builds and retro-fitting, which only requires a quick harbour-based installation of seven hours. Based on current fuel prices reported this autumn, averaging at around $250 per ton, the payback periods start from three years after installation, Norsepower states.
Overcoming market barriers with future projects
But even though the technology is slowly beginning to establish a presence on the market, a number of practical and ideological barriers still need to be overcome.
A general lack of R&D financing and limited capital at the hands of ship-owners does not allow the technology the time to prove its worth, which means industry adoption can be slow.
Perhaps the biggest challenge identified across the board is internal perception, a view Allwright agrees with: "In the past, the shipping industry has been quite conservative when it comes to new technologies, they don't necessarily want to be seen as a first mover on something," he says. "So changing the perception on wind propulsion, that's been a big change in the last 12 months."
IWSA are in the process of working with naval architects, engineers, class and regulators to smooth out some of these barriers. They are also helping their members de-risk any investments in wind propulsion technologies by supporting them with packages of finance, talking with banks and with the ship owners.
"Ship owners are starting to come to us, seeing that it's a credible and increasingly viable solution for them, but then not really having access to the information and being able to compare the technologies," Says Allwright.
A few projects are already in the pipeline, with designs nearing completion, which means that more vessels equipped with wind propulsion technologies will enter the seas over the next two years.
Some of these include the Eco Flettner to be installed aboard Fehn Pollux ship in 2016, followed by a partnership between the Irish Navy and Skysails, which will launch field testing for kites on their ships. Another collaboration will see the US Navy and Ocean Aero start the using the company's wind-powered Submaran S10 in January 2016 and further down the line, Japan's Ministry of Land, Infrastructure and Transport is co-financing the launch of Windchallenger, a large wind-powered cargo vessel expected to enter service in 2017.
An increasing number of marine bodies are also becoming members of IWSA, the "one-stop shop" for the industry for general information about wind propulsion.
"The critical issue for us as an association is to get as many demonstration vessels into the water as possible," Allwright concludes."
"The really the big next step is to have a load of demonstration ships coming through. In 2016 I think there is going to be the big watershed for that – I know of at least three projects that are very, very close to pushing the button on a build for a demonstration vessel."