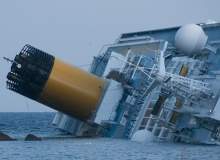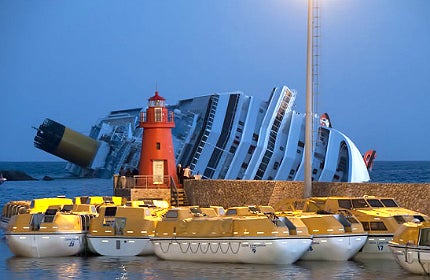 January: sinking of Costa Concordia could cost parent company $95m

At the start of the year it was revealed that the sinking of the ill-fated Costa Concordia could cost Costa Cruises' parent company Carnival around $95m, the firm announced in a statement.
Earlier in the month the search for survivors onboard the cruise ship was deferred after sensors revealed the grounded vessel had shifted a few centimetres.
Another disaster occurred in January when the Seaford Shipping Lines-owned M/V Seaford 2 cargo vessel, which had 18 Filipino crewmen onboard, began to sink off the Catanduanes province, after it was hit by a hard object on its way from the city of Iligan to Culasi, Antique. It was carrying 35,000 bags of cement.
Chinese shipyard Dongfang Shipbuilding cancelled orders worth $60m after failing to secure finance for its remaining ship order. It announced a 91% drop in its order book from $64.7m in November to $5.7m in December 2011.
February: Costa Concordia sister ship strands 1,049 in Indian Ocean

In February, six weeks after the Costa Concordia disaster, a sister cruise liner from the same company, the Costa Allegra, had to be towed to the Seychelles after going adrift in the Indian Ocean, leaving 1,049 people stranded.
Meanwhile, the search for 16 missing people from the Costa Concordia was abandoned because of safety concerns.
BHP Billiton approved $917m in pre-commitment funding for construction of a 100 million tonne-a-year harbour, at Port Hedland in the Pilbara region of Western Australia.
Also during the month it was revealed the economic cost of fighting and evading pirates reached $7bn in 2011, according to US-based Oceans Beyond Piracy.
March: Dublin Port Company unveils €600m expansion of port
In March the Dublin Port Company (DPC) unveiled a 30 year €600m investment plan to increase capacity at the port.
Meanwhile, South Korea's Daewoo Shipbuilding & Marine Engineering (DSME) won a $2bn order from Inpex, a Japan-based oil and gas explorer, to build a floating production storage and offloading (FPSO) vessel.
April: Swedish Peab wins $59m contract to expand Norway port

In April Swedish construction and civil engineering firm, Peab, won a SEK400m ($59m) contract from Northland Resources to expand the Fagernes terminal at the port of Narvik in Norway.
As part of the deal Peab will build a quay, a heated unloading facility for rail wagons, a storage building and a ship loader.
It was also revealed in April that the Indian shipbuilding and ship repair industry is expected to grow from its current level of Rs73.1bn to Rs92bn ($1.75bn) by 2015, at a compounded annual growth rate (CAGR) of about eight percent, according to a study by apex industry body Assocham.
May: businessman signs agreement to build Titanic replica

In May an Australian businessman signed an agreement with the China-based CSC Jinling Shipyard, to build a cruise ship replica of the Titanic which famously sank on 15 April, 1912.
Meanwhile, the Costa Concordia, which was sitting on its side in shallow water off the island of Giglio in Italy, was pulled upright and refloated in what was described as the biggest refloat in history.
Scheduled reconstruction work on the ship was estimated to cost $300m.
The European Union's Naval Force in May launched its first ever land-based raid on Somali pirates' assets, destroying speedboats, ammunition and fuel stores in an attempt to prevent further acts of piracy.
Shoal, a consortium of six European organisations, developed a new robotic fish that can detect pollution in ports and harbours.
June: Chinese banks seize seven Dongfang tankers to cover debt
In June seven of Dongfang Shipbuilding's tankers were seized by Chinese banks and Credit Suisse, as the shipbuilder was unable to clear outstanding debts of around $250m following a Singapore Supreme Court ruling that favoured the creditors.
OSX Brasil also secured a loan of BRL2.7bn ($1.3bn) from the Brazilian National Development Bank (BNDES) and Caixa Econômica Federal (CEF), through Brazil's Merchant Marine Fund (FMM) to complete construction of its Açu Shipbuilding Unit (UCN Açu).
July: worldwide sea piracy drops by 54% in first half of 2012

In July it was reported that in the first six months of 2012, worldwide sea piracy incidents decreased by 54%, led by a drop in Somali piracy, according to the International Maritime Bureau's (IMB) latest piracy report.
Meanwhile, the US Department of the Navy's Floating Instrument Platform (FLIP) celebrated its 50th year of service in the Pacific Ocean.
August: Jurong Offshore receives $4bn order for drill ships
In August, Sembcorp Marine subsidiary Jurong Offshore received a $4bn order from Sete Brasil to design and build five drill ships.
This followed a $792.5m deal in February between Sete Brasil's Dutch subsidiary Guarapari Drilling and Sembcorp's Brazilian shipyard Estaleiro Jurong Aracruz to build an ultra-deepwater drillship.
Caterpillar Marine Power Systems in August launched gplink, a new satellite / cellular-based tracking, monitoring and notification system for Cat-powered yachts and vessels.
September: EU approves legislation to cut shipping sulphur levels

In September the European Parliament approved legislation to cut sulphur levels in shipping fuel used by all vessels in EU waters, from the current 3.5% to 0.5% by 2020.
The plans are expected to improve air quality along European coastlines and reduce the estimated 50,000 early deaths caused every year because of air pollution from ships.
Also this month, Barbados unveiled a plan to build a cruise ship terminal at Sugar Point in the capital city of Bridgetown.
October: 39 people killed in Hong Kong ferry collision

In October 39 people were killed and dozens more injured after two ferries, one owned by Hongkong Electric Company, collided near an island south of Hong Kong.
Also in October, a study conducted by Finnish maritime IT firm Eniram revealed that operating in areas with a heavy development of fouling could increase the costs of a cruise vessel by up to $500,000 each year.
UK-based cruise line P&O Cruises started construction of what is claimed to be the UK's largest cruise ship, which is expected to launch in the summer of 2014.
Inchcape Shipping Services (ISS) announced that heavy floods in Argentina disrupted several terminals in the San Lorenzo-San Martin Port, affecting shore-based logistical support in the region.
November: EU and Argentinean ports halted due to strikes
In November trade at European ports was hit as anti-austerity protests and strikes called by the European Trade Union Confederation (ETUC) spread across the continent.
Also, in Argentina, day-long strikes by trade unions protesting against government policies hit port operations in the country, bringing them to a standstill.
Meanwhile, Saudi Arabia unveiled its $914m investment plan for ports at Seatrade Middle East Maritime (SMEM).
December: Lerus opens new training centre in Odessa, Ukraine

In December Ukraine-based crewing firm Lerus opened a new training centre in Odessa, equipped with the latest offshore vessel simulator from the Norwegian company Kongsberg.
US-based marine diesel engine manufacturer Cummins unveiled two new marine engines, QSK19 and QSK60, which are Tier III certified by the US Environmental Protection Agency (EPA).