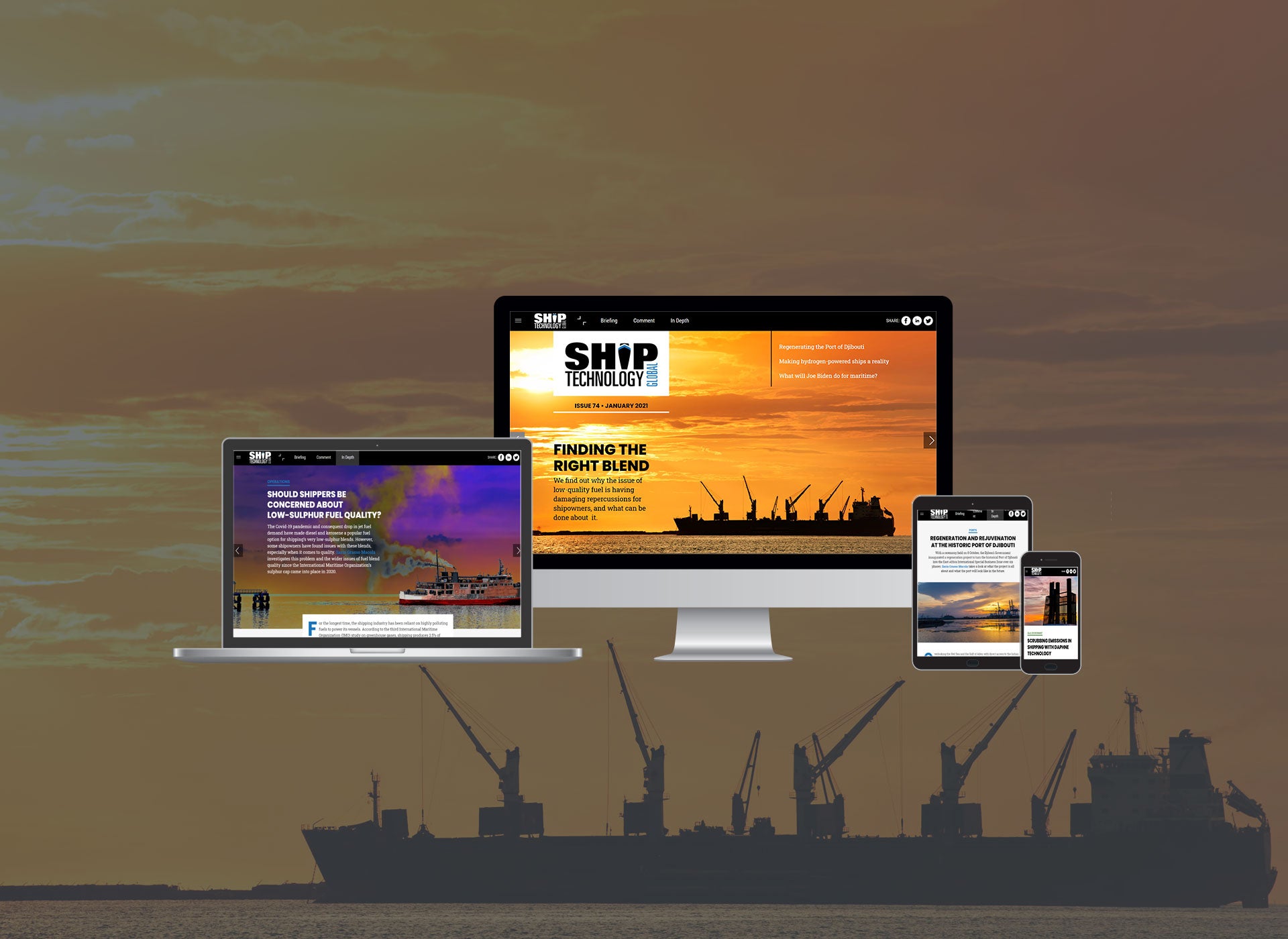 Ship Technology Global is back for another edition packed with technology news and industry analysis. In this issue, we explore how low-quality fuel blends might affect performance, find out more about a project to create a zero-emissions ship running on liquid hydrogen, and explain how Joe Biden could change the US shipping industry.
Whether you are on a desktop, tablet or smartphone, you can read the magazine for free online.
In this issue
Scrubbing emissions in shipping with Daphne Technology
The shipping industry facilitates much of the world's trade but also contributes significantly to global emissions. Andrew Tunnicliffe speaks with Daphne Technology's CEO Mario Michan about how innovations in scrubber technologies could play a huge role in decarbonising shipping, and how future-proofing vessels is now becoming essential.
Debate: should shipping be regulated regionally or globally?
Several industry stakeholders at 2020's virtual Global Maritime Forum claimed that greater regional regulation of the shipping industry would help speed up its decarbonisation process. But is taking power away from international regulators such as the International Maritime Organization really the answer? Ilaria Grasso Macola and Adele Berti explore both sides of the debate.
Using real-time data to cut emissions with ZeroNorth
Earlier this year Maersk Tankers launched a spin-off technology company called ZeroNorth, which uses real-time data to provide insights on a vessel's performance optimisation and help it save fuel and reduce emissions. Adele Berti caught up with CEO Søren Meyer to find out more.
Brexit and fishing: how could issues over channel rights affect UK ports?
As the Brexit deadline approaches, the UK and the EU are still stuck in a stalemate over the issue of fishing rights in the English Channel. Adele Berti asks: what makes fishing so important, and how could the outcome of negotiations affect British ports?
Should shippers be concerned about low-sulphur fuel quality?
The Covid-19 pandemic and consequent drop in jet fuel demand have made diesel and kerosene a popular fuel option for shipping's very low-sulphur blends. However, some shipowners have found issues with these blends, especially when it comes to quality. Ilaria Grasso Macola investigates this problem and the wider issues of fuel blend quality since the International Maritime Organization's sulphur cap came into place in 2020.
Regeneration and rejuvenation at the historic Port of Djibouti
With a ceremony held on 8 October, the Djibouti Government inaugurated a regeneration project to turn the historical Port of Djibouti into the East Africa International Special Business Zone over six phases. Ilaria Grasso Macola takes a look at what the project is all about and what the port will look like in the future.
HySHIP: inside Europe's flagship hydrogen ship demonstrator project
Led by global shipping firm Wilhelmsen, the HySHIP project plans to build a zero-emission prototype vessel running on liquid green hydrogen, which it aims to promote as a viable maritime fuel option in Europe. Julian Turner gets the lowdown from Wilhelmsen VP special projects Per Brinchmann.
What will Joe Biden's election mean for shipping?
As the start of a new era in US politics hoves into view, Adele Berti takes a look at how the next President of the United States could impact the maritime industry.
Next issue
As Covid-19 vaccines are deployed worldwide, we ask: what role will shipping play in their distribution, and will this require investment in new technologies?
We speak to Høglund Marine Solutions about the challenges involved with integrating automation with existing container hardware, and find out more about the ethos behind maritime safety specialist RightShip 's rating system for shipping sustainability.
Focusing on the UK, we highlight what barriers remain to the use of autonomous ships, find out why the UK's Port of Tyne is setting a green example for other ports to follow, and explore the future of shipbuilding in the country after Brexit.
We also ask key questions about the Port of Rotterdam as it strives to become the 'smartest port in the world' and find out how maritime careers will change in the wake of Covid-19.
Would you like to be notified when a new issue of Ship Technology Global is out? Sign up for email alerts here!
We will only use your email address to let you know when a new issue is available. Ship Technology Global is published bi-monthly.