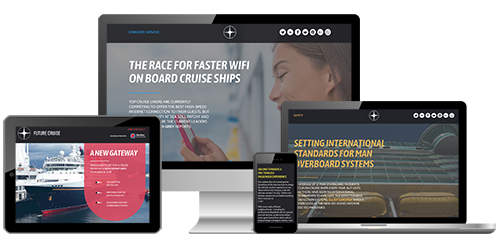 Future Cruise is now available on all devices. Read it for free here.
Vancouver is set for a cruise boom, with Cunard, Viking Ocean and Azamara planning to offer Alaskan itineraries from the seaport in 2019. We take a look at the future market potential of Vancouver, which is ideally located as a departure point for cruises to Alaska, and ask what else the region has to offer cruise customers.
We also profile Royal Caribbean's Symphony of the Seas, the largest cruise ship by gross tonnage, ahead of its launch in June, and take a closer look at Disney Cruise Line's strategy, as it looks to add three new LNG-fuelled ships to its fleet.
With a special focus on safety in the cruise industry, in this issue we find out more about new international ISO guidelines for 'man overboard' detection systems, which raise the alarm and locate the victim as soon as possible. We also hear from Brookes Bell about why the safety principles embedded during the design and construction of cruise vessels must not be compromised.
Finally, we consider the best solutions for cruise operators ahead of the IMO's 2020 sulphur cap implementation deadline, from low-sulphur fuel and LNG to scrubber technology, and check in on some of the latest efforts from cruise lines to improve Internet connectivity at sea.
In this issue
Meet the new Royal baby: Symphony of the Seas Royal Caribbean's newest ship is also the largest in the world. By developing a new app and focusing on a data-centric approach, the company is edging closer towards its goal of providing a "frictionless" experience, as Frances Marcellin finds out. Read the article here.
Growth ahead for Disney: expanding with LNG newbuilds Disney Cruise Line's market capacity is set to grow dramatically by 2024, according to the 2018-2019 Cruise Industry News annual report. With three new LNG-fuelled ships set to join the fleet in the early 2020s, Callum Tyndall takes a look at Disney's strategy and its plans for the future. Read the article here.
Vancouver: a new gateway for cruises to Alaska Vancouver is set for a cruise boom with Cunard, Viking Ocean and Azamara planning to offer Alaskan itineraries from the city in 2019. Frances Marcellin looks at Vancouver's cruise market, the ideal departure point for cruises to Alaska. Read the article here.
The race for faster WiFi on board cruise ships Top cruise liners are currently competing to offer the best high-speed internet connection to their guests. But with connectivity at sea still patchy and expensive, who are the current leaders in speedy WiFi? Eva Grey reports. Read the article here.
How are cruise operators preparing for the IMO sulphur cap? With the International Maritime Organization's 2020 sulphur cap less than two years away, cruise operators need to ensure their fleets are prepared to cut harmful emissions. Joe Baker considers the financial and operational challenges involved. Read the article here.
Setting international standards for man overboard systems An average of 21 man overboard incidents occur on cruise ships every year, but until now there have been no international requirements to evaluate the effectiveness of detection systems. Elliot Gardner takes a closer look at the new ISO guidelines for these technologies. Read the article here.
Safe return to port: a seamless approach With cruise ships costing up to £1bn, it may surprise some that the defects period for a new vessel is only 12 months. Dr. Luis Guarin, partner and naval architect at Brookes Bell, explains why the safety principles embedded during design and construction must not be compromised. Read the article here.
Next issue preview
MSC Cruises' latest innovative cruise ship, MSC Seaview, will be making her eagerly awaited debut this summer. Our reporter attends the christening of the vessel to find out more, before jumping on board Viking Cruises' Viking Orion, which has been designed to mix elegance with a focus on destinations.
Cruise lines have been told by Unesco to invest more in protecting cities with heavy tourism, such as Venice and Dubrovnik, and to develop cleaner ships. We consider the threats that cruising may pose to popular destinations, and ask what cruise lines can do to help.
Also in this issue, we explore the increasingly popular cruise destination of Cuba, as more companies look to cash in on partially thawed relations between Cuba and the US, and profile the Chinese cruise market and a new industry alliance established to promote it.
We also take a closer look at Celebrity Cruise's Celebrity Edge, a new state-of-the-art cruise ship whose interiors were designed by British designer Kelly Hoppen, learn more about Hurtigurten's plans to become the world's first plastic-free cruise company, and find out why MSC Cruises' new voice-enabled personal assistant for passengers is causing such a buzz.