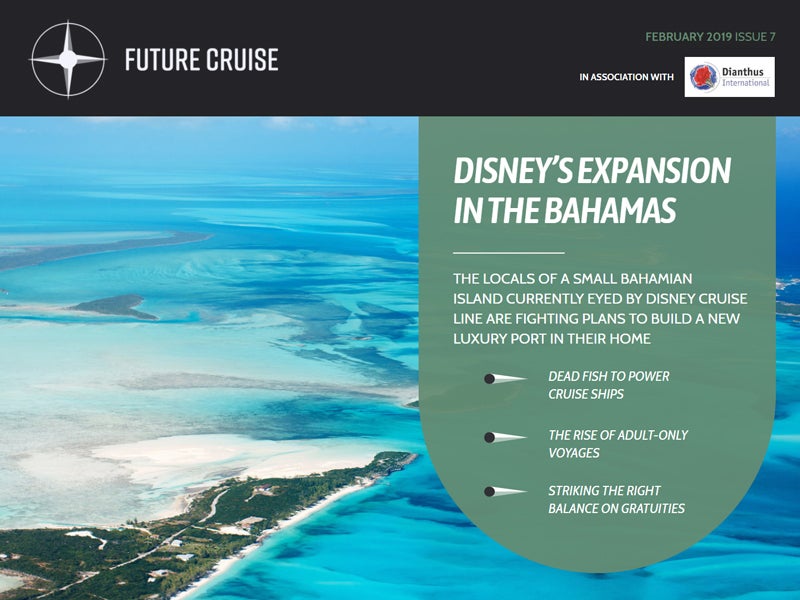 On the small Bahamian island of Eleuthera, Disney's plans to build a luxury cruise port has sparked tensions with some of the locals, with thousands of opponents claiming that, as with many other commercial plans of this nature, Disney will rack in the profits while the local economy will see little benefit in return. We dive into the issue to see whether yet another cruise port is justified.
We also turn our attention to an old source of gripe and confusion among both novice and seasoned cruisers, namely gratuity charges added to the overall cost of the trip, to find out how cruise lines can strike the right balance on staff tipping.
In addition, entertainment company Floating Festivals gives us an insight into how it puts up its extremely popular theatrical productions at sea, while Hurtigruten talks us through its sustainability agenda in the years to come, after recently starting using biogas to power some of its vessels.
Finally, we turn our attention to the changing demographics of the cruise clientele – the average age across the sector is falling, with more millennials jumping on board, while the sector is splintering to cater for these changing needs, including no-kids-allowed cruises.
Read the edition in full here.
In this issue
Mixed feelings dog Disney's expansion in the Bahamas
Disney Cruise Line is closing in on a deal to buy a parcel of land on the Bahamian island of Eleuthera, to be used to build a new port and expand its presence in the region. While the operator is promising a shot in the arm to the local economy, the plan has split opinion among locals, as Ross Davies reports.
Read the article in full here.
No kids on board: the surge of adult-only cruises
'No kids allowed' cruises are growing in popularity, with enquiries for 'adult-only' cruise holidays surging on search engines. And cruise providers, in their restless search to attract new customers, are more than happy to indulge. Elliot Gardner finds out more about this trend.
Read the article in full here.
Tipping point: has the cruise sector struck the right balance on gratuities?
Daily service charges – also called gratuity charges – are a talking point in the industry, with some lines hiking these daily charges. Royal Caribbean, Holland America and Norwegian all charge $14.50 per day, per passenger. But with customers having varied attitudes to tipping, are automatic service charges justified, and how can they be levied without putting off passengers? Chris Lo finds out.
Read the article in full here.
How old is the average cruise passenger?
The standard cruise ship stereotype conjures images of decks lined with a more elderly clientele, but is that really a true reflection of age demographics in cruise ship clients? Elliot Gardner takes a look at the market.
Read the article in full here.
Powering cruise ships with dead fish
Dead fish and other organic waste will soon be used to power Hurtigruten's fleet of green cruise ships in a world-first effort to increase its sustainability efforts. Frances Marcellin talks to the company about its plans and the opportunities and challenges of expanding its horizons to the uncharted waters of biogas.
Read the article in full here.
Drama at sea: Floating Festival's on-board musical theatre
Top-quality entertainment is crucial to cruise passengers and Floating Festivals' shows at sea bring top stars and unique line-ups to Royal Caribbean's fleet. But how did the concept of Floating Festivals come about, what are the logistics of organising a festival on board and what should passengers expect? Frances Marcellin speaks to Floating Festivals to find out more.
Read the article in full here.
Audiovisual technology elevates the cruise experience for tech-centric travelers
Cruise operators entice guests with high-tech stage shows, dazzling digital displays, shareable moments and enhanced guest room controls. Here, Brad Grimes, senior director of communications at AVIXA rounds up some of the most cutting-edge AV innovations on cruise ships around the world.
Read the article in full here.
Next issue
In our next edition, we profile the brand new MSC Bellissima, a stunning new ship unveiled in March, which will feature the world's first digital cruise assistant, Zoe, a voice-enabled artificial intelligence device fitted in every cabin.
We also profile the rise of the river-cruise market, with river cruise companies driving the market forward with eight new river ships set to launch this year alone.
Finally, Anthony Mauboussin, the "culinary architect" as he is known, tells us about the intricacies of catering to changing itineraries on board while keeping Viking's high-level food philosophy at the heart of what he does.