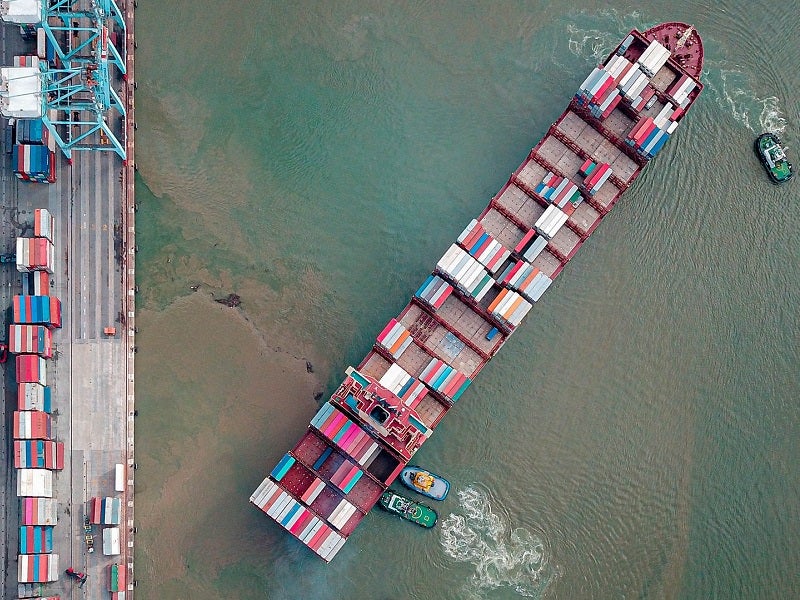 As 2019 draws to a close, the shipping industry is preparing to end one of the most intense years for business in a long time.
The International Maritime Organization 's (IMO) sulphur cap deadline is fast approaching, while pressures from the public are pushing for more gender equality within the sector's workforce.
Shifting geopolitical balances have also been standing in the way of good business for the best part of 2019, as the industry held its breath when tensions near the Strait of Hormuz and off the coast of Venezuela reached their peak earlier this year.
Yet many stakeholders have been voicing concerns over the rise and implementation of protectionist policies in some of the leading economies of the world, including US and China, the UK and Brazil.
Described in the Collins Dictionary as 'the policy some countries have of helping their own industries by putting a large tax on imported goods or by restricting imports in some other way', protectionism is being seen with increasing scepticism across the shipping industry, which is one of the largest benefactors of global trade.
Are stakeholders right to be concerned, and what lies ahead for the sector?
Escalating trade war leaves the industry in state of alert
The ongoing trade war between the US and China represents the highest form of protectionist policy currently in place.
A virtual attrition warfare between two of the most powerful countries in the world, it started roughly in March 2018, when President Donald Trump decided to introduce sanctions on steel imports from Beijing at 25%. China was quick to retaliate, increasing tariffs on a number of US goods such as soya beans, wine, fruit and nuts.
"Global maritime trade lost momentum in 2018 due to increased uncertainty."
The most significant trade-restrictive measure in existence, it has marked the start of a new protectionist trend that, over the years, has led to the implementation of 137 similar policies across the world.
As the International Chamber of Shipping (ICS ) senior policy adviser Helio Vicente explains, these measures are compromising the already fragile shipping sector: "Global maritime trade lost momentum in 2018 due to increased uncertainty as a result of the escalating trade war between the US and China, along with heightened concerns over the proliferation of restrictive trade policies and measures around the world."
Trade growth hit by slowdown
Almost two years later, world trade is starting to feel the effects of these tensions, leading shipping stakeholders to call for urgent action from governments and international organisations.
In May 2019, the ICS joined other organisations to express concern over this increase in protectionist policies. The delegation took to the World Trade Organization (WTO) to present two position papers that outlined their support for free trade and a rules-based multilateral trading system.
"National policies can have a negative impact on the maritime trade and development aspirations of all."
The studies further revealed a seven-fold increase in import-restrictive trade measures in 2017 alone, which accounted for some $588.3bn in extra costs to global trade.
Concerns finally reached a peak in October this year, when the United Nations Conference on Trade and Development's annual Review of Maritime Transport revealed a substantial in dip in maritime trade growth from 4.1% in 2017 to 2.7% in 2018.
A major victim of this framework was containerised trade growth, which fell from 6% in 2017 to 2.6% in 2018. Growth in port container traffic also saw a slump, as rates increased by 4.7% in 2018, down from 6.7% the previous year.
Commenting on the figures, UNCTAD secretary general Mukhisa Kituyi said: "The dip in maritime trade growth is a result of several trends including a weakening multilateral trading system and growing protectionism.
"It is a warning that national policies can have a negative impact on the maritime trade and development aspirations of all."
A reshape in trade lanes
With a new tariff hike planned for mid-December, fractions between Beijing and Washington are anything but resolved, with Bimco chief shipping analyst Peter SAND warning the effects are radically reshaping global trade routes.
"While the shipping industry itself has very little control over what it transports where, the trade war has set about a reshuffling of trade lanes", explains Sand.
For example, imports from Asia have seen moderate growth despite the US' plummeting imports from China. On the other hand, the US has found new soya bean buyers, in turn pushing China to purchase them from Brazil.
"Changing importing/exporting nations can cause problems to industry actors who can no longer necessarily rely on seasonal trades."
Yet the eastbound transpacific trade lane is paying the highest price. "The trade war initially provided a boost to this trade lane at the end of last year, as importers rushed to stock up on products before prices rose," explains Sand.
While this initially meant a boost for the container shipping market, there is now no evidence of frontloading in the weeks leading up to the next tariff hike.
"Once that comes into effect," Sand continues, "with almost all US imports from China tariffed, no more boosts from frontloading can be expected. This has already resulted in lower volumes and lower freight rates."
As US imports from China continue to plummet – down by 7% in the first nine months of 2019 – so are American exports of soya beans, which dropped to almost zero last year.
Nevertheless, Sand warns that these alternative measures probably won't manage to contain the damages of the trade war should tensions continue to escalate in the future. "Even taking into account changing trade patterns," he says, "shipowners position their ships according to where there has been a strong demand in past years, and changing importing/exporting nations can cause problems to industry actors who can no longer necessarily rely on seasonal trades and patterns that they had grown accustomed to."
The sector remains resilient
With tensions intensifying, Sand claims the situation is only likely to worsen. "Once supply chains have been disrupted, and trust eroded to the extent that it has been during this trade war," he says, "the effect of the trade war on containerised and dry bulk shipping between the two countries could last long beyond any resolution to the trade war (should one of these manifest itself), although Bimco is sceptical that meaningful progress will happen any time soon."
"The global shipping sector continues to engage with governments from around the world."
In the coming years, Bimco forecasts a further worsening in the fundamental balance of demand and supply, with the former set to slow down and the latter expected to grow, which will in turn lead to lower freight rates.
Faced with the prospect of watching from the side lines – with its powers limited to lobbying and encouraging discussions – the industry is nevertheless determined to make its voice heard. As Vicente puts it, "the global shipping sector continues to engage with governments from around the world to discuss our continuing concerns regarding these issues, which are beyond the sector's control."
Nevertheless, he says, "the sector remains resilient". Global maritime trade is predicted to grow at an average annual of 3.4% between 2019 and 2024, driven in particular by growth in containerised, dry bulk and gas cargoes.
"However, these projections can only be achieved if factors such as trade protectionism and other risks (including trade wars) can be carefully managed and addressed by the governments involved," concludes Vicente.