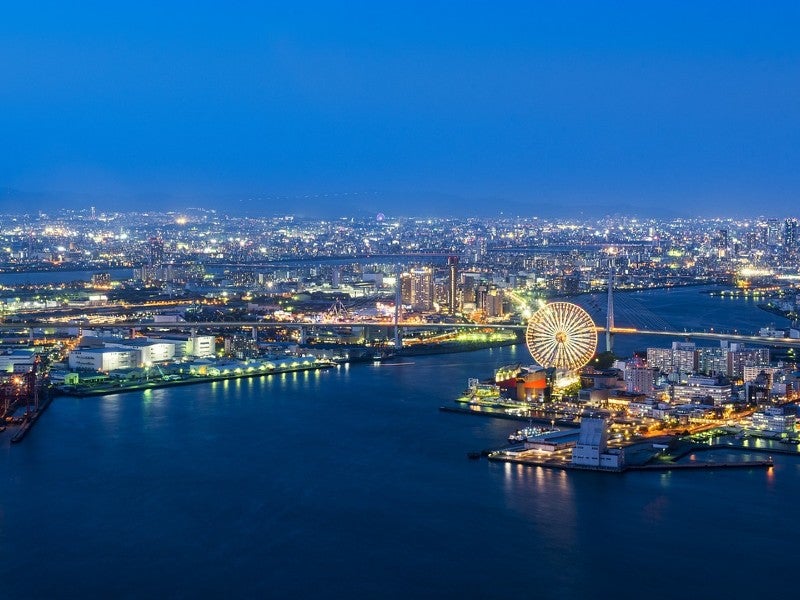 Japan's coronavirus-stricken shipping sector is bidding to rebuild its international prestige by becoming a new leader in sustainability. From shipbuilding to fuel development, the country is devoting money and research into positioning itself at the forefront of the International Maritime Organization 's (IMO) carbon emission reduction goals. 
This is the concept behind Japan's recent 'Roadmap to Zero Emission from International Shipping', an ambitious plan that aims to help the sector shift away from fossil fuels over the next few decades. 
Published in March, the roadmap was authored by the Japan Ministry of Land, Infrastructure, Transport and Tourism and key stakeholders, including the Nippon Foundation, the Japan Ship Technology Research Association and the National Maritime Research Institute. 
With targets including building a 'Zero Emission eco-ship' by 2028 and identifying an emission reduction pathway ahead of 2050, many have welcomed the plan as a milestone in the climate change fight. However, others warn that achieving these targets may not be enough to save the local industry from the prospect of an economic recession.
The roadmap explained: reduction pathways and ship design concepts
Japan's roadmap inserts itself within the IMO's industry-wide plan to reduce emissions per transport work by at least 40% by 2030 and bring down the total annual GHG emissions by 50% by 2050. In compliance with these targets, the scheme also has 2030 and 2050 as its main deadlines. 
"For 2030, Japan has a proposal called EEXI to improve the energy efficiency of ships," engine specialist Professor Koji Takasaki of Kyushu University explained at a webinar earlier this year. The EEXI proposal – which is short for energy efficiency existing ship index – was pitched to the IMO in 2019 and aims for implementation no later than 2023. It suggests the adoption of new regulations for existing ships to calculate their energy efficiency performance based on standards previously set by the IMO. It also includes measures to incentivise further operational improvements. 
"For 2030, Japan has a proposal called EEXI to improve the energy efficiency of ships."
As for 2050, Japan outlines two feasible emission reduction pathways based on the assumption that seaborne trade continues on a business as usual basis. The first scenario revolves around transitioning from liquefied natural gas (LNG) to carbon-recycle methane – commonly known as synthetic gas. Having nearly identical chemical properties to LNG, synthetic gas could be gradually implemented on LNG-fuelled ships and LNG bunkering infrastructure. This would represent about 39% of marine energy consumption by 2050. 
The second pathway focuses on expanding the use of hydrogen and/or ammonia both as engines and fuel cells. Their combined use could make for 44% of energy consumption by 2050. However, Takasaki pointed out that in both scenarios fossil-based LNG will still represent a substantial share of energy consumption at about 35%.
The final part of the roadmap focuses on four design concepts for the construction of Zero-Emission Ships by 2028. These are a hydrogen-fuelled ship (called C – ZERO Japan H2), a super-efficient LNG-fuelled ship (C – ZERO Japan LNG & Wind), an ammonia-fuelled ship (C – ZERO Japan NH3), and an onboard CO2 capturing ship (C – ZERO Japan Capture).
With regards to hydrogen and ammonia, the paper warns that Japan needs to start investing in the development of engines powered by either one of them very soon. The resulting models will then have to be trialled by 2026 in order to be eventually ready for rollout before 2030. As Takasaki explained, while the hydrogen/ammonia fuel would be more expensive to produce, it would also provide benefits when it comes to storing it and transporting it. 
On route to achieving zero emissions from shipping: a testament to Japan's sustainability goals
Despite following the IMO's directives, the Roadmap to Zero Emission from Shipping is emblematic of Japan's devotion to tackling climate change. "Japan is keen to surge forward with its plan to be the leader in developing electric vessels, and the roadmap is a way of setting targets and achieving aims," explains Jonathan Moss, head of transport at global legal business DWF.
The local shipping sector has long been a supporter of electrification and the advantages it brings and the past few months reflect this. Earlier in May, seven prominent Japanese shipping companies joined forces to create the e5 Consortium, an initiative that aims to "establish new ocean shipping infrastructure services through various initiatives to develop, realise, and commercialise zero-emission electric vessels". Set for launch in March 2022, the world's first zero-emission electric tanker would be powered by large-capacity lithium-ion batteries and bring solid contributions to the government's roadmap and Japan's coastal shipping. 
"Japan is keen to surge forward with its plan to be the leader in developing electric vessels."
Two months later in July 2020, nine other shipping leaders established a working group within Japan's Carbon Capture & Reuse Study Group to study the feasibility of using methanation technology for zero-emission ship fuels. Led by JFE Steel Corporation, JGC Corporation and Mitsui O.S.K. Lines, the group is looking into a potential carbon recycling supply chain of methanation fuel that could help achieve significant GHG reductions in the maritime sector. 
As Moss explains, all these independent projects send a clear message of Japan's commitment to sustainability while also playing a crucial role in the industry's effort to attract a younger workforce. "The roadmap will attract a new generation of mariners to replace the ever-ageing workforce," he says. "It will promote Japan's standing as a maritime state which has cutting edge innovation and sound technological, environmental expertise at the top of the agenda."
How can the roadmap help Japan's struggling shipbuilding sector?
Some six months since its launch, the roadmap is just the tip of the iceberg of the monumental work that will be required to meet the 2030 and 2050 targets. Yet as Moss claims, Japanese shippers have plenty of reasons to deliver results as expected. "Order books swelled post-2017 when Japanese shipbuilders saw a rise in demand for merchant vessels with orders increasing by 150% in 2017," he says. "Japanese shipbuilders backed by the government recognise the importance of realising aims and delivering on specific projects."
"Japanese shipbuilders backed by the government recognise the importance of realising aims and delivering on specific projects."
Once the leading shipbuilder in the world, Japan is now feeling the pressure of competition from China and South Korea, which have been consolidating their market presence through mega-mergers. Well aware of its disadvantage, Japan has successfully identified sustainable ships as a way to differentiate itself. "The huge investment [in sustainable vessels] by large Japanese shipping companies including Idemitsu, Asahi Tankers, Mitsui OSK Lines means that those in charge of the roadmap will be held accountable, heightening the prospects that the roadmap will succeed," Moss continues. 
Yet he warns that while the strategy is proving successful, "the danger is that too much concentration on such venerable intentions will be a distraction from the current problems which coronavirus is inflicting on [the country's] cargo industry". 
The pandemic is currently posing serious challenges to Japanese transportation leaders, with volumes by coastal vessels between April 2019 and March 2020 plummeting compared to the previous year according to DWF. Figures from the Japan Ship Exporters' Association further show that their combined backlog fell to a 23-year low in late May, while total orders received by the Japanese builders in June were down by 52%. This is forcing several large companies to consider downsizing their business in the face of a looming economic recession. 
With more uncertain months ahead, Moss concludes: "the sector will need to overcome the combined challenges of working on a rebound strategy for its cargo industry at the same time as developing the roadmap."