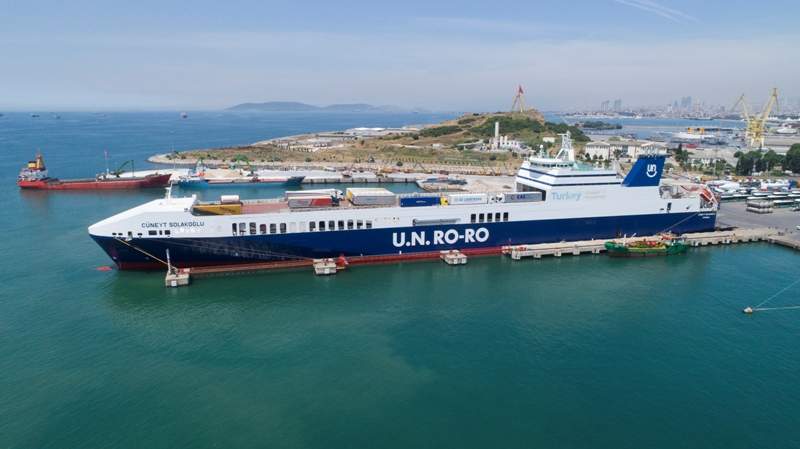 Denmark-based shipping company DFDS completed the purchase of 98.8% shares in UN Ro-Ro from Turkish private equity companies Actera and Esas for €950m.
The deal is based on an agreement signed by the companies in April.
Based in Turkey, UN Ro-Ro currently operates five freight ferry routes connecting the country with Trieste in Italy, and Toulon in France with 12 ferries and its own port terminals in Istanbul and Trieste.
---
South Korea-based shipping line Hyundai Merchant Marine (HMM) selected Daewoo Shipbuilding and Marine Engineering (DSME), Samsung Heavy Industries (SHI), and Hyundai Heavy Industries (HHI) to build a total of 20 eco-friendly mega container ships.
The selection was made on the basis of a request for proposal issued to shipbuilding companies in April and will see HMM signing a letter of intent with the newly selected parties.
As part of the arrangement, DSME and SHI will build seven and five 23,000 twenty-foot equivalent unit container ships, respectively, which are scheduled to be delivered by the second quarter of 2020.
---
Fairfax Financial, through certain subsidiaries, signed a definitive agreement to invest an additional $500m of equity in Seaspan by exercising two tranches of warrants issued to the company in February.
The proposed investment will increase Fairfax's total investment in Seaspan to $1bn.
It will also allow Fairfax to purchase around 38.46 million Class A common shares at an exercise price of $6.50 per share.
---
France-based aerospace group Airbus signed a memorandum of understanding with Wilhelmsen Ships Service for conducting the 'shore-to-ship' delivery of goods using an unmanned aircraft system (UAS) at the Singapore port.
As part of the collaboration, Airbus' Skyways UAS will be used to deliver goods from the Singapore coast to the vessels anchored at the bay.
A two-week shore-to-ship pilot trial is scheduled to be launched by the third quarter of this year at Singapore port's Marina South Pier.
---
ABB won a contract to provide the complete electric power and propulsion package for Virgin Voyages' fleet of three cruise ships.
Each of the ships will be equipped with ABB's Azipod propulsion, a gearless steerable propulsion system that includes the electric drive motor in a submerged pod outside the ship hull.
Compared to usual shaft line propulsion systems, Azipod propulsion system can reduce the ship's fuel consumption by up to 15%.
---
Adani Ports and Special Economic Zone (APSEZ) executed a share purchase agreement with Larsen and Toubro to purchase a 97% share in Marine Infrastructure Developer (MIDPL), which operates Kattupalli Port in Chennai, India.
MIDPL, L&T Shipbuilding and Adani Kattupalli Port are also signatories of the Rs19.5bn ($282.7m) deal.
Kattupalli Port is situated 30km north of Chennai and is connected with its neighbouring industrialised regions of North Tamilnadu, Bangalore and South Andhra Pradesh, among others.
---
Australia's Port of Brisbane (PBPL) signed a commercial agreement with Carnival Australia for the development of a A$158m ($120m) cruise terminal at the port's Luggage Point.
The agreement is a modified version of a previous deal signed between the parties for the new Brisbane International Cruise Terminal (BICT), which received conditional approval from the Australian Competition and Consumer Commission last month.
BICT is scheduled to be operational by mid-2020 and will host various Carnival Australia brand such as P&O Cruises Australia, Princess Cruises, and Carnival Cruise Line.
---
The Hull to Hull (H2H) project, coordinated by Kongsberg Seatex, is set to develop technology that allows maritime vessels to automatically navigate safely in close proximity to each other and other stationary or moving objects.
Funded by the European Union (EU), the research project is in its concept definition phase and is expected to move towards the technology adaption and integrations work package (WP03) phase this year.
WP03 will involve the development of a pilot system, while it will define precise sensors and communication systems. It will also include the creation of an integrated solution based on existing technology.
---
The Port of Cork commenced the construction of its cargo handling terminal in Ringaskiddy, Ireland, with an investment of €80m.
The Cork Container Terminal will initially include a 360m quay with a 13m depth alongside and will allow berthing of larger ships.
Spreading across an area of 13.5ha, the terminal will also feature two ship-to-shore gantry cranes and container handling equipment.
---
A study carried out by UMAS consultancy revealed that switching to liquefied natural gas (LNG) is expected to cost the European shipping industry $22bn and would be an expensive distraction for the sector with little impact on decarbonisation efforts.
The transition is estimated to deliver a maximum 6% reduction in ship greenhouse gas emissions by 2050 compared to the replaced diesel.
The study, which was conducted on behalf of Transport & Environment, also found that the small emissions savings might be outnumbered by the growth of maritime trade, even before possibly higher rates of methane slip are considered.