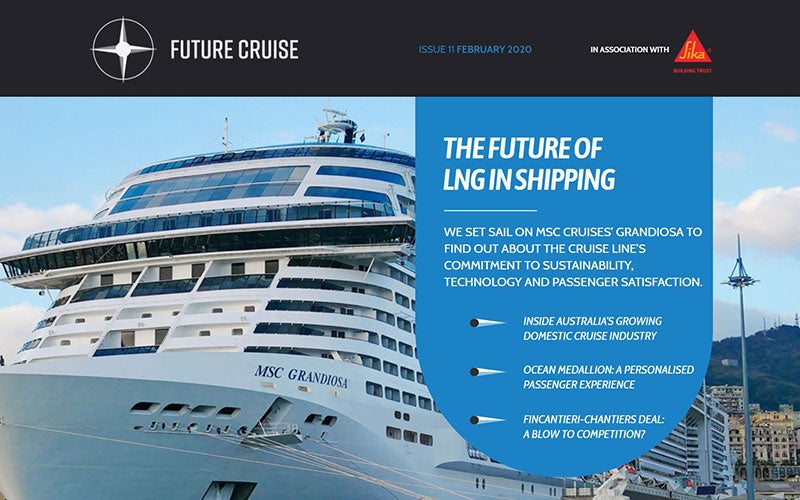 Future Cruise is back for another issue packed with technology news and industry analysis. In this issue, we give our thoughts on MSC Cruises ' environmentally advanced ship Grandiosa, take a closer look at Carnival's Ocean Medallion wearable device for passengers, and ask why the domestic cruise market in Australia is booming.
Whether you are on a desktop, tablet or smartphone, you can read the magazine for free online.
In this issue
Head to head: new cruise ships to watch in 2020
Cruise is gearing up for another year of exciting new ships complete with exciting new interior concepts, cleaner fuel propulsion methods, and technologies to improve the passenger experience. But which new builds setting sail on their first journey in 2020 will make the biggest splash in the industry? Adele Berti, Chris Lo and Joe Baker give their picks for the ships they are most excited for this year.
Ocean Medallion: out with the old and in with the new
Frances Marcellin sailed around the British Isles with Princess Cruises to try out Carnival's Ocean Medallion – a wearable accessory that tracks passengers and offers personalised services – for the first time: below, she recounts her experience.
Setting sail: the rise of Australia's domestic cruise industry
Cruise operators are increasingly offering bite-sized breaks along the coast of Australia for domestic travellers keen to explore the island continent. Varsha Saraogi takes a look at this growing market and how cruise lines can capitalise on it.
Port of Vancouver moves into cruise control
The Port of Vancouver has just concluded one of its most successful years to date, welcoming a record number of cruise visitors only second to the 2002 season. With new cruise ships set to reach and depart from the port from April, how is the hub responding to this rediscovered popularity? Adele Berti takes a closer look.
Fincantieri -Chantiers: a boost or blow to competition in Europe?
The European Commission is currently looking into Fincantieri's plan to merge with competitor Chantiers de l'Atlantique, a deal which has cast fears around unfair competition throughout the continent. Are the fears justified, or could the move help boost Europe's position in cruise shipbuilding? Adele Berti reports.
Onboard MSC Grandiosa: a glimpse into the future of LNG
Launched on 10 November 2019, the MSC Cruises' Grandiosa can accommodate more than 6,000 passengers on its lavish Mediterranean voyages. Frances Marcellin was one of the first on board the ship at its delivery ceremony in Saint-Nazaire last October and pre-inaugural sailing.
Video: Can the X-BOW hull end seasickness on cruise ships?
Norwegian shipbuilding company Ulstein recently unveiled its X-BOW hull design to make navigation through rough waters smoother for passengers and cut emissions. Varsha Saraogi looks at how the technology works.
Take a look at our video feature here.
Q&A: Lloyd's Register on how ammonia can be the ideal renewable marine fuel
Lloyd's Register has partnered with a consortium of companies to develop an ammonia-fuelled tanker. Varsha Saraogi speaks to Lloyd's Register's Paul Carrett to delve deeper into the project and whether using ammonia can revolutionise the maritime industry as an alternative fuel
Next issue preview
In our May edition, we'll be taking a look at the cruise industry's response to the coronavirus outbreak, tracing the timeline and asking whether operators involved could see a difference in their bottom lines as a result of the virus' spread.
We'll also be taking a closer look at the design of the new SkyDome onboard P&O's upcoming cruise ship Iona, investigate whether demand is increasing for tall ship cruises, and find out how pioneering small ship operator Lindblad Expeditions is promoting sustainability in its voyages.
Also in the next issue, we take a closer look at retail and food trends onboard cruise ships, and find out whether operators should be investing more time and money into appealing to solo travellers. Finally, we ask about what business considerations need to be made following major cruise line acquisitions, after TUI Cruises announced its plans to expand through its £1bn acquisition of Hapag-Lloyd Cruises.
Would you like to be notified when a new issue of Future Cruise is out? Sign up for email alerts here!
We will only use your email address to let you know when a new issue is available. Future Cruise is published quarterly.