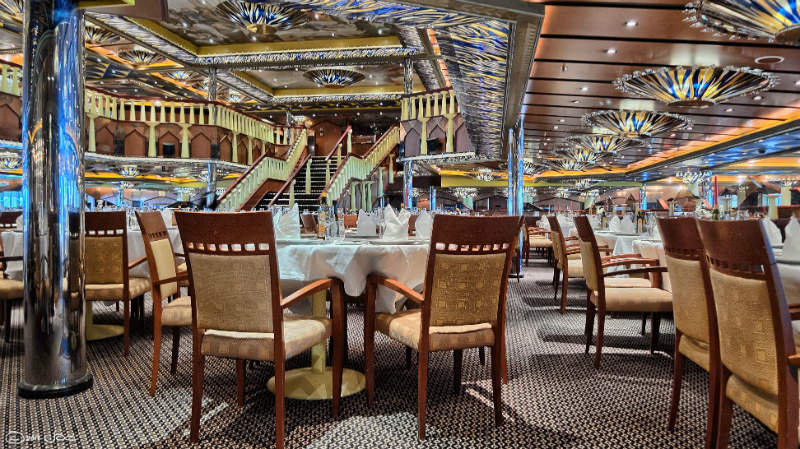 Nowadays, people want to know where their food is coming from. Retailers and restauranteurs that go the extra mile are rewarded with loyal and happy customers; and it's a trend that certainly doesn't stop at the shoreline.
Local, ethical food sourcing has been steadily making its way into cruise vessel kitchens, with on-board chefs preparing dishes with the exotic ingredients sourced throughout the journey, allowing travellers to sample local cuisine purchased from vendors in the many ports they've visited.
The trend doesn't come without its challenges though, with the amount of meals being prepared potentially numbering into the thousands, depending on the size of the vessel, on top of the constant challenge of finding sustainable local suppliers that have the capability of supplying such an order.
The local approach – giving back to port communities?
While there has been much development in the cruise industry over the last few decades, there is still a great deal of concern regarding the sustainability of cruises, and the impact ships have on the communities they visit.
In September 2016, campaign groups in Venice protested against the impact of ships coming to the city, with one of the key claims being that most of the tourism money generated stayed in the pockets of the vessel liners, rather than contributing to the city.
"In our increasingly digital age it's important that these personal connections still thrive."
Working with local food allows cruise liners to demonstrably give something back to the communities they visit, while still providing a unique experience for their patrons.
"I think it's important to offer local businesses our patronage as this will ultimately assist them in maintaining, serving and crafting items that are true to their identity and authenticity," says Celebrity Cruises corporate executive chef Josh Becker, "I think it's a shame when I see local purveyors or craftspeople opt to sell 'tourist' trinkets instead of something unique."
However, cruise providers' attitudes and approaches towards local food sourcing can vary quite dramatically depending on the size of the company and vessel in question. The big players, such as Royal Caribbean, may well work on a government level with popular port localities to ensure that sustainable food is firmly fixed on the on-board menu. Puerto Rico and the Dominican Republic both reportedly have partnerships with Royal Caribbean through which purchasing programmes have been set up with local suppliers.
Compare this to Uniworld, purveyors of the Boutique River Cruise Collection, which offers a luxury cruise experience for an average of 130 guests, a significantly smaller capacity than the over 4,000 of Royal Caribbean. But the more intimate size of Uniworld cruises means a more personalised experience in the kitchen.
"We have a fantastic opportunity to meet and work with locals along the routes that [we] cruise," explains director of culinary operations & development at Uniworld Boutique River Cruise Collection Bernhard Zorn. "By working with these local communities and utilising their passion and skill in producing high standard supplies, we have opened up great relationships that we are proud to foster. In our increasingly digital age it's important that these personal connections still thrive, and we place great value on supporting local communities."
Responsible and ethical sourcing
Fostering trust among suppliers is one of the biggest challenges facing cruise lines hoping to utilise local food in their marketed experience, as suppliers must be reassured that they are not wasting their time shipping off their quality local goods to customers never to be seen again.
Simultaneously suppliers must be aware of the high standards cruise operators work to. Customers want to be sure their food is ethically sourced; information that's tricky to reinforce if the food's background is not appropriately researched.
"Guests appreciate immersing themselves in their vacation destinations."
"For us, it's all about trust", says Zorn, "we have fantastic relationships with our regional vendors, we communicate with them regularly, and they are fully aware of the standards to which we hold them to. Our local suppliers work with us to ensure that we can guarantee sustainably sourced produce for our guests."
Another issue is supply. With bigger vessels it can be difficult to obtain such a large amount of produce in a lump sum while stationed at a port. Specialty items may well have to be stretched thin, and used in innovative ways in order to provide the unique 'localised' food experience to customers, while dealing with the realities of small food stocks. "We have a lot of guests to feed and sometimes cannot get products in the quantities we need so we have to be creative in how we use them," explains Becker.
Then there are issues of local sourcing in countries that may not be set up to provide food to cruise liners. Zorn comments that "in countries like Romania, Serbia and Croatia we [have] come across some difficulties with local sourcing," but does insist that the effort is worth it – "however the fresh vegetables and fruits grown by local farmers are some of the best available – they're as natural as natural can get."
And that appears to be the prevailing opinion of both cruise passengers, and of the liners themselves – that local sourcing is certainly worth the extra effort and associated challenges brought with it.
"Guests appreciate immersing themselves in their vacation destinations. We make it more convenient and give them some great stories to tell," says Becker, "Speaking primarily as a chef, I don't think there is a better opportunity to showcase things like 'regionality' and seasonality than working on a cruise ship. It's exciting to work with products you're unfamiliar with and enhance a guest's vacation experience by offering something they may have missed on their individual adventures."