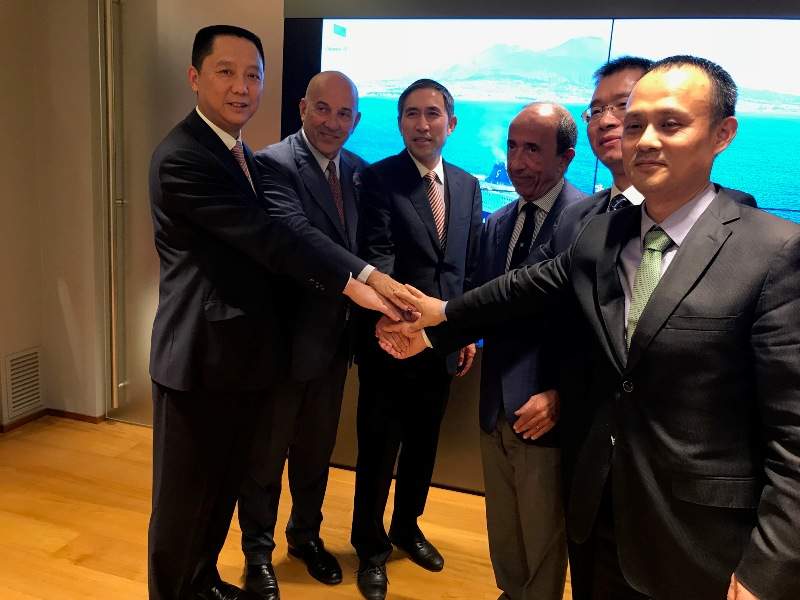 Italy-based Grimaldi Group placed an order valued at more than $400m with Chinese shipyard Jinling for the construction of six ro/ro vessels known as Grimaldi Green 5th Generation (GG5G).
The order is part of Grimaldi's plan to expand and modernise its existing fleet of vessels.
When completed, each of the 64,000t vessels will have a length of 238m and a beam of 34m.
---
Greek dry bulk shipping company Star Bulk Carriers signed definitive agreements to purchase 18 dry bulk vessels in two all‐share transactions.
Under the deals, Star Bulk will buy 15 vessels from Songa Bulk and three Newcastlemax vessels from Oceanbulk Container Carriers (OCC).
In order to complete the deal with Songa Bulk, Star Bulk agreed to issue a total of 13.725 million common shares and pay $145m in cash, which will be funded through proceeds of a five-year capital lease of $180m with China Merchants Bank Leasing.
---
A study from charity organisation Sustainable Shipping Initiative (SSI) revealed that biofuels are the most affordable zero-emission option for shipping.
However, the industry still has a long way to go in terms of production and sustainability of biofuels.
The current shipping industry is battling with huge challenges to find affordable zero-emission fuels in the wake of weak financial returns and the global requirement to keep transport costs minimal.
---
Rolls-Royce signed a letter of intent (LoI) with global insurance firm AXA Corporate Solutions to explore ways to jointly develop products for the autonomous shipping sector.
Under the LoI, Rolls-Royce will combine its ship intelligence systems and equipment with AXA's risk analytics capabilities to support current and future vessels.
Rolls-Royce Ship Intelligence products are capable of using various sensors on-board, streaming data to enable AXA to provide an innovative service to marine vessels.
---
Turkmenistan opened a cargo and passenger port on the Caspian Sea with an investment of $1.5bn.
The seaport is expected to improve Turkmenistan's export revenues and establish the country as a major shipping hub that connects Europe and Asia.
It intends to help the country's economy to reduce its dependence on exporting natural gas. Turkmenistan's gas exporting business was badly affected when Russia stopped all its dealings with the country in 2016 over a pricing dispute, reported Reuters.
---
Fincantieri won a contract worth more than €320m from Silversea Cruises for the construction of an ultra-luxury cruise ship.
Delivery of the Silver Dawn vessel is scheduled to take place by the last quarter of 2021.
When delivered, Silver Dawn will be a sister ship of Silversea's Silver Muse vessel, which was launched from Fincantieri's Sestri Ponente shipyard in Genoa, Italy, in April last year.
---
Wärtsilä has successfully tested its new navigation system, which combines the Eniram Trim and Nacos Platinum solutions, on-board the 'Costa Atlantica' cruise ship, a part of Carnival's Costa Crociere fleet.
The Eniram Trim platform is designed to enable the crew to immediately respond to changing conditions and maintain an optimum trim in real time.
It was used with Wärtsilä's Nacos Platinum control system for navigation, automation and dynamic positioning activities, as part of the test.
---
Grimaldi Group unit Finnlines placed an order to purchase three ro-ro hybrid vessels from China's Jinling shipyard for more than €200m.
The 238m-long vessels will be designed to carry 5,800 lane metres of cargo.
They will also be equipped with 5,600m² of car decks and around 300 twenty-foot equivalent units (TEUs) of capacity on the weather deck.
---
US-based cruise company Carnival opened its second cruise terminal at the Port of Barcelona in Spain.
Situated at the port's Adossat wharf, the Helix cruise centre facility along with Carnival's existing terminal at the port represents an investment of more than €46m.
The 12,500m² terminal was designed by Catalan architecture firm Batlle i Roig Arquitectura.
---
Norway-based operator Grieg Star sold its complete stake in Squamish Terminals situated near Port of Vancouver in British Columbia, Canada, to Western Stevedoring, for an undisclosed sum.
Established in 1972, Squamish Terminals is a deep-water, break-bulk terminal that offers cargo-handling services.
The 60-acre terminal is equipped with two berths and three warehouses to serve customers across North America and the globe. It primarily handles forestry products, steel and project cargoes.