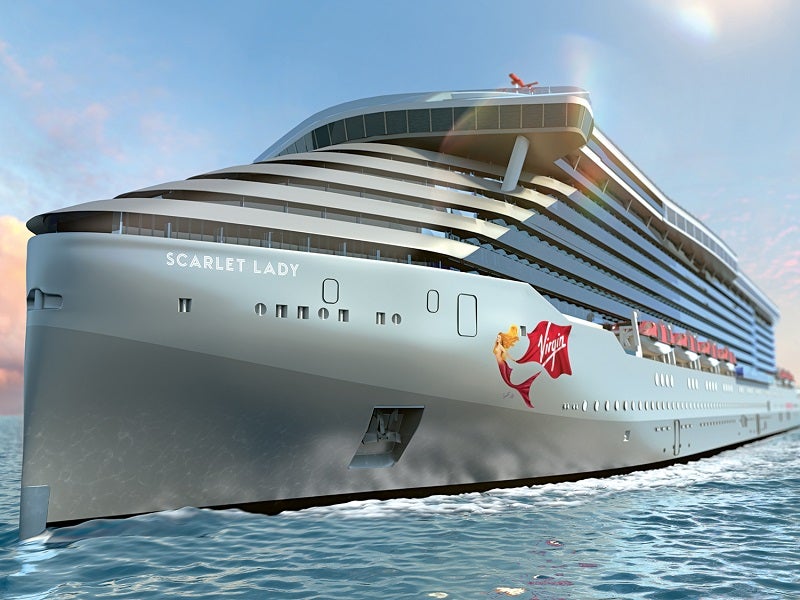 Joe Baker: Scarlet Lady is Virgin's attempt to make cruise cool again
They're the company with a finger in every pie, from transport to banking and even (for a short period) bridalwear. And this April, Virgin will stamp its iconic red logo on the cruise industry with the launch of Scarlet Lady.
The first of several ships to be launched by Virgin Voyages this decade (Valiant Lady arrives in 2021, with two more unnamed vessels to follow), Scarlet Lady is Virgin's attempt to smash the stereotype that cruise holidays are for older travellers or families. Millennials are a clear focus here, with standard buffet fare replaced by 20 food outlets offering a la carte options, chic communal lounges and bars, and cabins with hipsteresque accessories you might find in a trendy New York apartment.
Restaurants onboard attempt to skewer modern trends with a touch of class. Razzle Dazzle combines edgy décor with a range of vegan and vegetarian dishes, while "laboratory-like eatery" the Test Kitchen will offer coffee tasting and mixology classes. Virgin has made big plays on fitness – see the massive outdoor running track and onboard wellness programme called Vitamin at Sea – as well as eco-friendless with a ship-wide plastic ban.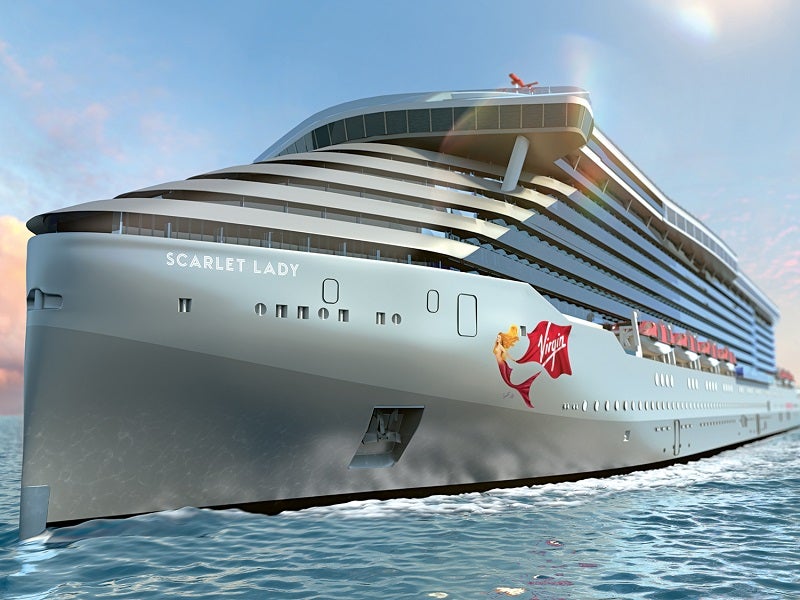 Eliminating the communal dining area is an intriguing move. Virgin founder Richard Branson said the company wanted to avoid "boring dining rooms", but the company has also implied it could cut waste and energy consumption. Cruise enthusiasts have also speculated that separate dining areas could help prevent the spread of norovirus, which can cripple cruise ships – just ask Royal Caribbean, which had to refund Oasis of the Seas passengers after 475 passengers and crew members fell ill last January.
In August, we found out how the company had tried to blend the common concept of 'luxury' with a more rebellious, youthful vibe across the ship. Virgin Voyages senior vice president of hotel operations Frank Weber explained how the company was trying to create a cruise offering for people who don't usually go on cruises. "We had a real opportunity here to put people first, and we didn't have any kind of legacy, which other cruise companies have to deal with," he told us.
While this is far from the first child-free itinerary, Virgin's move to target adults – particularly 24-39-year-olds – on its initial cruise outing remains a bold step. According to Cruise Lines International Association, the average global cruise passenger age is 46, but it's important to note that this spans a variety of demographics on a wide range of cruise types.
The question is whether Virgin Voyages has done enough to break industry norms and bring trendy young-uns aboard. If it manages to thread this particular needle, could other operators seek to replicate the ideas it has brought to the table? Only time will tell, but in the meantime, Scarlet Lady is one to watch.
Adele Berti: Carnival Mardi Gras passengers are in for a hell of a ride
If 'excitement' is what passengers are looking for, nothing screams euphoria and entertainment more than Carnival's upcoming Mardi Gras, which is setting sail in November this year.
The company's loving tribute to its first ever ship, the 1972 TSS Mardi Gras, the new vessel is pledging to commemorate Carnival's decades-long venture into the cruise ship industry with as much fanfare as you would expect from any respectable carnival march around the world.
For starters, here's a look at some of the ship's most impressive features: 20 decks and 5,200 rooms spread over 1,130ft of height and weight of 180,000GT make this Carnival's biggest ship to date. It's also the company's first cruise ship in North America to be powered by liquefied natural gas (LNG).
But for whoever will sail on it – heading to some of the Caribbean's most breathtaking spots – LNG will not be the only ship's major innovation. From the ground up, Mardi Gras is an endless succession of dining areas, entertainment hotspots and fancy staterooms offering a variety of activities for a broad age range.
Food enthusiasts who like to travel with a full belly will be spoilt for choice, with the headliner on the ship's menu being the so-called 'French Quarter'. American celebrity chef Emeril Lagasse will bring his signature dishes to this area, as guests of the Emeril's Bistro 1396 will be able to enjoy fried oysters, barbecue shrimp, duck and sausage gumbo and muffuletta sandwiches whilst a stone's throw from a jazz club and a night club.
But the star attraction of this mammoth cruise ship – set to lure hoards of children like a mermaid's singing – is the Bolt Ultimate Sea Coaster: the first-ever roller coaster at sea.
"An all-electric thrill ride that puts the power of speed in your hands," as Carnival put it, Bolt sits some 187ft above sea level, and will take its guests for a 40mph-ride onboard its two-seat carriages spinning around the ship with a  view of the ocean. Passengers will also be able to control the speed of their carriage with a pedal.
The roller coaster will spin around the remaining part of Mardi Gras' top-deck entertainment area – also known as the Ultimate Playground – that includes a mini-golf course, full-court basketball and a ropes course and the largest of Carnival's signature WaterWorks with three spiralling slides.
Chris Lo: National Geographic Endurance breaks into wilder waters
While the cruise industry might be synonymous with mass-market mega-ships, the expedition cruise niche has been quietly developing alongside the mainstream. In decades past, adventure-seeking travellers might have braved rough conditions to explore the world's hidden gems by ship, but for today's voyagers – those with deep enough pockets, at least – expedition cruise specialists such as Quark Expeditions, Hurtigruten and Hapag-Lloyd Cruises offer the same thrills alongside modern comforts.
Of the many expedition vessels set to launch in 2020, National Geographic Endurance has emerged as one to watch. Leading cruise operator Lindblad Expeditions formed a strategic alliance with National Geographic in 2004 to offer joint expedition cruise products, and Endurance is the latest manifestation of this fruitful partnership. The vessel was floated out of the Ulstein Verft shipyard in Norway at the end of 2019, and is set to embark on its first commercial voyage in April this year for Lindblad/National Geographic's 'Svalbard in Spring' cruise.
Endurance, which is named in honour of legendary Antarctic explorer Sir Ernest Shackleton's ship, is the partners' first vessel designed specifically for polar cruising. The ship's icebreaking capabilities are rated at Polar Class 5, which will enable year-round polar operation in medium first-year ice. The ship incorporates Ulstein's proprietary X-BOW design, which improves onboard stability and comfort while cutting through choppy waters, while also improving propulsion efficiency to make full use of expanded fuel and water tanks – perfect for extended forays around remote locations.
"A Polar Class 5 rating gives us the ability to operate the ship freely at any time of year in polar environments vastly expanding our polar range," said Lindblad Expeditions president and CEO Sven Lindblad at the vessel's keel-laying ceremony in 2018. "This means we can explore deeper into the pack ice, or further north to the unexplored reaches of the arctic. For instance, northern Ellesmere Island, where only a relative handful of people have ever been."
Endurance will make its Antarctic debut in December 2020 with a 35-day cruise across the Antarctic Peninsula and the Ross Sea.
On even the most challenging expeditions, passengers staying in one of Endurance's 69 cabins – which can accommodate 126 guests in total – won't be sacrificing comfort or quality. The ship features two restaurants serving sustainable cuisine, as well as a VIP Chef's table for more intimate meals; wellness facilities include a gym and yoga studio, infinity-style outdoor hot tubs and ocean-view saunas.
While operators of the giant cruise vessels at the other end of the market splash out on glitzy nightclubs, casinos and even an onboard roller coaster, Endurance's extra features are geared more towards the location-specific interests of its affluent target demographic, as well as National Geographic's reputation as one of the world's best-loved sources of wildlife photography. On top of the standard fleet of Zodiac inflatables and other equipment for trips to the shore, every voyage will be accompanied by a National Geographic photographer, a certified photo instructor and video chronicler, and an undersea specialist with the equipment to bring passengers closer to the natural treasures beneath the waves.
With ships like the Endurance and Silversea's forthcoming Silver Origin, which has been customised for exploring the Galapagos Islands, it's clear that leading expedition cruise operators are working harder than ever to tailor ships to make the most of challenging destinations while meeting the exacting expectations of their target customers. Lindblad/National Geographic is clearly confident about its strategy; in late 2021 Endurance will be joined by its sister ship Resolution, which celebrated its keel-laying in October and features all the same features and icebreaking capabilities of its predecessor.