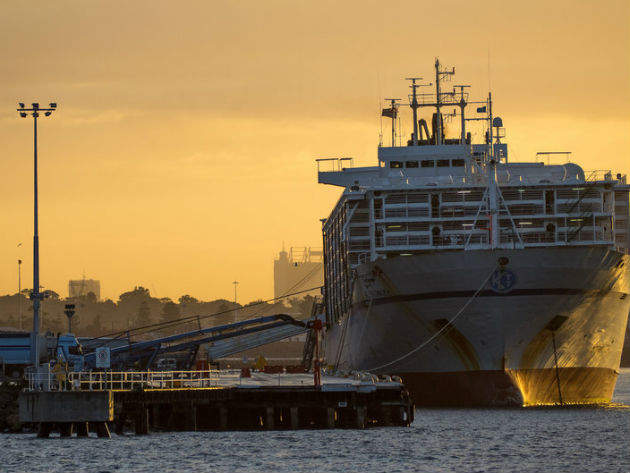 As part of this year's Seafarers Awareness Week, the Merchant Navy Training Board brought together people from a variety of careers at sea, who have now moved back ashore, applying their maritime expertise and skills in a wealth of job roles. One of the most important uses of their know-how is guiding the next generation of cadets into a challenging career at sea.
During the event, which took place on 21 June, three of the "hidden seafarers" talked about the challenges and opportunities they faced when making the move into their new job roles as a business director, training manager and lecturer.
Drawing from starkly different experiences within the maritime world, the three are: veteran seafarer Charles Woodward, now a business manager at Marine Society & Sea Cadets; former cadet Thomas Campbell, who moved on to become a training manager for Northern Marine Manning Services; and former BP Petroleum employee Kate Gillespie, currently a lecturer and director at KG Maritime.
Eva Grey: What was your former role at sea, and what are you doing in your current job?
Charles Woodward: I spent 45 years at sea. I started out as a cadet at the very beginning of containerisation and worked my way up, spending the last 22 years on container ships.
I retired in 2013 and a friend of mine sent me an email which illustrated the job as a business developer with the Marine Society. I thought it might be good to apply, because I hadn't been to an interview since 1968. I didn't have a CV, apart from "I went to sea and retired".
I applied, went to the interview and was given the job. The past two years have been most enjoyable, because I spent so long at sea, being concerned with my ship, my job, my crew. I suddenly found there was a massive maritime world out there.
Over the past two years, I have met so many interesting people; I've been to committee meetings, conferences, which I wouldn't have had the opportunity to do before. So it's been a really enjoyable experience for me.
Thomas Campbell: This was a new industry for me when I started, I didn't know much about it. I went to university for a year. The industry became an option, so in 2009, I started my cadetship with Prestige Cruise Holdings.
I wasn't really sure about the level that I'd come into on the shore-side of the industry, because I knew nothing about it, I didn't know how shore-based companies worked. The only experience I had was my cadetship.
So I applied for an assistant's position [with Northern Marine] and the company came back and gave me the role of training officer. At that point, I was responsible for 250 to 300 cadets of 12 different nationalities.
As a fleet and cadet training manager, I am now responsible for generating and implementing training strategies for 3,000 seafarers and 300 cadets across offshore rigs, oil and gas tankers, ferries and a few specialist ships.
Kate Gillespie: I was at sea in 1989, at the back end of the recession, with a company that went broke mid-way through my cadetship and got sold to P&O Containers – I hated it. I worked for them for three or four years and didn't like it at all.
I moved on to BP Petroleum, on their Very Large Crude Carriers (VLCC) tankers. I came ashore to do my mates degree at Liverpool John Moores University and hopped straight from my mates ticket onto VLCC marine operations. By that time, I'd been ashore for three years and I wasn't going back.
I was offered three jobs when I finished university, and I went for lecturing at South Tyneside College. So for the last 14 years, I have been teaching mates and masters, which was the right decision for me because I love teaching.
EG: How did you find the transition back ashore, and was there any guidance and support to help you adapt?
CW: I had never commuted to work, I had never worked in an office, and for the last 20-odd years, I've been my own boss. On the ship, everybody looked to me for decisions or came to me for advice.
I've got a lot of support from my team in the office, because we all work together in a very close team and they realised that – as a business manager for the Society – I didn't have any sales experience whatsoever.
But I did have what they wanted in other areas. I could go along to a shipping company and, as someone who had been at sea for 45 years, they would be more welcoming, as opposed to someone who is just turning up to sell them something. But I went on a training course in sales fundamentals.
TC: I always knew I was going to come ashore. Right from the beginning of my cadetship to the end, I knew I would end up ashore sooner rather than later.
I loved the cadetship, I loved being at sea, my fast track was six months and there wasn't a time during that when I thought that I wanted to leave. I really enjoyed being at sea, but I always had this plan that I would be ashore and in an office.
When I was at sea, I was asking people when it is a good time to move ashore and their advice was varied.
Some people would say that you get very used to this lifestyle where you do four months at sea, then a couple of months at home. You'll be used to this way of living and it would be difficult to make that transition [back ashore]. So their advice was to do it sooner rather than later.
Others would say to stay at sea until I got my Masters, others would say until you have commander experience, which is ultimately the best thing you can possible have.
When the opportunity came up at the end of my cadetship, I thought I'd go for it.
KG: When I came ashore to do my degree, there wasn't any distance learning available at that time and my degree took two years, whereas you can do it in one year now. But that was good.
I knew going into my career at sea that I was never going to end up long-term at sea as a master mariner. My father was at sea and when I told him I was planning to go too, he said no, end of story. Finally, when I turned 18 I did go to sea, but I had to have a career plan in place to fight that battle.
EG: What kind of information can people going into a career in the maritime industry, either offshore or onshore, expect today?
CW: Shipping is such a small community, because everybody knows everybody and everybody is there to help you.
But it can be difficult for some seafarers [returning onshore]. They are unaware of the vast range of opportunities. They don't know where to look, there's no one-stop shop to go to for jobs for seafarers, but there are now attempts at making this a more cohesive effort.
TC: When I left school, I went to university and going into the marine industry was never an option, it was never something that I had considered.
When I was speaking with careers and skills advisors, they very much pushed away from it and away from anything college-related or academy-related. They wanted me to go to university, so that's what I did.
They had their own agenda and things they were comfortable with and they pushed away from anything else apart from a university course. There's no knowledge of it at all.
KG: When you are recruiting cadets now, you have to be honest with them; it is about duty of care beyond anything else. They have to be prepped before that first voyage at sea. That first trip to sea is such a big unknown, no matter what you tell them.
And some, when they reach the end of their first trip at sea, they say "this is really not for me". That's where we step in again and say that their options are to go back to college and finish their qualifications, or follow another path.