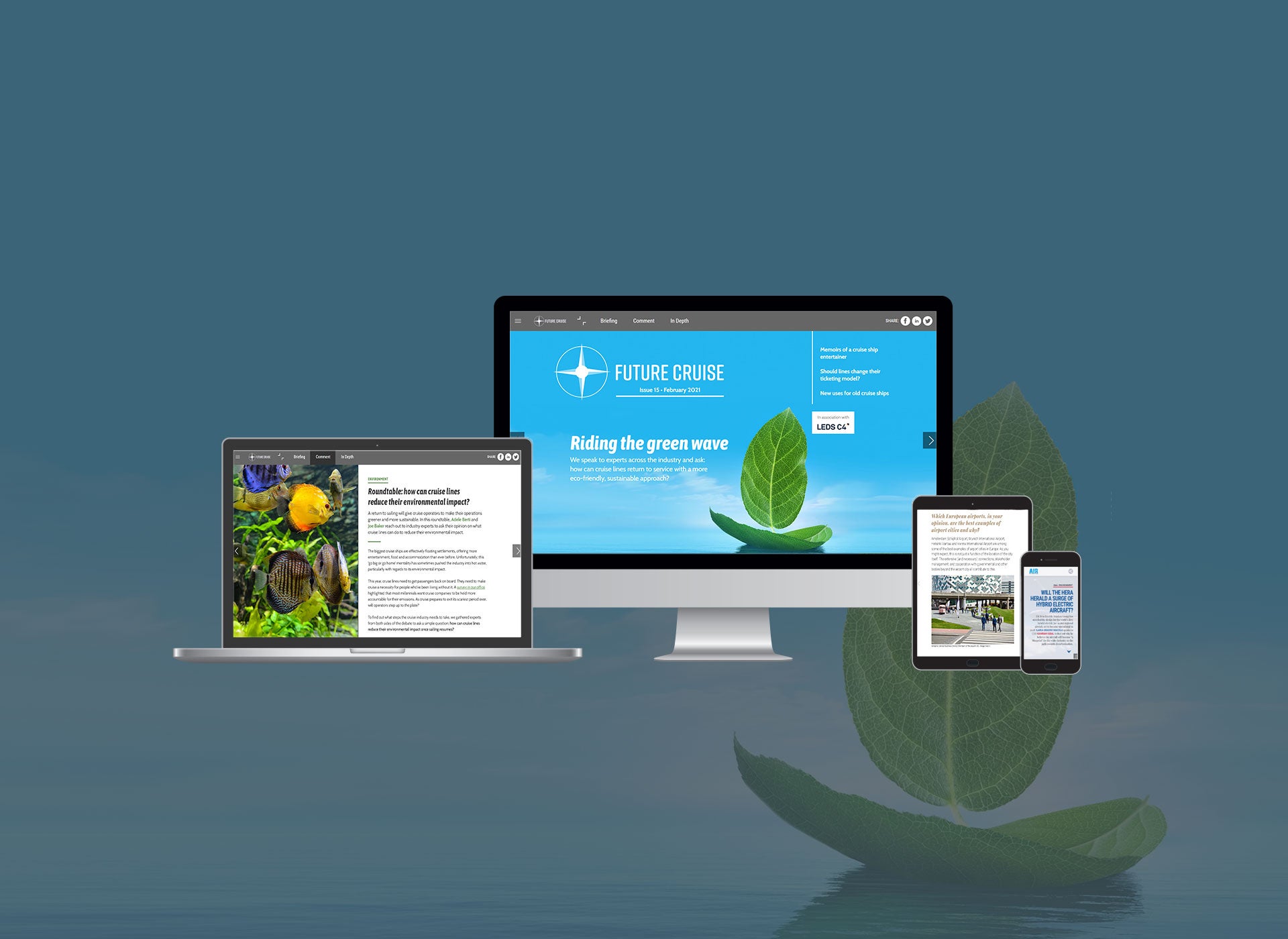 Future Cruise is back for another issue packed with technology news and industry analysis. In this issue, we find out how cruise lines can reduce their environmental impact, ask what ticket and pricing strategies will look like in a post-Covid-19 era, explore the ways old cruise ships have been repurposed over the years and much more.
Whether you are on a desktop, tablet or smartphone, you can read the magazine for free online.
In this issue
Memoirs of a cruise ship entertainer with Sam Catling
Former cruise ship entertainment host Sam Catling has published a memoir about his experience at sea titled 'Seems like Smooth Sailing'. Adele Berti sat down with him to discuss his cruising days and his take on the way the sector has been handling the coronavirus health crisis.
Using fuel cell technology to decrease shipping emissions 
The shipping industry is investing meet the International Maritime Organization's 2050 decarbonisation goals. Ilaria Grasso Macola speaks to Alfa Laval boiler systems vice-president Lars Skytte Jørgensen about how solid oxide fuel cell technology could create a greener energy source for ships.
Roundtable: how can cruise lines reduce their environmental impact?
A return to sailing will give cruise operators to make their operations greener and more sustainable. In this roundtable, Adele Berti and Joe Baker reach out to industry experts to ask their opinion on what cruise lines can do to reduce their environmental impact.
Covid-19: putting cruises to the test
With the US Centers for Disease Control and Prevention issuing a phased resumption of operations, cruise liners have started working on trial cruise programmes to test out health and safety protocols. Ilaria Grasso Macola takes a closer look at what the new CDC order entails and how these programmes will ensure crew and passengers' safety.
Cruises to nowhere: a stuttering return to the seas
The Covid-19 pandemic continues to thwart cruise lines' return to the seas. Some operators have introduced the concept of a 'cruise to nowhere' as a means of encouraging holidaymakers back aboard, but why has this idea faced challenges? Luke Christou reports. 
The price is right: will Covid-19 force a cruise ticketing rethink?
Celebrity Cruises' new pricing structure includes new premium options and steps up its all-inclusive offers. Such innovations may become increasingly common following Covid-19, as operators respond to evolving customer expectations around onboard services and packages. Julian Turner reports.
New uses for old cruise ships
Whilst most cruise ships are either sold to new owners or end up in scrapyards, some cruise ships get to live a second, completely different life. From hotels to housing communities, Ilaria Grasso Macola lists some of the weird and wonderful uses for old cruise ships.
Aurora Expeditions : a closer look at Sylvia Earle
Scheduled for delivery in October 2021, Aurora Expeditions Sylvia Earle is expected to build on the company's pedigree for fast and fuel-efficient expeditionary cruise ships. Luke Christou speaks to Aurora Expeditions to find out how the company is attempting to one-up its previous offering and ask how it has been affected by the pandemic.
Must be this size to travel: Key West votes to limit big cruise ships
In a series of referendums, residents of Key West, Florida, US have voted to restrict the size and number of ships calling at the port. Intended to curb over-tourism, the move will have a wide-ranging effect on the industry and has already attracted attempts to overturn it. Alex Love looks at what brought it about, and what the ban could mean for the future.
Next issue preview
Last time, we noted how the ongoing Covid-19 pandemic would make it difficult to predict what our next edition would bring. Lo and behold: the situation has remained true as we move further into 2021.
However, it's safe to say we'll be looking at whether vaccination is helping to spur recovery across the industry, as well as exploring the latest cruise ship designs and asking how technology can help make the cruise experience more seamless for passengers.
We'll also speak to leading industry experts to get their take on how cruise regulations may change in the future, and ask how long the sector may adapt to this 'new normal'. Also, in a post-Covid-19 era where big buffet dining is probably out of the question, how will cruise restaurants change their food offerings?
We'll also see if small-scale and river cruising is set to seize the day in 2021, and find out what this might mean for lesser known holiday destinations in the future.
Would you like to be notified when a new issue of Future Cruise is out? Sign up for email alerts here!
We will only use your email address to let you know when a new issue is available. Future Cruise is published quarterly.