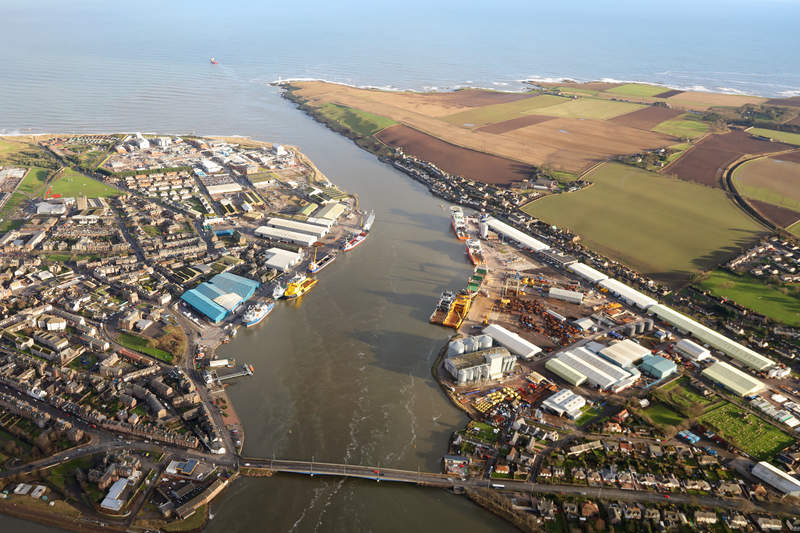 Legend has it that Montrose was the very port from which the Scottish knight Lord James Douglas departed in the spring of 1330 for Jerusalem.
Douglas' mission was to fulfil the dying wish of his friend and king Robert the Bruce, and deliver his heart in a silver casket to the Church of the Holy Sepulchre in the ancient city.
The King of Scots' final command was not to be realised. After coming up against the Moors in Spain, Douglas and his men were killed, with Bruce's heart eventually returned to Scotland where it still lies in Melrose Abbey.
Some 687 years later, the waters around Montrose – sitting in the mouths of the North and South Esk rivers between Dundee and Aberdeen – carry an altogether less grisly cargo.
In August 2017, Montrose Port Authority celebrated a record-breaking 337,000 tonnes of shipping activity – a year-on-year increase of over 100,000 tonnes.
According to CEO of the port authority, Nik Scott-Gray, the peak in vessel traffic gives a clear indication of "the importance of our position within the North Sea's energy industry, and within the general cargo market".
While results surpassed Montrose's anticipations, Scott-Gray is quick not to downplay the 230,000 tonnes it handled back in August 2016 – no nominal figure, and, at the time, a record number.
A diverse set of tenants: who's docked at Montrose?
Like all Scottish ports, much of Montrose's success has been down to its alignment to not only the North Sea's oil and gas industry, but also its storage space, leasing to agribulks and fertiliser players. "We operate a very diverse port," says Scott-Gray.
Another notable tenant is Highland Fuels, which is in the process of upgrading a third fuel line on the harbour's south quayside, which, upon completion, will add increased fuel bunkering to Montrose's list of services.
"Over the last few years we have heavily invested in port infrastructure, which means we have good quaysides that handle large ships and heavy cargoes," explains Scott-Gray.
"Over the last few years we have heavily invested in port infrastructure."
"Within the port we also have great stakeholders who offer stevedoring, fabrication, storage and chain and anchor handling."
In Scott-Gray's eyes, it's this wide assortment of services on offer to customers that makes Montrose different.
"The port's outstanding customer service comes from its flexible approach, appreciated by all port users," he continues.
"It has allowed Montrose to operate across a number of markets and handle almost any type of cargo with the minimum of delay and favourable terms.
"Additionally, our management team is dedicated to its customers, providing individual attention, competitive pricing, efficient loading and unloading with a 24-hour service."
"Ideally suited": capitalising on decommissioning and offshore wind projects
But let's return to the energy industry for a moment.
Hit hard by the global oil price crisis – during which prices for the black stuff spiralled to as low as $27.67 a barrel in January 2016 – over two thirds of regional oil and gas firms slashed jobs last year, reported the 25th Oil and Gas Survey.
In addition, some analysts believe the North Sea's days as a producing basin are at an end. This may be debatable, but the fact of the matter is that the oil and gas sector is no longer the dead-cert money-spinner it was for explorers back in the 1980s and 1990s.
Instead, they are being forced to adapt to new opportunities, such as the slew of new decommissioning projects now taking place across UK Continental Shelf (UKCS) wells and rigs. In turn, ports such as Montrose are doing the same.
"Decommissioning is a great opportunity," says Scott-Gray. "Montrose is ideally suited to the small market and is working closely with stakeholders – including NorSea and John Lawries – to attract business to Montrose."
"This year, the Hywind Scotland project became the world's first offshore wind farm."
The same goes for the offshore wind market. While still a nascent space, there is much to suggest that Scotland is looking to slowly wean itself off petroleum.
This year, the Hywind Scotland project – situated 25km off the coast from Peterhead – became the world's first offshore wind farm, and is expected to generate enough power for 20,000 homes at full capacity, according to its Norwegian operator Statoil.
Montrose itself played a part in the project, handling the chains and mooring equipment in partnership with NorSea and Chain Co. With new offshore projects on the horizon – including the 450MW Neart na Gaoithe (NnG) farm set to become operational next year – does the port have plans for further involvement in the growing space?
"It is still very early days for offshore wind, but we hope to feature in both the NnG development and also the Inch Cape farm [expected to commence construction in 2020]," says Scott-Gray.
"Both offshore wind and oil and gas decommissioning are creating opportunities for Scotland's ports and harbours to build on their existing role in supporting our energy sector," adds Euan Dobson, project manager at investment agency Scottish Enterprise
"There's a growing requirement for port infrastructure to support surveying, construction and longer term operations and maintenance for the offshore wind industry. Likewise, between now and 2025, decommissioning is forecast to take place across 214 fields in the UKCS at a cost of £17bn.
"This has the potential to drive up shipping and port activity in Scotland significantly."
Many happy returns: investments to come in the new year
Back in Montrose, next year will mark the port's official 525th anniversary. Celebrations will take place in the form of new investment. In January 2017, work starts on developing the quayside, to the tune of £7m, so as to enable the accommodation of larger vessels.
"Our aim is to create a hub that supports the energy industry and shipping industries by streamlining processes, including providing economical and reliable refuelling operations for our clients," says Scott-Gray.