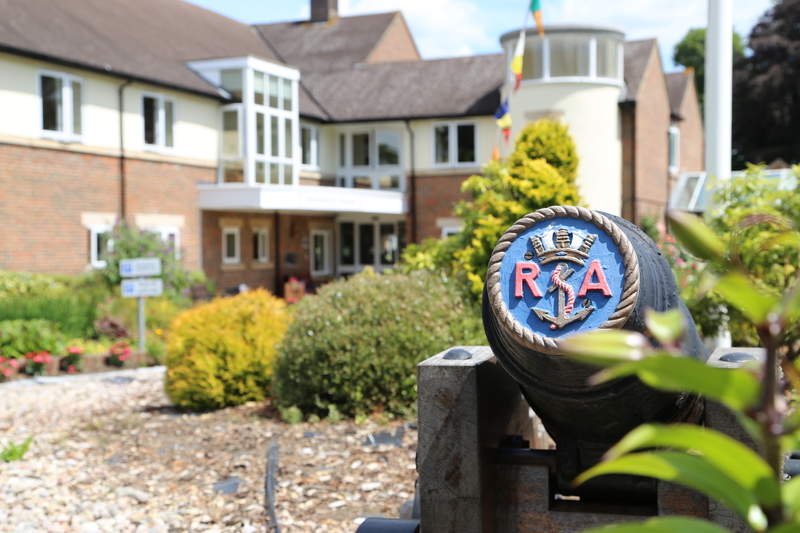 Nestled at the edge of a green recreational park in the Surrey countryside is an institution that for a century and a half has offered a place of refuge, companionship and specialised care for seafarers, their widows and their dependants.
The origins of the Royal Alfred date back to a meeting held in July 1857 in Mansion House, London, when a group of influential and well-disposed people voted unanimously to establish a hospital for "worn-out and disabled merchant seamen". That day, it vouched to open its doors to over 500 people in need.
"A hundred years ago there wasn't a family in England that didn't know somebody or had a relative who was a seafarer," says home manager Anne Kasey.
"In those days, when the shipping companies didn't employ them anymore, they were just left on the dockside or on the City streets. And because they were away for years at a time, rather than months, the family they had would, on the most part, disintegrate. So they didn't have homes to go to, or any support mechanism, and there were a great deal of homeless merchant seafarers in desperate circumstances nationally."
In the beginning, the place was run by a warden and the seafarers themselves, who used to do their own cooking, cleaning and gardening. Over time, as the residents became older and frailer, an infirmary was built in the grounds of the old stately home, followed by a new house where people could be nursed, should they need it.
Today, the Royal Alfred runs a state-of-the-art nursing home and specialised dementia care unit that houses up to 68 residents, 23 tenants and is supported by 107 staff members.
The need for a place of refuge and understanding
As an island nation whose vast majority of goods arrive by sea, the UK has a longstanding seafaring tradition that continues to this day. In 2016, the estimated total number of British seafarers active at sea was 23,060, according to government data.
Due to the unique trials and tribulations of those who spend the majority of their lives at sea, resettling back on shore can be extremely difficult. Finding like-minded companionship and understanding from someone who has experienced a similar lifestyle is another challenge. Today, the retirement age for seafarers is between 63 and 68.
"Last year, occupancy was 96.8%, which for a care home is excellent, and there is still very much a need [for this kind of establishment]," says Kasey. "Studies have been done into the future and they see a need for this kind of facility for the next 20 years at least."
In 2016, the society's CEO, Commander Brian Boxall-Hunt OBE, led 25 staff members to Chatham Dockyard as part of a maritime acquaint training programme. The staff members were given a guided tour of the Cold War submarine HMS Ocelot and the Second World War vintage HMS Cavalier, a retired C-class destroyer of the Royal Navy. The purpose was to give staff a real feel of some the living conditions on-board.
"When they reminisce with one another, they talk about things that unless you were involved in the profession, you can't really understand," says Kasey. "I think it is beneficial to talk to people who understand where you are coming from, and have an empathy with you."
The programme will now continue on a rolling basis, incorporating a merchant marine element that includes a short sea passage on-board a working merchant ship.
A historic charity with 21st century care
In 2011, the UK's first specialist dementia centre for seafarers opened at Weston Acres as an extension of Belvedere House, after staff identified that 40% of residents at the time had some form of dementia. Today, the dementia care unit is centred on a single-storey annexe, providing 36 nursing rooms.
The Royal Alfred is run under Care Quality Commission legislation, whose latest audit in 2016 established a 'Good' level of care in all five key areas, accompanied by an outstanding written report that found no deficiencies.
The society's success is rooted in its charity status, Kasey believes. "It's very well supplied with equipment and staffing levels are high and I believe that is because we are a not for profit organisation," she says.
"For those who spend the majority of their lives at sea, resettling back on shore can be extremely difficult."
Maintenance grants come from diverse sources such as Seafarers UK, which every year runs the 24 Peaks Challenge, a fundraising event where volunteers sign up to climb 24 peaks in the Lake District, all over 2,400ft, in 24 hours. Others, such as Trinity House, the Merchant Navy Welfare Board and naval charities are also involved with the care home.
At its core, and after all these years, the society continues to operate with one sole purpose: to provide shelter and care to seafarers and their families, irrespective of their financial situation.
"In today's world of political, digital and cyber issues, it is important to think of our people," wrote chairman Captain Duncan Glass in the society's 2016 annual report. "Those who we care for, those who support us in all we do and those who give freely of their time, experience and knowledge for many, many years. Seeking nothing in return."