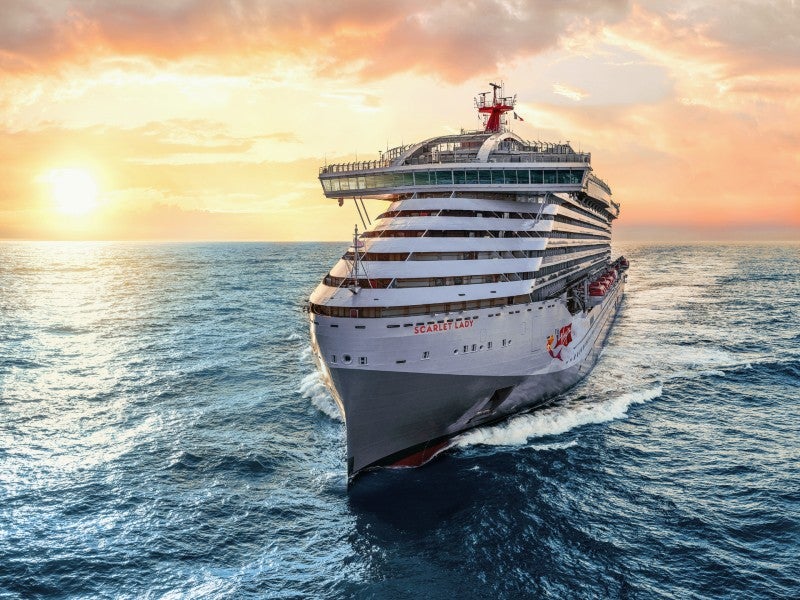 As I arrived on board Scarlet Lady cruise ship back in February 2020, I spotted a coffee bar (run by trained baristas) and ordered a latte and soya milk 'to go' before exploring the ship. To my surprise, the request was positively received (even the non-dairy aspect, which is still problematic in most places on land or at sea), and minutes later I was exploring the ship feeling delighted with my Starbucks-style takeaway.
It may seem like a small detail to some, but judging by the fact that 25% of the $80bn global coffee industry is consumed outside of the home, I'm not the only one who enjoys this experience. With a favourite "land" experience to be had within minutes of boarding, I could see why Virgin Voyages had created a passenger experience department of its own.
Scarlet Lady is the first of four cruise ships to come from Virgin Voyages. With a gross tonnage of 110,000, the 278m-long ship was set to be in the Caribbean for its inaugural season, although the Covid-19 crisis has halted plans, as it has across the industry as a whole. Valiant Lady, the next ship in the fleet will homeport in Barcelona and set sail in the Mediterranean in 2021.
Brand purpose: "an epic sea change for all"
Scarlet Lady was designed to provide an "epic sea change for all". This message is at the heart of the company's brand purpose, which moves away from the traditional cruise holiday in preference of providing a boutique hotel experience at sea.
On board, a tattoo shop, crew uniforms developed by a fashion designer, 20 restaurants instead of a main dining room and a "vegetarian-forward" restaurant (which serves excellent vegan and vegetarian food) signal that Scarlet Lady was designed to be different.
Virgin Voyages deliberately worked with a creative team who had not designed for the cruise industry before in order to develop a completely fresh approach.
It collaborated with Roman and Williams, which is behind the look of the Ace Hotel in New Orleans and the Royalton in New York, US; Tom Dixon's Design Research Studio, which just completed a new interiors project at the Pullman Hotel in Paris, France; and Concrete Amsterdam, which worked on the citizenM Amstel hotel in Amsterdam, the Netherlands. 
"This is a cruise for people who are looking for something that is more elevated and sophisticated."
Softroom of London was commissioned to create the cool curvy design of The Roundabout, the central atrium on board, which connects decks six and seven, as well as The Galley. The typical buffet-style area has been replaced with a diverse range of food trucks, tapping into a growing trend – from 2014 to 2017, the food truck market in the US experienced a 300% increase in revenue.
"We wanted the ship to feel different – think of this as a boutique hotel," Virgin Voyages CEO Tom McAlpin explained to me at the launch event. "This is a cruise for people who are looking for something that is more elevated and sophisticated."
Who is Scarlet Lady designed for?
There is a misconception that Scarlet Lady is aimed at millennials. McAlpin prefers to describe the demographic as "young at heart" and the style as "rebellious luxe". By this McAlpin says they mean a premium environment without the "stuffy waiter" or being "nickel and dimed". Drinks are included in the ticket price, as are Wi-Fi and fitness classes. "It allows our sailors to detox and retox, so they really get the opportunity to take care of themselves, too," he said.
From the 400m running track to the sunrise yoga deck – as well as the "training camp", an inside and outside workout area for circuit training and kickboxing – there is a network of decentralised wellness areas that are scattered all over the ship.
Wellness is of major importance to Virgin Voyages' guest experience. A $4.5tn market overall in 2018, wellness tourism was valued as a $639bn market in 2017 by the Global Wellness Institute and is projected to reach $919bn by 2022.
"When we developed the experience early on, it was all about prescribing this dose of 'vitamin sea', this play on words, because we think people are looking for that rejuvenation, for that relaxation," explains Scarlet Lady chief commercial officer and head of sailor experience Nirmal Saverimuttu. Note: 'sailors' is how the company describes its guests on board.
"Wellness is of major importance to Virgin Voyages' guest experience."
A benefit of the adults-only ship is that space which would usually be dedicated to children's clubs and activities has been used to create areas for adults instead, such as the sunrise and sunset yoga deck.
The Jacuzzi and pool, located by the gym and the tonic bar, create a spacious wellness area. Although the pool has been criticised for its size, the team say it has been purposefully designed for people to cool off in, rather than swimming lengths.
"We purposefully built it with a trunk – there's water that comes up in the whole beach area around it," explains McAlpin. "We realised that people want to be lounging and splashing around to keep cool, they don't necessarily want to be completely submerged, so we designed it with that in mind."
The crew experience
It isn't only passengers that the experience team is focusing on. McAlpin says that Scarlet Lady also has a crew experience manager on board. "The crew are the ones who are bringing this experience to life and that is another way we differentiate and enhance all the things we do," he enthuses. "For our crew, we want this to be the best gig they've ever had – they want to be connected with their families, so we give them free basic Wi-Fi."
Virgin Voyages' crew strategy extends to favouring a flat management structure. "We don't have an officer's mess and a crew mess, we have the Kitchen Table, which looks similar to a restaurant with 'sailor-quality' finishes in there."
Saverimuttu says that they reduced the frequency of room cleaning for officers and took some of those labour hours and invested it into the crew. "We have housekeeping services for our crew, we take care of that," he adds.
One of the biggest challenges the team has faced in terms of differentiating the Virgin Voyages brand has been entertainment. Cruise ships are perhaps best known for their own takes on musical theatre shows and music artist performances, but having witnessed Duel Reality – produced by Montreal-based circus collective The 7 Fingers – on board during the launch event, I felt that (with this show at least) the entertainment team had genuinely succeeded in creating something different. 
"For our crew, we want this to be the best gig they've ever had."
The result is a powerful high-energy and extreme acrobatic show, a raw and edgy Romeo and Juliet. Similar to Baz Luhrmann's 1996 film, the use of costume – although in a more minimal way: retro-style red tracksuits for one side, blue for the other (Montagues and Capulets) – cleverly suspends the mise-en-scène, making it difficult to place in time.
As I awaited the start, while sitting at the same level as the basketball-court-style stage, I gradually tuned in to an argument that had broken out nearby. I had thought it was real, but it was actually just the show starting. As part of the audience you are immersed and immediately drawn into the action.
There are no curtains up in this theatre, and it was genuinely different from any other entertainment I had seen – on land or a cruise ship.
Tech to combat Covid-19
A CO2 sensor in staterooms, which was originally installed so staff could better serve guests by knowing when they were in their stateroom, will come into its own once post-Covid operations resume as it will also serve to reduce physical contact between passengers and crew.
Scarlet Lady already had heating, ventilation, and air conditioning (HVAC) systems providing a continuous stream of 100% fresh air in all the cabins, suites, and public spaces on board. However, Virgin Voyages also partnered with AtmosAir Solutions to equip Scarlet Lady with a system that disinfects air on board by leveraging "bi-polar ionisation technology" that has been shown to kill 99.9% of viruses. 
"Recent tests performed by Microchem Laboratory, one of the world's preeminent laboratories for testing EPA [Environmental Protection Agency] and FDA [Food and Drug Administration] registered sanitising products, has reported that this HVAC device is more than 99.9% effective in neutralising coronavirus," McAlpin recently explained when announcing the operator's Voyage Well plan regarding health and wellbeing standards on board.  There will also be thermal camera technology in terminals and on board to monitor the temperatures of crew and passengers.
"Virgin Voyages also partnered with AtmosAir Solutions to equip Scarlet Lady with a system that disinfects air on board."
Reducing overall ship capacity, limiting large groups through virtual ticketing at events, advanced pre-boarding health checks, contact tracing for passengers and crew, and empty seats between dining guests are other changes that passengers should expect on board once cruising restarts.
Despite the difficulties hurled at the industry by the Covid-19 pandemic and the restrictions put on the industry by governmental organisations, McAlpin and his team remain dedicated to providing a "transformational" passenger experience. 
"We want people to come off saying this wasn't just the best week of the year, this was the best week of my life," he says.