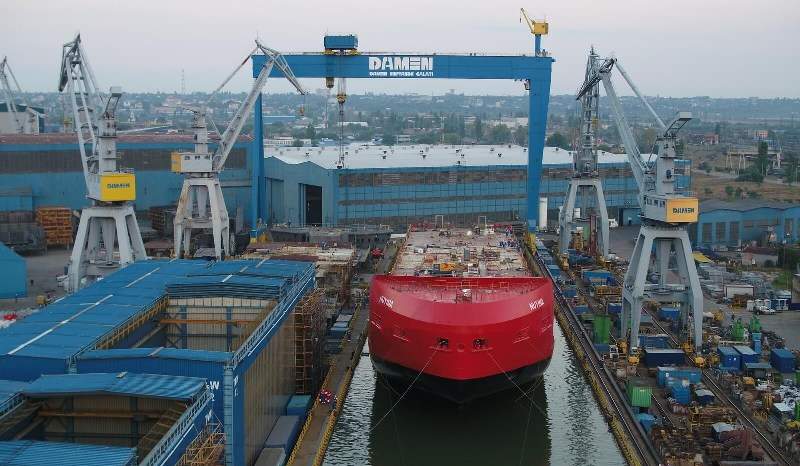 Damen Shipyards floated out a new Antarctic supply research vessel (ASRV) named RSV Nuyina, which is currently being constructed at its facility in Galati, Romania.
The 160m-long vessel is currently being built for Serco subsidiary DMS Maritime on behalf of the Australian Department of the Environment and Energy.
During the two-day-long float-out process, Damen increased the dry dock water level by 6m.
---
Stena Line collaborated with technology company Hitachi to develop an artificial intelligence (AI) model that can help vessels to reduce fuel consumption and lower environmental impact.
The model is being developed under a pilot study that aims to use AI technology to predict the most fuel-efficient way to operate a certain vessel on a specific route.
The first pilot study is being conducted on-board the Stena Scandinavica vessel plying between Gothenburg, Sweden, and Kiel, Germany, under the supervision of the vessel's senior master Jan Sjöström.
---
Pirates abducted 12 crew members from a cargo vessel that was loaded with wheat off the coast of Nigeria.
Operated by Switzerland's Massoel Shipping, the MV Glarus vessel was sailing to the Port Harcourt from Lagos when it was attacked.
The attack occurred on 22 September when the ship was nearly 45 nautical miles southwest of Bonny Island.
---
Vietnam National Shipping Lines (Vinalines) is seeking approval from the Government of Vietnam to develop two container terminals at Lach Huyen Port in northern Hai Phong City.
The No 3 and 4 terminals will be built by Vinalines subsidiary Haiphong Port with an investment of $299m.
Haiphong Port used to primarily operate at Hoang Dieu terminal, which has been acquired for the construction of an urban area, requiring Haiphong Port to operate from new facilities.
---
The European Community Shipowners' Associations (ECSA) called upon the European Union (EU) to include an additional number of ship recycling facilities into its list of approved facilities to fill the gap that currently exists in the sector.
The capacity expansion is expected to help the owners to comply with a new regulation that requires all the ships flying under a European flag to be recycled in a facility that is included in the EU list.
ECSA noted that non-EU facilities such as Indian facilities that are compliant with the ship recycling requirements should be included in the EU list.
---
French container shipping company CMA CGM unveiled a plan to use 0.5% fuel oil to run its vessel fleet in compliance with the International Maritime Organization's (IMO) new low sulphur regulation.
The regulation is scheduled to become effective from 1 January 2020 and will require all the shipping companies to lower their sulphur emissions by 85%.
As part of the new plan, CMA CGM will invest significantly in order to abide by the IMO regulation.
---
Associated British Ports (ABP) signed a memorandum of understanding (MOU) with Marine Transport International (MTI) to develop a pilot programme that will explore the use of blockchain technology to improve port connectivity.
The programme will cover ABP's 21 ports across the UK, which together handles 25% of the country's seaborne cargo.
As part of the deal, ABP is expected to employ MTI's blockchain solution in pilot shipments.
---
Maersk Line issued new guidelines on the dangerous goods stowage in order to improve safety across its container vessel fleet.
The guidelines are an amended version of the company's existing rules on stowage of dangerous goods and are a result of a deadly fire on-board Maersk Honam in March that claimed the lives of five crew members.
Titled 'Risk-Based Dangerous Goods Stowage', the new set of rules were prepared after evaluating more than 3,000 United Nations (UN) numbered categories for hazardous materials, as well as statistics on container fires reported to the Cargo Incident Notification System (CINS).
---
Japan-based shipping company Mitsui OSK Lines (MOL) and Rolls-Royce jointly conducted a series of tests to confirm the ability of Intelligent Awareness and machine-learning technologies to enhance the navigational safety of vessels.
The pilot project was carried out on-board a 165m passenger ferry, named Sunflower Gold.
The vessel is deployed to serve Japan's Akashi Kaikyo, Bisan Seto and Kurushima Straits, which are some of the world's most challenging routes. It also provides night-time services between Kobe and Oita in Japan.
---
Dutch non-profit organisation The Ocean Cleanup launched its first system at the San Francisco Bay, US, to extract plastic from the Great Pacific Garbage Patch.
The full-scale cleanup system, dubbed System 001, will first move 240 nautical miles offshore for a two-week trial and will carry out its final journey to a location of 1,200 nautical miles offshore.
The Great Pacific Garbage Patch is estimated to contain 1.8 trillion pieces of plastic and covers an area twice the size of Texas, US.