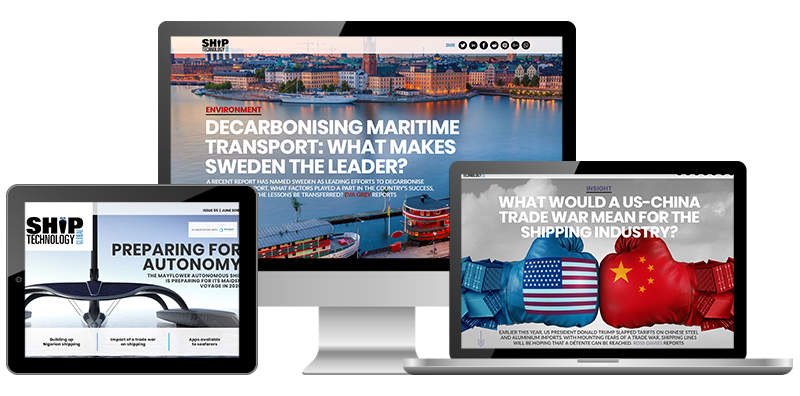 Ship Technology Global is now available on all devices. Read it for free here.
In March US President Donald Trump placed a 25% tariff on steel imports and a 10% tariff on aluminium imports from China. While some have argued that the net impact on maritime may be 'minimal', the tariffs could lead to a trade war between the two nations. We analyse the potential impact of a US-China trade war on shipping.
We also take a closer look at the Mayflower autonomous ship ahead of its maiden voyage, discuss the development of Nigeria's shipping sector, and explore Sweden's efforts to decarbonise maritime transport and ask what challenges remain before zero-carbon shipping can be achieved.
Finally, we list the most useful apps for seafarers, and consider the issue of cyber incidents in the maritime industry and ask what can be done to raise awareness among regulators, policy makers and insurers.
In this issue
The 21st century Mayflower: preparing for an autonomous voyage The Mayflower autonomous ship is currently under development and preparing for its maiden voyage in 2020. Joe Baker finds out more about the components that will make this autonomous voyage possible. Read the article here.
Building up Nigeria's shipping sector Nigeria's Maritime and Safety Agency has developed a shipping industry forecast to help provide certainty to investors. But with Nigeria's shipping sector still in the doldrums, can the report make a difference. Patrick Kingsland investigates. Read the article here.
What would a US-China trade war mean for the shipping industry? Earlier this year, US President Donald Trump slapped tariffs on Chinese steel and aluminium imports. With mounting fears of a trade war, shipping lines will be hoping that a détente can be reached. Ross Davies reports. Read the article here.
Decarbonising maritime transport: what makes Sweden the leader? A recent report has named Sweden as leading efforts to decarbonise maritime transport. What factors played a part in the country's success, and can any of the lessons be transferred? Eva Grey reports. Read the article here.
A seafarer's best friend: top apps to use at sea During long voyages at sea, mariners can face unexpected challenges, and support is often harder to find offshore. Today, a variety of mobile apps are available to help seafarers, as Eva Grey finds out. Read the article here.
Rough waters ahead when it comes to cyber risks As the maritime industry is going through transformational change, it faces different risk exposures and a raft of new challenges. Sarah Stephens, partner and head of cyber at JLT Specialty, considers the issue of cyber incidents in the shipping industry. Read the article here.
A comprehensive plan for ballast water management The IMO's Marine Environmental Protection Committee has reinforced regulations requiring ships to install ballast water management systems. Dr. Stelios Kyriacou, general manager of BALPURE® BWMS at De Nora, considers what this means for the shipping industry. Read the article here.
Next issue preview
A recent report by Pwc has argued that Africa needs to take advantage of the economic potential of its ports and shipping sector if it is to realise its growth ambitions. The analysis shows that a 25% improvement in port performance could increase GDP by 2%. We explore five African ports that are most likely to emerge as major hubs.
We also consider the safety issues surrounding the use of lithium-ion batteries to power vessels, look back at the effects of previous trade disputes in the maritime sector in light of escalating tensions between the US and China, and celebrate 200 years of the Sailors' Society.
Finally, we ask whether the International Maritime Organization's pledge to reduce carbon emissions from shipping by at least 50% by 2050 is achievable, and find out how connected technologies are moving ports into the digital age.