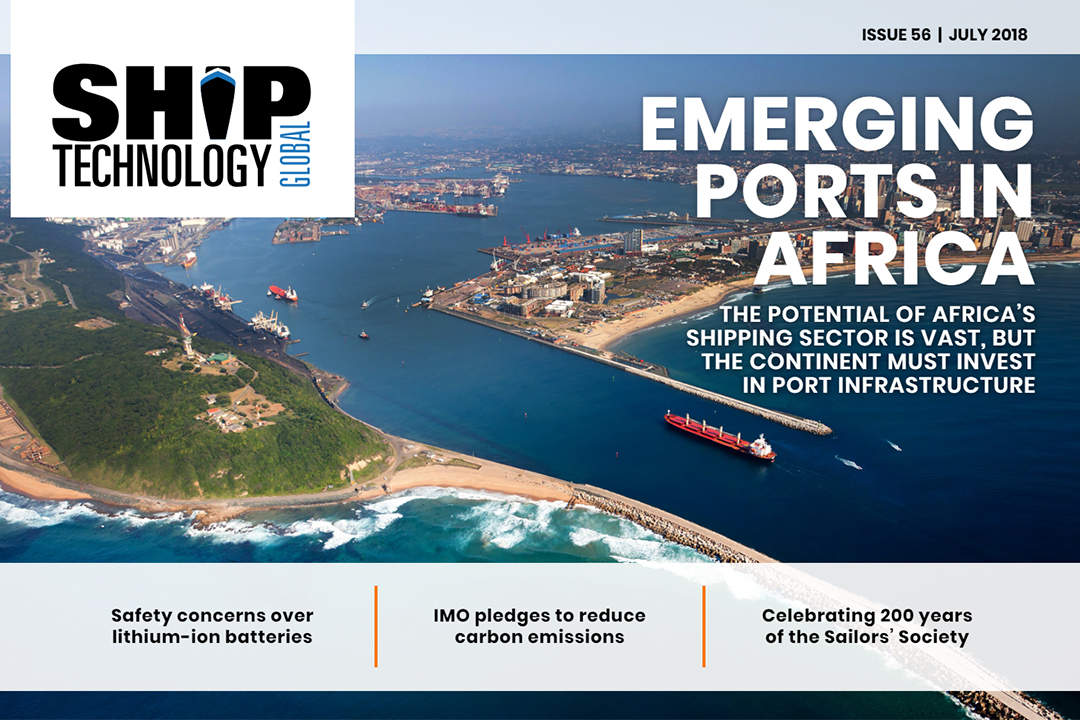 Ship Technology Global is now available on all devices. Read it for free here.
A recent report by Pwc has argued that Africa needs to take advantage of the economic potential of its ports and shipping sector if it is to realise its growth ambitions. The analysis shows that a 25% improvement in port performance could increase GDP by 2%. We explore five African ports that are most likely to emerge as major hubs.
We also consider the safety issues surrounding the use of lithium-ion batteries to power vessels, look back at the effects of previous trade disputes in the maritime sector in light of escalating tensions between the US and China, and celebrate 200 years of the Sailors' Society.
Finally, we ask whether the International Maritime Organization's pledge to reduce carbon emissions from shipping by at least 50% by 2050 is achievable, and find out how connected technologies are moving ports into the digital age.
In this issue
Ready for the spotlight: emerging ports in Africa
The potential of Africa's shipping sector is vast, but the continent runs the risk of sacrificing growth by not investing in port infrastructure. Patrick Kingsland explores five African ports that are most likely to emerge as potential hubs.
Lithium-ion batteries: a new safety issue for ships?
More and more ships are turning hybrid or fully electric and increasingly rely on lithium batteries as a power source. The technology has proven itself reliable and powerful, but safety concerns, such as thermal runaway, still linger. Elliot Gardner investigates.
Troubled waters: shipping feels the heat of geopolitical crises
As an international sector, shipping is often vulnerable to volatile political and economic forces that can threaten vital access points, shift the volume and direction of trade flows, or send fuel prices surging. Eva Grey maps the world's most volatile regions for shipping.
200 years of the Sailors' Society
In March, the Sailors' Society celebrated its 200th anniversary. Patrick Kingsland looks back on two centuries of service to seafarers with CEO Stuart Rivers, and asks how the organisation supports maritime workers today.
Reducing carbon emissions: is the shipping sector prepared?
The International Maritime Organization has pledged to reduce carbon emissions from shipping by at least 50% by 2050. But is this goal ambitious enough, or will the sector still struggle to achieve it? Joe Baker finds out.
Smart ports: increasing efficiency and cutting costs
Connected technologies are moving ports into the digital age and helping to boost productivity and cut costs. Joe Baker takes a closer look at some of these technologies and where they are being used to good effect.
Next issue preview
Wearable technologies are becoming a hot topic in the maritime industry thanks to their health and safety benefits. Norwegian start-up ScanReach recently introduced In:Range, a unique plug-and-play system that can locate seafarers via signals sent to bracelets. We round up the hottest new wearable technologies that are set to revolutionise the seafarer experience.
We also consider the risks presented to ports by climate change and ask how they can be mitigated, hear from Danish company Blockshipping, which is developing the world's first real-time freight container registry, and find out what countries and shipping carriers are doing to help protect livestock at sea.
Finally, we explore Japan's ambitious plans to become an international LNG bunkering hub, and analyse the results of a new study on climate change that concluded there is currently no widely available fuel in shipping that can cut greenhouse gas emissions.