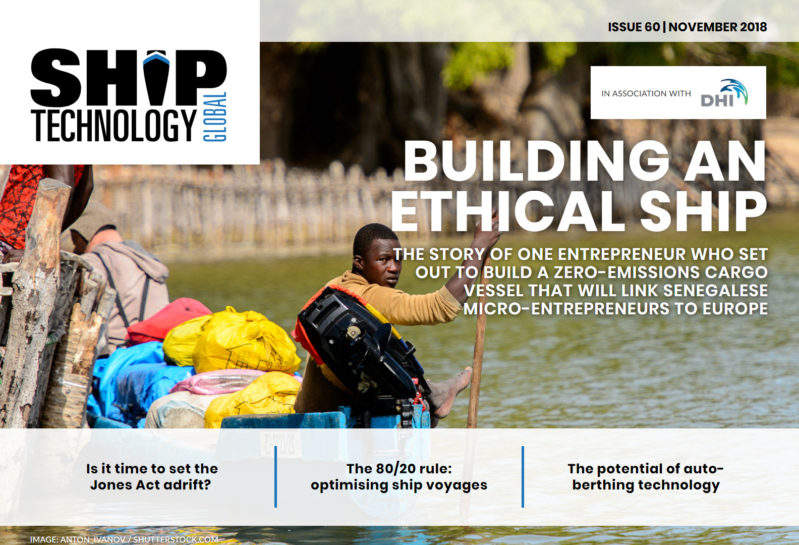 Ship Technology Global is now available on all devices. Read it for free here.
This issue's opening article reignites the debate surrounding the Jones Act: is it is indeed time to scrap this old law, leaving American shipping to sink or swim in the aftermath?
Further afield, we speak to an ingenuous entrepreneur who set out to build an ethical, clean cargo vessel that will transport locally-produced goods from small Senegalese communities to the shores of Scotland.
In technology, we ask voyage intelligence specialist StratumFive why shippers should pay more attention to weather prediction when it comes to voyage optimisation, while brand-new digital logistics company Zencargo talks to us about their disruptive solution in the area of marine logistics.
Finally, we look at sounding as important, cutting-edge solutions are cropping up to solve an age-old problem, and investigate whether auto-berthing tech could be the answer that puts a stop to errors that account for 80% of marine accidents.
In this issue
Is it time for the US to set the Jones Act adrift? The Jones Act makes it illegal for ships to transport goods between American ports unless they are owned, built, crewed and registered in the US. Critics argue that the law unfairly protects the US shipping industry, leading to higher costs, lower efficiency and environmental damage. Julian Turner reports. Read the article here.
The 80/20 rule: optimising voyages to improve vessel performance According to voyage intelligence specialist Stratum Five, shipowners are at risk of over-investing in voyage optimisation solutions that don't account for the impacts of weather at sea. Why is weather forecasting and route optimisation shippers' best bet when it comes to optimising vessel performance? Read the article here.
Fair Winds Trading Company: building an ethical ship Scottish entrepreneur Madadh MacLaine has founded the Fair Winds Trading Company in a bid to create a zero-emissions transport link between remote areas of West Africa and Europe. The project, which is still under development, will build a ship solely powered by solar, wind and hydraulic energy, capable of sailing through Senegal's shallow waters. Adele Berti talked to MacLaine to find out more about this unique project. Read the article here.
Berth control: looking at the potential of auto-berthing technology A group of Japanese organisations, including shipping major Mitsui OSK Lines, is pushing ahead with a project to develop new auto-berthing systems. Could this technology reduce marine accidents? Ross Davies reports. Read the article here.
Sounding: the evolution of hydrographic survey methods for ports Belgium's Port of Antwerp has commenced the trial of a fully automatic sounding boat named Echodrone. What is the importance of sounding, and how is this practice set to evolve in the future? Joe Baker finds out. Read the article here.
Zencargo: a digital approach to shipping efficiency Digital logistics company Zencargo was launched in 2017 to provide the shipping industry with a platform that allows users to book and manage freight while using data and analytics for route optimisation. With increasing pressure on shipping companies to transition into the digital age, Adele Berti speaks to co-founder and CEO Alex Hersham reveals how Zencargo could bring digital efficiency to the next level. Read the article here.
Next issue | December 2018
A convoluted legal battle is taking place at Djibouti's Doraleh Port Terminal. Amid reports that the terminal might be used as an arms trade hub, we dive into the conflict to unpick how it all started and where this is all headed.
With waste management and plastic pollution high on the global agenda, we turn our attention to some of the biggest culprits: ships that generate large amounts of waste.
Another ongoing battle, one that doesn't grab the headlines quite as often, is drug use at sea. We investigate how pervasive this problem is and look at modern solutions, such as a new fingerprint testing technology.
We also find out how ports should prepare for autonomous shipping and talk to the Shipbreaking Platform about their fight to stop boats being broken up on beaches.
Lastly, Frequentis has developed a system that helps ease the workload in the control room for the maritime industry. Our video crew visited its headquarters to capture the solution in action.