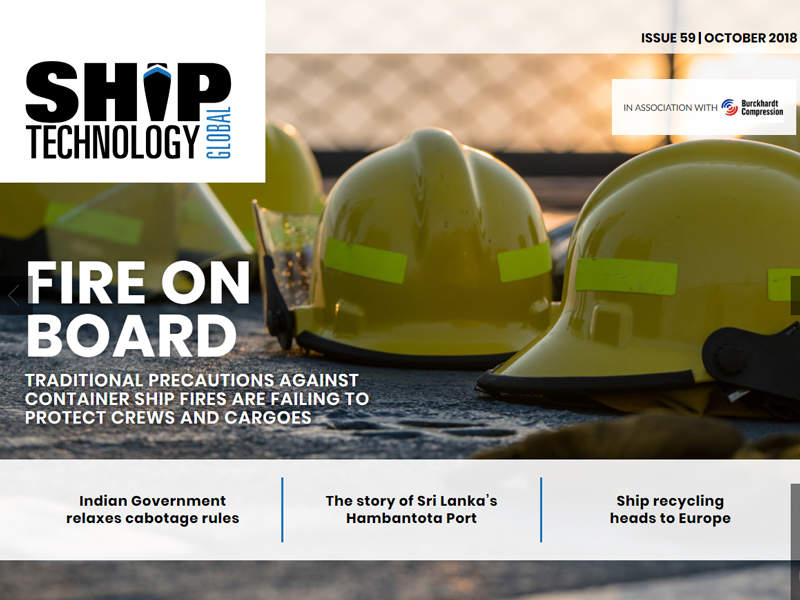 Ship Technology Global is now available on all devices. Read it for free here.
In the aftermath of the tragic Maersk Honam fire, where five crew members lost their lives, the industry had to grapple with the realisation that precautions traditionally taken to avoid container ship fires are failing to adequately mitigate the risk to crews and cargoes. In this issue, we look into what's causing fires on-board vessels and what can be done to prevent them.
China's decision to ban the import of end-of-life ships means that European recycling facilities might struggle with lack of capacity to accommodate the new influx of vessels meant for scrapping. We look at both sides of the argument to see whether this is a good move for the industry.
Next, we follow the trail of clues and try to disentangle the complex story behind the failing Hambantota Port, peppered with accusations of political corruption and backdoor lending.
Finally, we talk to cybersecurity experts at Synopsys about the industry's lack of preparedness in face of an attack, and review the sector's adoption of biofuels.
In this issue
Dousing the flames: what should be done to prevent fires on container ships? Traditional precautions against container ship fires are failing to protect crews and cargoes. Joe Baker finds out what is causing fires on-board container vessels, and what should be done to prevent this from a regulatory and practical standpoint. Read the article here
Backing biofuels: will the shipping industry ever get on board? Years after biofuels were first raised as an option for the marine industry, uptake remains incredibly limited. Will a new IMO agreement to cut greenhouse gas emissions by 50% in the shipping sector drive uptake, or will the industry continue to look the other way, asks Patrick Kingsland. Read the article here
A storm is brewing for India's domestic shipping industry India's domestic shipping industry is considering its options after the central government relaxed cabotage rules. It now looks set to do away with a 'right of first refusal' that gives Indian shippers a chance to match the lowest rate offered by foreign ships. But what are the potential implications of this, Joe Baker asks? Read the article here
Ship recycling: can Europe clean up its own mess? With a Chinese ban on scrapping EU-flagged ships, and a new shipyard regulation set to come into play at the end of the year, shipowners on the continent are concerned about diminished recycling capabilities. But is their reaction justifiable or overblown? Ross Davies takes a look at both sides of the argument. Read the article here
The story of Hambantota Port: a flunking token of political corruption Over the course of seven years, Sri Lanka's Port of Hambantota went from a bastion of hope for one of the country's poorest districts to a dead weight that sunk its finances and turned the developing economy into China's debtor. Eva Grey investigates. Read the article here
Danfoss helps Estonia combat pollution with new hybrid patrol ship Estonia's border authorities have launched a hybrid patrol vessel that protects the environment from oil spills and cuts fuel consumption, thanks to hybrid electric propulsion from Finnish company Danfoss Editron. Watch the video here
The state of affairs: is shipping still unprepared for cyberattacks? A team of breakers at ethical hacking firm Pen Test Partners recently proved there are several ways to break into a ship's navigation system and potentially cause a major incident. So, after all the warnings, Eva Grey considers where shipping stands on cybersecurity. Read the article here
Next issue | November 2018
The debate surrounding the controversial Jones Act, which regulates maritime commerce in the US, is back on the agenda. We weigh in on the issue and ask whether it is time for the Jones Act to go.In performance, we speak to voyage intelligence specialist StratumFive to find out why shipowners and operators should consider following the so-called '80/20' rule.
Next issue's profile piece features the independent Fair Winds Trading Company, who set out to empower micro-entrepreneurs from the isolated Casamance area of Senegal by building a zero-emissions cargo ship to transport goods from the remote coastal region to the shores of Scotland.
Finally, the founders of digital logistics company Zencargo explain how the latest digital innovations could bring a new era of efficiency to marine logistics, and we take a look at the importance of sounding after Belgium's Port of Antwerp commenced the trial of a fully automatic sounding boat named Echodrone.