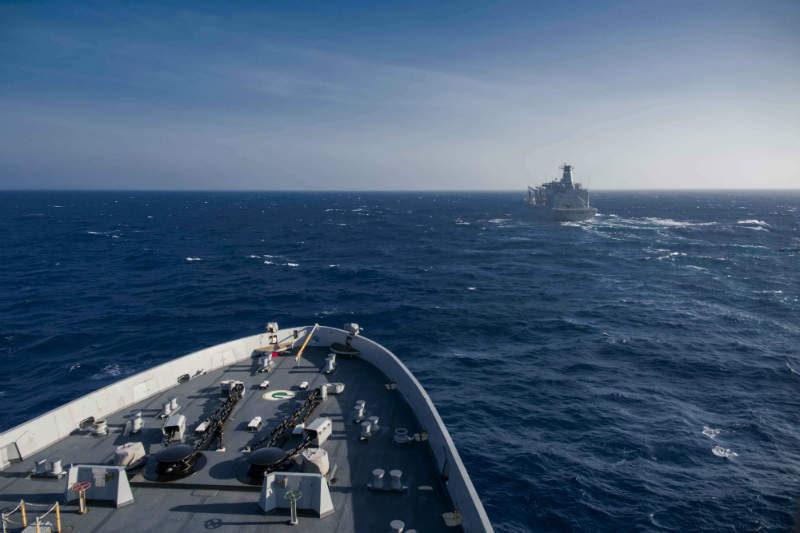 Southeast Asia is home to some of the biggest shipping trade routes worldwide. According to the United Nations Conference on Trade and Development (UNCTAD), around 80% of global trade is transported by sea, with 60% of this volume passing through Asia. Major seafaring companies move goods to and from China, Japan, Taiwan and South Korea across the South China Sea, which carries an estimated one-third of the global shipping industry.
However, the status of Southeast Asian waters as a bustling hub of economic activity has led to an increasing number of security issues, with ship collisions and piracy incidents more common here than in any other location worldwide. In an era where shipping losses are decreasing across the world, these problems make this region a deeply volatile one.
A new Bermuda triangle
In January, Panama-registered oil tanker Sanchi collided with CV Crystal, a Hong Kong-flagged cargo ship, with around 136,000 tonnes of oil on-board. The tanker exploded and remained ablaze for several days, hampering rescue operations and killing all 32 crew members.
The tragedy, which occurred approximately 160 nautical miles from Shanghai, brought new attention to an area of East/South East Asian seas that are increasingly seen as a hotspot for shipping accidents. Media sources reported waters adjacent to Indochina, Indonesia, the Malay Peninsula, the Korean Peninsula and Japan could be renamed the 'new Bermuda triangle', on account of the increasing number of marine disasters in the region.
"Powerful storms, high waves and the sudden passage of military ships have been attributed to disasters in these waters."
Powerful storms, high waves and the sudden passage of military ships as a result of ongoing territory disputes have been attributed to disasters in these waters. A number of US naval ships have been recently involved in collisions, including the USS Lake Champlain, USS Fitzgerald, USS Antietam and USS John McCain. The ubiquity of larger cargo ships has also been a factor, as this increases the chance of collision.
According to a 2017 report by marine insurer Allianz , losses in East and Southeast Asian waters totalled 34 in 2016, making up 40% of the global shipping loss tally of 85 ships that year. While shipping losses have dropped globally by 50%, this has not been witnessed in the South China Sea.
"It is certainly the number one region worldwide for major shipping incidents," said global head of marine risk consulting at Allianz , Rahul Khanna, in a press statement. "Not only are the seas here very busy, but they are also prone to bad weather and, although I can't speculate on this event [the Sanchi collision], some safety standards in the region are not always as high as one would expect from established international standards."
Dealing with piracy
In the last few years, Southeast Asia has emerged as a hotbed for piracy, with sea routes off Malaysia, Singapore and the South China Sea regularly frequented by traffickers. As a whole, the region was the location for 41% of the world's pirate attacks between 1995 and 2013.
A number of potential root causes have been cited for why maritime crime persists in the area. In an essay titled 'The roots of piracy in Southeast Asia', Dr Carolin Liss of Perth's Murdoch University highlights that poverty from declining catches and rivalry among fishers can lead them to supplement their incomes through piracy. However, there is also the issue that naval police in the region have previously been too weak or too corrupt to deal with the situation.
"Poverty from declining catches and rivalry among fishers can lead them to supplement their incomes through piracy."
"It is simply the persistent capacity shortfalls of many regional maritime forces, having to keep up with various challenges across multiple maritime areas such as illegal fishing and smuggling, that makes it difficult to keep such piracy incidents consistently low," Dr Collin Koh, research fellow at the Maritime Security Programme of the S. Rajaratnam School of International Studies, told The Straits Times.
With piracy increasing year-on-year in Southeast Asia between 2012 and 2015, authorities have taken stronger collaborative action to prevent further threats and costs to the shipping industry. For example, The Association of Southeast Asian Nations (Asean ) members began working together to run coordinated patrols to tackle piracy in the Malacca Strait, a shipping route once rife with piracy. Malaysian transport minister Liow Tiong Lai claimed in February that collaborative enforcement had made this strait a safe trading route, free from piracy threats.
Another recent focus area has been the Sulu and Celebes Seas bordering the Phillipines. In January, a report by the International Maritime Bureau noted that incidents of piracy and armed robbery against ships had dropped to 180 worldwide, the lowest number since 1995. However, 22 incidents had been recorded in the Philippines, up from 10 in 2016. A spate of kidnappings by Abu Sayyaf, a terrorist network linked to ISIS, recently led Philippine President Rodrigo Duterte to call for pirates to be 'blasted out of the seas'.
According to data collected by NYA International, piracy in Southeast Asia fell significantly in the months from January to November 2017 compared to 2016, and this decrease is attributed to increased coordination between Southeast Asian nations. Nevertheless, experts speculate that until the root causes of piracy are addressed, it will remain more significant in these waters than in traditional pirate haunts, such as Somalia.
Political disputes threaten security
Maritime security in the South China Sea has come under threat from an ongoing sovereignty dispute between countries in the region. China, the Philippines, Taiwan, Malaysia, Vietnam and Brunei have all staked claims in the sea's territories, islands, reefs and banks. These nations aim to acquire rights to areas so they can be exploited for fishing, or the extraction of crude oil and natural gas.
China has claimed easily the largest portion of territory, deploying naval patrols and building man-made islands in a region stretching hundreds of miles south and east from the country's southern province of Hainan.
"Since 2013, there have been at least 38 reported small-scale incidents between vessels under the flags of claimant states."
Meanwhile, many non-claimant nations want the South China Sea – through which more than $3tn of cargo is estimated to move annually – to remain international waters. The US has therefore sent military ships, most recently the USS Carl Vinson, to the locality of these disputed islands, under what it has termed 'freedom of navigation' initiatives. Other nations are supporting this; Britain is expected to send its own frigate to the South China Sea in March.
Since 2013, there have been at least 38 reported small-scale incidents between vessels under the flags of claimant states. Nevertheless, with the increased militarisation of the area by China and the US, there are concerns that the dispute could one day escalate, boosting danger to ships passing through.
The 10-member Asean is hoping to expedite negotiations with China over a new code of conduct for the South China Sea, which began in November last year. The aim is to advance a 2002 Declaration of Conduct between parties in the region, and provide a legally binding and enforceable set of regulations for the waterway that could improve relations between claimant nations. Nevertheless, there is scepticism about when this code will come to fruition.
"We hope it will be expedited but it's a very, very complex issue," Singapore defence minister Ng Eng Hen told reporters after a meeting of Asean defence ministers in February. "It's a century's old dispute. Expecting [the code] in one year is just unrealistic."