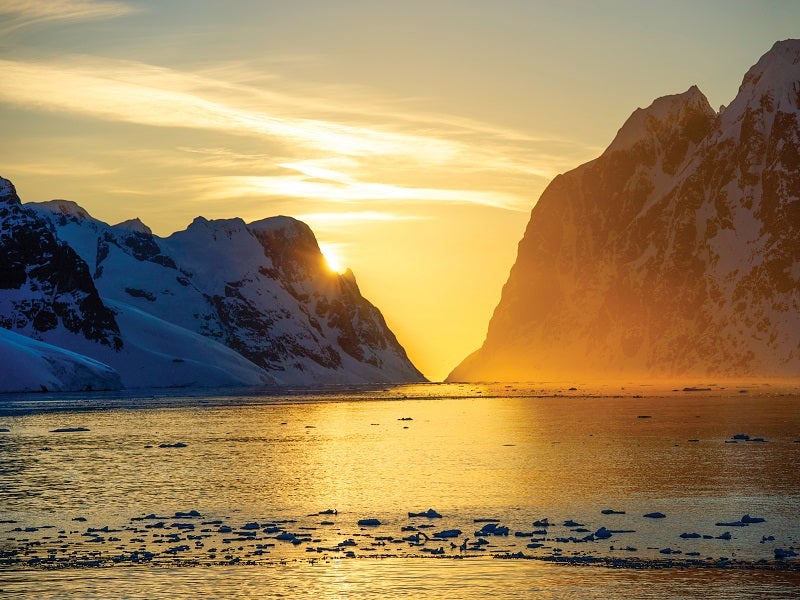 In the hyper-competitive, public relations-obsessed cruise industry, negative press is anathema to operators, who sink or swim by their ability to identify and respond to changing passenger trends.
As such, cruise lines are investing both financially and politically in environmental stewardship in order to engage with a new generation of travellers demanding more sustainable travel options.
No surprise then, that Adam Goldstein, global chair of the Cruise Lines International Association (CLIA) and vice-chairman of Royal Caribbean Cruise Lines (RCCL), used two recent keynote speeches at The Economist's 2019 World Ocean Summit in Abu Dhabi, and at the ITB travel show in Berlin, to drive home the importance of marrying growth opportunities with sustainability.
"The water around and below us, the air above us, the communities around us, the people who work for us; all are critical factors when it comes to planning sustainable growth strategy for the cruise industry," he said. "With opportunity comes responsibility, and we are working as an industry to meet those responsibilities.
"The cruise sector represents 2% of the overall travel industry, we are a small part of the 1.5 billion individual trips made per year, but we need to play a leadership role in sustainable tourism."
Oceania and Regent wage war on single-use plastics
In January, Miami-based Oceania Cruises became the latest operator to announce an initiative aimed at reducing plastic water bottle waste. In partnership with eco-friendly water company Vero Water, Oceania has pledged to eliminate millions of plastic water bottles every year as part of its OceaniaNEXT enhancement and the company's larger Sail & Sustain environmental programme.
"Oceania has pledged to eliminate millions of plastic water bottles every year."
Beginning in April with the Riviera, the line's six-strong fleet will be outfitted with Vero's distillation systems, which Oceania claims will ultimately eliminate around three million plastic bottles annually.
The Vero Water service will be implemented in two phases, with the first focusing on installing the onboard water service in suites, staterooms, restaurants, lounges and bars. During phase two, all guests will be provided with their own re-useable Vero Water bottle which will be theirs to keep.
The following month, Regent Seven Seas Cruises (RSSC) – which, like Oceania, is part of Norwegian Cruise Line Holdings' stable of brands – announced it will become the first luxury ocean cruise line to eliminate single-use plastic bottles, having recently got rid of single-use plastic straws.
According to RSSC, the transition from traditional bottled water to premium Vero Still and Sparkling water will eliminate approximately two million plastic bottles annually across the cruise line's fleet.
Is scrubbing technology safe for the environment?
Lindblad Expeditions, the cruise line that specialises in adventure expeditions to destinations such as Antarctica and Galápagos, began working towards the elimination of avoidable plastic waste in 2007, when it banned single-use plastic water bottles. Instead, guests receive individual reusable stainless-steel bottles that may be refilled at filtered-water stations located around the vessels.
"The next phase in executing a broader reduction in our plastic packaging requires an industry-wide mandate to our suppliers to explore sustainable alternatives," said Lindblad, which partners with National Geographic.
A cursory glance at Cruise Industry News's database reveals that at least seven operators – TU, MSC, AECO and Royal Caribbean Cruises (RCC) among them – made similar commitments in 2018.
"We are a small part of the 1.5 billion individual trips made per year, but we need to play a leadership role in sustainable tourism."
However, some critics argue that such schemes constitute a drop in the proverbial ocean compared with the industry's overall environmental impact, and that shipping fuel is a more pressing concern.
Shipping fuel emits large amounts CO2, sulphur oxides and nitrogen oxides (NOx) but also particulate matter containing organic carbon, black carbon, polycyclic hydrocarbons and heavy metals. From 2020, IMO regulations will require ships to change from heavy sulphur fuel to more expensive low-sulphur alternatives with a maximum sulphur content of 0.5%, compared with the current 3.5%.
Rather than purchasing cleaner fuel, many operators are opting to install exhaust cleaning systems, or 'scrubbers', which use seawater to 'wash' dirty fuel before sending the washwater back into the ocean. More expensive closed-loop systems contain the washwater and dispose of it safely on land.
Fuel cell technology and ship design
According to The Guardian, analysts say about 90% of cruise ships are planning to use such systems, despite concerns that 'scrubbing' heavy sulphur fuel constitutes a pollution threat that could be particularly damaging when 'washed' fuel is released in congested waters containing multiple ships.
Miami-based RCCL, for example, plans to install them in up to 60–70% of its vessels by next year.
"We believe AEP (advanced emission purification) technology is the best approach to meet IMO's 2020 regulations," RCCL said in a statement. "The technology, which removes up to 98% of sulphur, allows us to operate in compliance in areas where compliant fuel sources may become limited.
"Regent Seven Seas Cruises will become the first luxury ocean cruise line to eliminate single-use plastic bottles."
"We continue to explore alternative fuel options, such as liquefied natural gas (LNG) and fuel cells."
RCCL is collaborating with Finland-based shipyard Meyer Turku to pioneer fuel cell technology on two new vessels, which are set to join parent company RIL's fleet in 2022 and 2024. Running primarily on LNG will allow them to eliminate sulphur emissions, and reduce production of NOx and particulates. The new-builds will also be able to operate using distillate fuel in ports without LNG infrastructures.
"The beauty of fuel cells is that they produce electricity with zero carbon footprint – the only emission is water," chairman and CEO Richard Fain said.
Ship design and its impact on the environment is another area of focus for RCC. The operator's Quantum-class ships have a specialised hull that captures micro-bubbles, reducing drag and improving fuel efficiency by 10%.
"We have already made great progress," said Susan Bonner, MD Australia and New Zealand. "Our goal is to reduce greenhouse gas emissions by 35% by 2020; through our investment in advanced emission purification systems, we have already reduced them by 25%."
The ice-breaker powered by LNG
French cruise operator Ponant's new icebreaker, to be called Le Commandant Charcot, will be the world's first electric hybrid polar exploration ship powered by LNG – in addition to electric and battery power – opening up destinations hitherto only accessible to polar exploration vessels.
"CLIA cruise lines have pledged to reduce the rate of carbon emissions across the industry fleet by 40% by 2030."
"It means you can go into an area such as the North Pole and just rely on electric power," Sarina Bratton, chairwoman Asia-Pacific, told Traveller. "Conceivably, we will have no noise, no vibrations; that is the first time that has been done in an icebreaker."
Ponant's eco credentials also stretch to scientific research – the new ship will have an on-board lab – building relationships with local communities in the remote areas where the company operates, and designing itineraries aimed at reducing the impact of tourism on indigenous communities.
At the end of 2018, CLIA cruise lines made what amounted to the first-ever industry-wide emissions commitment aimed at improving sustainability on the seas, by pledging to reduce the rate of carbon emissions across the industry fleet by 40% by 2030.
"We want to play our part in working towards an emission-free maritime sector," said CLIA's Adam Goldstein, "and this is an important first step."