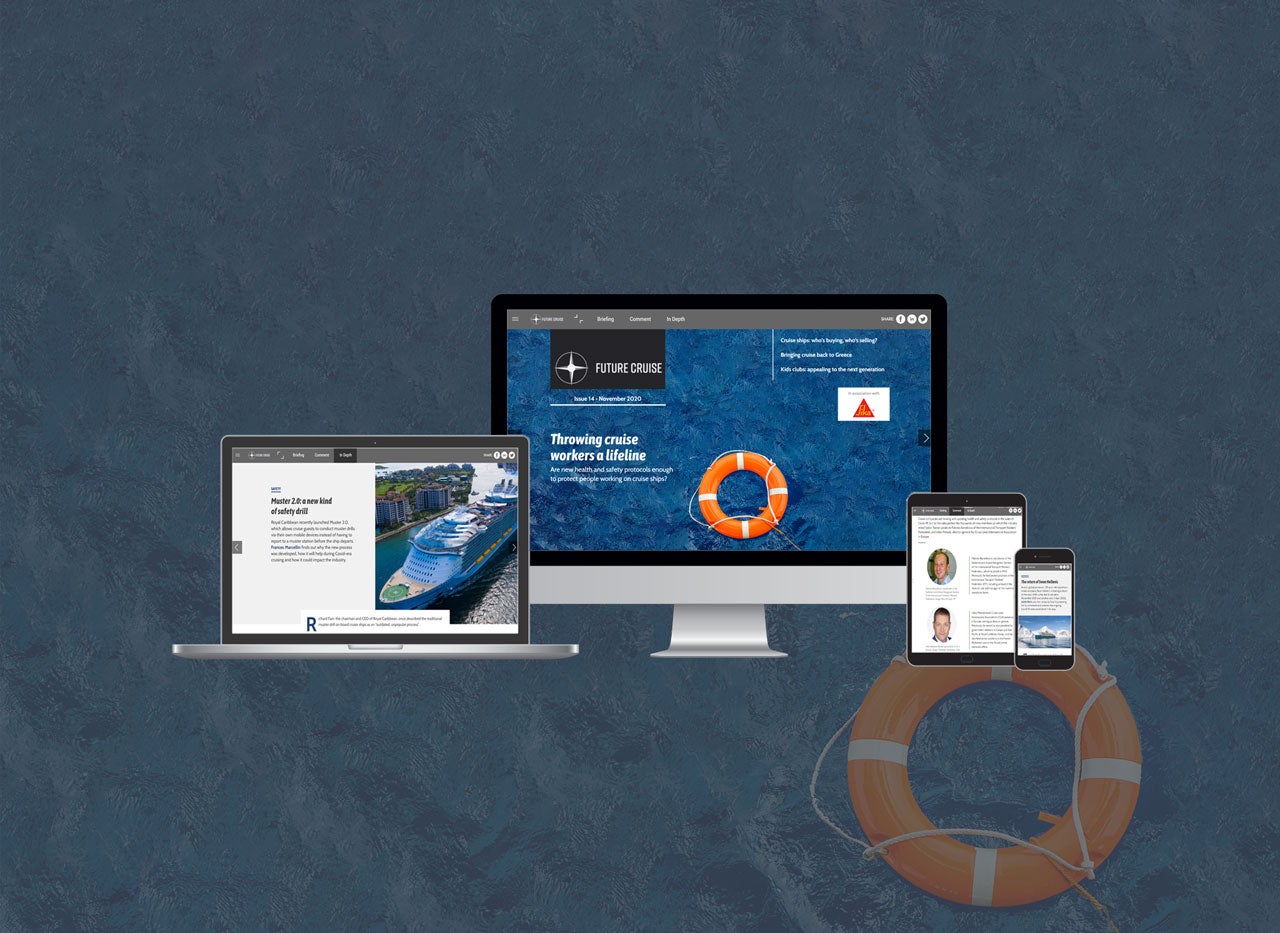 Future Cruise is back for another issue with a brand new design packed with even more industry news and expert analysis. In this issue, we find out how new cruise line Covid-19 protocols could affect workers, explore how kids clubs can appeal to a more tech-savvy generation, and find out how Royal Caribbean is attempting to revolutionise onboard safety drills.
Whether you are on a desktop, tablet or smartphone, you can read the magazine for free online.
In this issue
Finding new cruise revenue sources with IBS Software
With cruises set to resume in the coming months and positive signs that demand is recovering, operators must now focus on recovering lost revenues. Luke Christou spoke to Asish Koshy, head of the tour and cruise business for IT solutions provider IBS Software, to find out how cruise operators can optimise their costs, manage risk and create new revenue sources as the industry overcomes Covid-19.
Protect and serve: are new Covid-19 protocols enough to keep cruise workers safe?
Cruise companies are revising and updating health and safety protocols in the wake of Covid-19, but do the rules protect the thousands of crew members on which the industry relies? Julian Turner speaks to Fabrizio Barcellona of the International Transport Workers' Federation, and Ukko Metsola, director-general for Cruise Lines International Association in Europe.
Cruise ships on the block: who is selling and who is buying?
As with any market shock, the current pandemic has created both catastrophe and opportunity. While some cruise operators must sell to recoup funds, others have seen it as a chance to snap up a bargain. Ilaria Grasso Macola finds out who's doing what, with whom and why.
Greece cruises on: the long journey back to normal 
Greece reopened six of its ports to cruise ships in August, becoming one of the first countries to ease restrictions using the standards outlined in the EU's Health Gateways. Frances Marcellin talks to some of the cruise companies running operations in Greece and finds out if there's evidence here of hope for the wider cruise industry's future.
Cybersecurity: is the cruise industry prepared?
With multiple cyberattacks recorded already, some against major cruise companies like Norwegian and Carnival, it is time the industry takes storm warnings seriously. So why is the industry a target for cybercriminals and how should companies take a proactive approach? Luke Christou finds out.
Kids clubs: making cruise ships appealing for a new generation
Kids clubs are a staple of the cruise ship industry, providing entertainment for youngsters and an opportunity for their parents to relax and enjoy the ship. But how have kids clubs changed over the years, and what regulations will have to be put in to keep kids safe? Alex Love finds out.
The return of Swan Hellenic
Amid a global pandemic, 70-year-old expedition cruise company Swan Hellenic is braving a return to the seas. With a ship due to set sail in November 2021 and another one in April 2022, Adele Berti asks the company how it's preparing for its comeback and whether the ongoing Covid-19 crisis could stand in its way.
Muster 2.0: a new kind of safety drill
Royal Caribbean recently launched Muster 2.0, which allows cruise guests to conduct muster drills via their own mobile devices instead of having to report to a muster station before the ship departs. Frances Marcellin finds out why the new process was developed, how it will help during Covid-era cruising and how it could impact the industry.
Next issue preview
The ongoing Covid-19 pandemic makes it hard to predict what Future Cruise will bring to the table next year – particularly as some cruise lines have now opted to extend their suspension from service to boost their preparedness for a post-Covid-19 world. Nevertheless, the delay could be cause for a build in anticipation for some of the fantastic voyages passengers will (fingers crossed) set sail on in Winter 2021.
We'll take at some of the biggest itineraries from some of the biggest operators – such as Royal Caribbean, Carnival Cruise line, Princess Cruises and Costa Cruises – and find out how cutting edge technologies and safer working practices will boost safety for staff and passengers.
Another key facet for cruise ships return will be their commitment to eco-friendliness and greener fuels. We'll analyse the industry's step towards a green transition alongside the rest of shipping as the International Maritime Organization attempts to reduce the carbon intensity of international shipping, compared to 2008 levels, by 40%, by 2030.
It's been a difficult year for the cruise industry. However, we at Future Cruise are optimistic that cruise lines will one day return with better offerings than ever before.
Would you like to be notified when a new issue of Future Cruise is out? Sign up for email alerts here!
We will only use your email address to let you know when a new issue is available. Future Cruise is published quarterly.