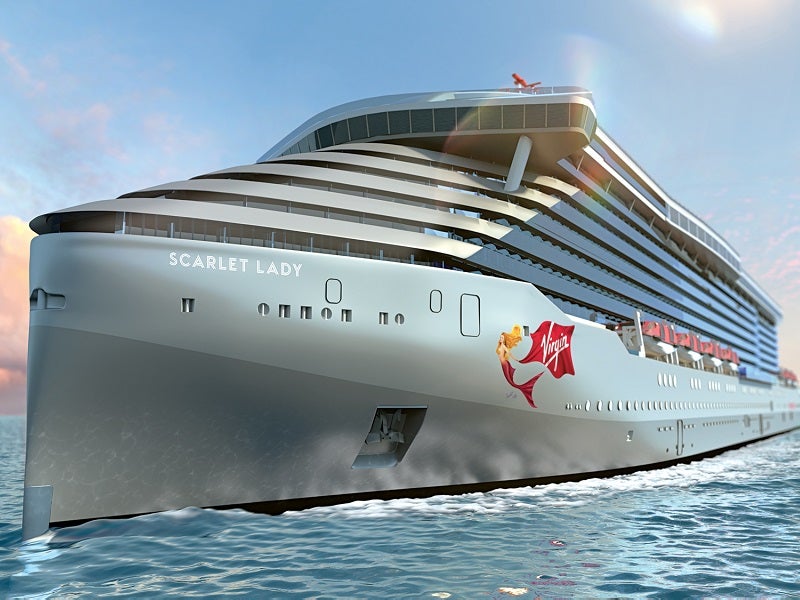 As the cruise industry awaits the launch of Scarlet Lady in 2020, media headlines are awash with news that Virgin Voyages is set to 'disrupt' the cruise industry.
Yet a truly disruptive company, using the original meaning of the word, 'disrupts' by entering either the low end of the market or by creating a new market – and Virgin Voyages is actually not intent on doing either.
Virgin Voyages has taken a new approach to cruise holidays which could impact the industry in two main ways:  market expansion through persuading non-cruisers and existing cruisers to take a break at sea, and shifting attitudes towards crew culture and lifestyle on board.
Scarlet Lady: a vacation product that happens to be at sea
As Virgin Voyages does not have a legacy to factor in, and due to the fact it identifies itself as a "travel brand" rather than a "cruise line", it has stepped away from some of the traditional structures upon which the industry and cruise life is built.
The passenger experience at sea is customer-driven and, according to Virgin Voyages senior vice president of hotel operations Frank Weber , modelled around what a vacation or travel product in the cruise industry looks like, moving away from market traditions.
"We put cruise aside because we're creating a vacation experience."
"The cruise industry is incredibly successful and growing, and all the cruise lines have a formula that they run very successfully, but we looked from a different perspective and said: 'If we're creating a vacation product in the cruise industry what would it look like?'" he explains. "It's getting away from the 'one size fits all' and creating multiple experiences that you can customise."
Starting with the leadership team about four-and-a-half years ago, Weber says they began with a blank canvass.
"We put cruise aside because we're creating a vacation experience," he says. "We just happen to be on the water and can go places on board – it's truly a hospitality operation."
With that as the driver, he explains that they looked at the successful concepts in cities such as London and New York, across restaurants and entertainment, as well as, more generally, entire weekends away.
"What we're looking for is creating this authentic experience that is not based on cruising, it's based on creating a vacation product," he says.
Breaking away from the traditional cruise formula
Virgin Voyages' 'Experience Department', Weber says, has looked closely at understanding the journey for different people on board and what it looks like. Personalisation plays a huge role in the passenger experience on board, and while technology will also be introduced to enhance this experience on board, it is too early for Virgin Voyages to release information about the details.
When it comes to the company's approach to food and entertainment on board, meeting identified needs has required a break away from the market norm. One of the biggest differences is that there is no main dining room. Instead of restaurants classed as 'speciality' and featuring an additional cost (which is the case on many cruise lines, although not all), every single restaurant – or the 20 different food choices advertised – are included in the vacation price.
The fact that the US food truck trend has grown by around 8% every year for the last five years also influenced the food options on board. "We eliminated buffets and replaced [them] with a food market," says Weber, explaining this decision was based around what the expectation is in regular life. "People like to go to food trucks," he says.
"We set out to create experiences that are going to be so good that we could bring them back to land."
On the entertainment side, Weber says that the team wanted to introduce "more intimate, edgy and immersive" choices. Their strategy worked in the opposite way to how entertainment has traditionally been introduced to cruise ships.
"Rather than bringing entertainment from land to ship, we set out to create – whether it's dining or entertainment – experiences that are going to be so good that we could bring them back to land and make them successful there," says Weber.
Another difference in Virgin Voyages' approach is rather than having one single cruise director, there will be multiple "personas" passengers can identify with who have different specialisms – such as "fitness gurus" or "foodies" – which help to draw out the diverse range of passengers' interests.
"Your experience and my experience can be designed differently," says Weber. "We had a real opportunity here to put people first, and we didn't have any kind of legacy, which other cruise companies have to deal with."
Introducing the "rebellious luxe" category to cruise
The first of a fleet of four, with one vessel set to be delivered each year from 2020 to 2023, Scarlet Lady's external design resembles a yacht, but rather than the traditional premium look associated with luxury yachting, Virgin Voyages promises a "twist on luxury", described as "rebellious luxe". But what exactly does this mean?
"It's still applying premium, but a different kind of luxury – much more rebellious."
"It goes back to really creating our own category," says Weber. "When you talk about luxury or premium, what is in your mind is maybe a Ritz Carlton, a white tablecloth, staff in suits, and it's very luxurious and a great experience, but it's not the kind of luxury we're looking at."
To draw a comparison of the luxury level and style, Weber refers to the ACE hotel chain. "It's very cool, very modern, still applying premium, but a different kind of luxury – much more rebellious," he says.
"A boutique hotel operator – that really is where this rebellious luxe comes in. There are very luxurious champagne and caviar moments, but at the same time you can have a very relaxed kind of St Tropez experience at The Dock [one of the restaurants], for example."
Crew care: free Wi-Fi and a housekeeping service
Weber says that the attitude towards crew at Virgin Voyages is that "everyone" is considered crew – whether on the ship or at the headquarters. "We don't want to make a difference," he says. "I tell my team all the time that they are not the bosses of the ship, because they're here to support the ship, which is where everything happens."
Having worked on cruise ships for ten years, he is well aware of the difficulties crew experience on board. The company has focused on implementing an attitude and culture that "treats crew with dignity".
The Seafarer's Happiness Index, which is released every quarter, showed that results for Q1 of 2019 were overall "less happy" than they were last year. Across the whole shipping sector, cruise ships score lowest overall. Factors that contributed to a lower score include: isolation and not enough social activities and lack of connectivity and contact with home.
"Scarlet Lady will have the highest ratio of single-berth cabins in the industry."
Virgin Voyages has directly addressed these issues by offering free Wi-Fi to crew, which is not common in the industry (although it's not an industry first as Viking Cruises, for example, also provides free Wi-Fi to staff), and there is also a crew activities manager on board. "They make sure there's enough for the crew to do in their off time," says Weber.
Another positive aspect of crew life on board Scarlet Lady will be the crew restaurant, which is called the kitchen table . "It's designed as a nice restaurant, really front-of-house design," says Weber, adding that the quality of the food is also high for the crew.
In terms of accommodation, Weber says that Scarlet Lady will have the highest ratio of single-berth cabins in the industry. "We're even doing things that are unheard of in the cruise industry," he adds. "We're actually doing a housekeeping service in every crew cabin once a week."
In this way the living quarters are reminiscent of modern co-living accommodation that has taken off with entrepreneurs and career-driven individuals in cities and urban hubs.
"I'm sure you'll have seen many quotes from Richard Branson: 'if you take care of your employees, they take care of your customers,'" says Weber. "We want to make sure we take good care of our crew – it' imperative to being a Virgin company."
There are thousands of elements that come together to provide a high-quality experience on board.  "It's so many things: how can we make the workplace for our crew better, how can we make the operation better, how do we design the right infrastructure," says Weber.
"It's a composition," he adds. "It's like a recipe with all the ingredients – the right amount of all these little things we're putting in, at the end of the day, creates the experience.