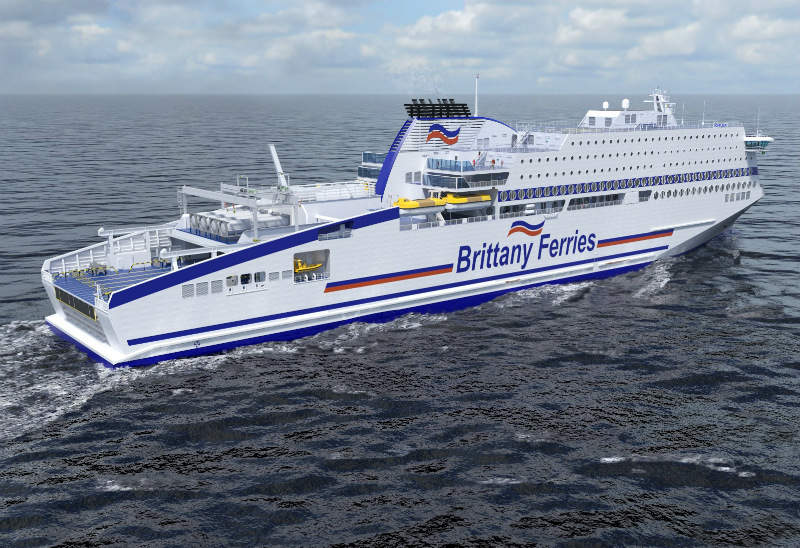 Discover Ferries is an industry body representing 11 ferry operators in the UK and Ireland. Its members include Brittany Ferries, Caledonian MacBrayne, Irish Ferries, P&O Ferries, Stena Line and Wightlink.
According to new figures released by Discover Ferries, more than 39 million passenger journeys are made by ferry to UK islands, the Isle of Man and Ireland, France, Spain and Holland each year. Market growth in this industry has meant that many ferry operators have invested in new sustainable ships and larger RoPax vessels, as well as entertainment and digital services to better meet with passengers' evolving expectations.
This summer, following a £45m investment, Wightlink will launch Victoria of Wight for the Portsmouth-Fishbourne route. It is a new hybrid car ferry, which includes a sophisticated power management system that recycles engine heat to warm water and indoor spaces, and a modern hull designed to create low levels of wash.
MV Glen Sannox from Caledonian MacBrayne will be operating on liquefied natural gas (LNG) and marine gas oil (MGO) – the UK's first passenger ferry running on dual-fuel LNG and the first of two being built as part of a £97m contract – to help to reduce emissions. Honfleur, a £175m state-of-the-art new ship from Brittany Ferries, will also be powered by LNG.
As sustainable shipping continues to transform the ferry industry, operators are also increasing capacity and services. In September this year, Irish Ferries will introduce its new £128m cruise ferry for 1,885 passengers and crew and 1,200 cars to serve the busiest ferry route between the UK and Ireland (Holyhead to Dublin). Irish Ferries will also launch a second new cruise ferry in 2020, following an investment of £147m. With space for 1,500 cars or 330 freight trucks, it will be the largest cruise ferry in the world in terms of vehicle capacity.
With steady growth in freight and passenger volumes, larger and more efficient RoPax vessels will be introduced to the market. As part of a multi-million pound agreement with China's AVIC Weihai Shipyard, Stena Line is constructing four new 1,000-passenger RoPax ships for service in 2019 and 2020, which Discover Ferries confirms are 50% larger than today's standard RoPax vessels and will be among the most energy efficient in the world.
We find out more about growth in the ferry industry from Emma Batchelor, director of Discover Ferries.
Frances Marcellin (FM): How is market growth currently transforming the ferry industry?
Emma Batchelor (EB): More than 39 million passenger journeys are made by ferry to UK islands, the Isle of Man and Ireland, France, Spain and Holland, and those sustained numbers are enabling ferry operators to invest with confidence in new ships and new routes.
Ferry travel today is transformed compared to a decade ago and enjoys a loyal following of travellers who value comfort and space. In the next four years the scale of this investment will see another step change in service for travellers.
FM: Why does this form of transport continue to increase in demand, despite fierce competition from Eurotunnel, air travel and high-speed rail routes?
EB: One of the key reasons that ferries remain a popular transportation option for passengers is the freedom and flexibility that ferry travel offers. Not only do many of the ships have fantastic onboard facilities – from dedicated children's areas to cafes, restaurants and even cinemas, swimming pools and comfortable, en-suite cabins on the longer crossings – you also have the freedom to take your pets, your whole family and as much luggage as you can fit in your vehicle with you.
FM: What types of travellers do passenger ferries appeal to?
EB: They are perfect for those who like to go skiing with their own equipment, for example, for foodie lovers who like to stock up on their favourite holiday goodies, and especially for families like mine, who need space for children's toys, clothes and other essential holiday items.
In my experience, ferries are a fun and exciting start to any holiday, especially for those who like to enjoy rather than endure their journey.
FM: Can you explain some of the ways that the ferry industry has improved its services for passengers over the last decade?
EB: If you have not travelled on a ferry in the last few years, you might be surprised at how easy it is, thanks in part to improved port facilities in places such as Dover and Portsmouth International Port, as well as investment in fast, efficient check-in and online booking services.
Ferry members have also invested a lot of time and money in improving the onboard experience, from comfortable seated passenger areas and spacious lounges, to dedicated facilities for children and a variety of eateries and retail outlets.
Some of the larger, cruise-style ferries also provide onboard entertainment such as live shows being staged or current films being screened in onboard cinemas. There is also a variety of great cabin accommodation offered onboard some of the longer crossings, from pet-friendly cabins, to five-berth family cabins, as well as top-end cabins that are like mini-suites with their own balconies and private lounges.
FM: From Wightlink's new hybrid car ferry Victoria of Wight to Brittany Ferries' LNG-powered Honfleur, the number of sustainable ferries is increasing. Why is this happening and how is this affecting the types of vessels launching into the market?
EB: Our waters are subject to some of the most stringent environmental regulations in the world and our ferry members have invested heavily in developing and using the best technology available to help protect the marine environment in which they operate.
Examples of this include the use of hybrid technology as well as cleaner fuels, such as liquefied natural gas (LNG) and marine gas oil (MGO). Other measures include the development of efficient ship technology from hull and propeller design to onboard systems management for heating and recycling water and waste materials.
FM: Brittany Ferries' Honfleur has been designed with the "digital age in mind". This includes free Wi-Fi in cabins and public places and a digital information lounge as the focal point. How important is the deployment of digital services onboard passenger ferries?
EB: The Honfleur lounge will be an interactive digital welcome lounge, allowing passengers to explore and be inspired by the destinations served by Brittany Ferries. Many of our ferry members are leading the way in offering free Wi-Fi services onboard, especially compared to other forms of transport by air and rail.
FM: Stena Line's development plan involves the construction of four new RoPax vessels that will be 50% larger than today's standard RoPax vessels, with room for 100 cars and 1,000 passengers. Do you think demand for RoPax vessels in the ferry industry will continue to increase?
I believe that many of our ferry members have found that the RoPax concept – with a mix of freight and passengers – has proven a successful model for them and I anticipate continued investment in this area.