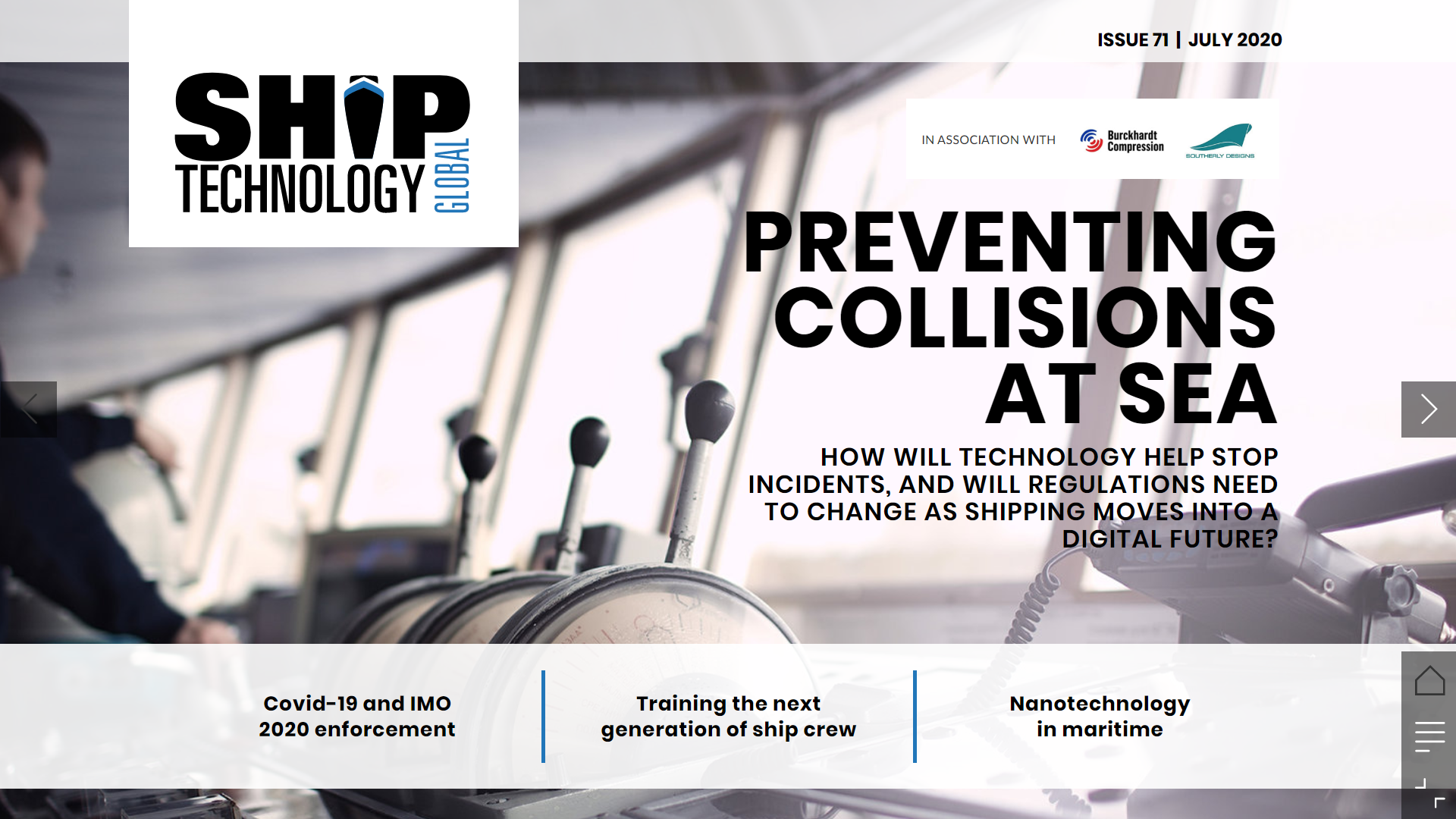 Ship Technology Global is back for another issue packed with technology news and industry analysis. In this issue, we find out more about how technology can help prevent ship collisions, explore the potential applications of nanoscience in shipbuilding, and ask whether the coronavirus pandemic has affected ports' enforcement of IMO 2020 fuel regulations.
Whether you are on a desktop, tablet or smartphone, you can read the magazine for free online.
In this issue
Emission impossible: how the Covid-19 crisis is affecting IMO 2020 enforcement
IMO regulations governing the sulphur content of marine fuels came into force earlier this year, but what impact has the Covid-19 pandemic had on ports' ability to enforce the new rules? Julian Turner talks to Beth Bradley, maritime law specialist and partner at commercial law firm Hill Dickinson.
Covid-19: what is the shipping industry doing to help?
Despite being severely hit by the coronavirus crisis, the maritime sector has shown great support towards struggling communities. Adele Berti look at some of the positive contributions made by those working in the cruise and shipping industries during the pandemic.
The next generation: how technology is driving ship cadet training
Training ships have provided an opportunity for cadets to gain the skills they need for more than 150 years. Andrew Tunnicliffe looks at how technology has revolutionised the training vessel, and how training standards must now catch up.
Rough waters: inside the new guideline for Arctic marine risk assessment
The Arctic Council's Emergency Prevention, Preparedness and Response Working Group has released its first Guideline for Arctic Marine Risk Assessment. As the most comprehensive guide on Arctic navigation yet, the document provides tailored data and tools to improve safety in the region. Adele Berti finds out more.
Port state control: targeted flag lists explained
India, Cyprus and Turkey were removed from the US Coast Guard's Targeted Flag List in 2019, recognising their consistent performance on maritime safety. Chris Lo asks: how does the global port state control system work, and how can vessels and flag states be added to (or removed from) lists that target them for more frequent inspections?
Managing traffic in the baltic sea
Finnish firm Wärtsilä has been contracted to upgrade the route-sharing systems of 50 tankers active in the Baltic Sea. The installations form part of BALT SAFE, an EU-supported project based around the concept of sea traffic management. The end goal is safer and more efficient shipping in the region, as Ross Davies reports.
Preventing ship collisions: is technology the answer?
Despite the evolution of navigation equipment, ship collisions still occur and can be devastating for crew and cargo. Alex Love looks at how technology can help prevent collisions, and ask if existing regulations may need to change as shipping moves into a more digital era.
Nanotechnology: four key applications in shipping
Nanotechnology, by its nature, is easy to miss, but innovations at the nano-scale are already having an impact on global shipping. From antiviral coatings against Covid-19 to advances in shipbuilding and clean fuels, Chris Lo finds out what the nano-world has to offer the commercial shipping industry.
Next issue preview
As industries around the world enter Covid-19 recovery mode, we take a closer look at Maritime UK's Sector Recovery plan to see where maritime needs to right the ship. Additionally, we ask whether the US' Jones Act should be celebrated or scrapped after its 100th anniversary in June.
We also explore two UK-based projects: one investigating how 'map-matching' navigation systems could help pinpoint vessel locations, and the other trialling an innovative hull lubrication method to increase fuel efficiency. Furthermore, we explore autonomous shipping from a port security perspective, after DP World subsidiary World Security launched its first-ever autonomous surveillance boat at UAE ports.
Finally, we investigate Japan's plans to create a zero-emission 'eco-ship' by 2028, and investigate key points raised in the US Coast Guard's new global guidance on tackling deceptive shipping practices.