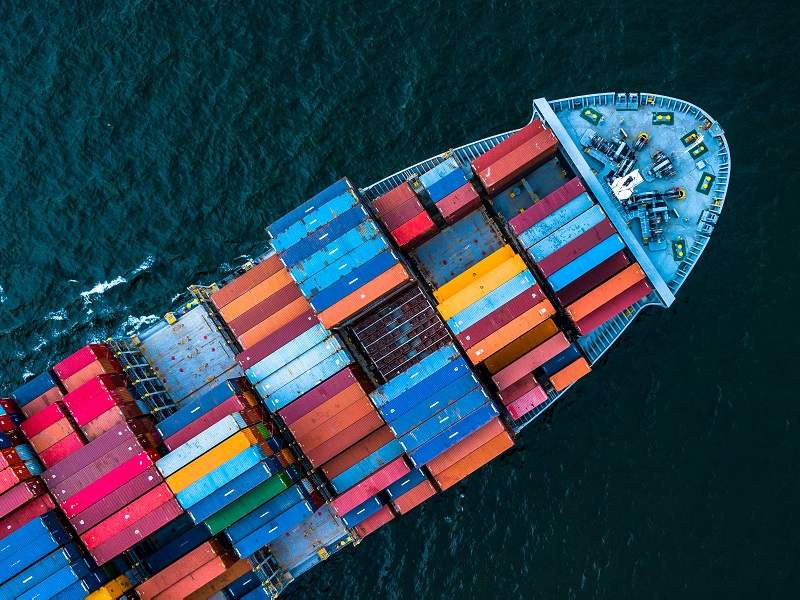 The shipping industry is known to be sceptical towards new technologies and scarcely interested in digitisation, but, willing or not, it is increasingly required to embrace it.
Digital logistics company Zencargo couldn't find better timing to enter this market. Launched by entrepreneurs Alex Hersham and Richard Fattal in 2017, Zencargo is a platform that aims to make logistics easier for shippers.
Estimates from the company predict the logistics sector to be worth $15.5bn by 2023, and the marine freight industry to be valued at $210bn by 2021. However, while the importance of technology is now being acknowledged, a widespread lack of organisation seems to dominate among beneficial cargo owners, especially when it comes to keeping track of operations and managing large amounts of freight. Zencargo could help solve this issue.
Research conducted by the company shows that inefficient supply chains are costing UK businesses a mammoth £1.5bn per year. This is why Zencargo allows clients to book, manage and keep track of their international freight while using data and analytics to optimise routes.
Early results look encouraging: over its brief existence, the company claims to have saved one week of work for an average business dealing with ten shipments a month.
CEO and co-founder Alex Hersham explains Zencargo's mission and how it is managing to attract the eyes of even the most sceptical industry stakeholders.
Adele Berti: What does the platform do?
Alex Hersham: Zencargo is a digital freight-forwarder headquartered in the UK which helps companies across the world manage their supply chain. Whilst it is a freight forwarder, our technology also allows our customers to have collaboration, visibility and documentation all in one place, as well as analytics on their supply chain to help drive down working capital and reduce landed costs.
AB: What are the main issues shippers encounter when booking and managing freight and how does your platform address them?
AH: A lot of the issues are around visibility and data, so you're managing all your purchases on different spreadsheets, trying to understand where things are on your purchase or the lifecycle managing your shipments, not knowing when they are going to arrive, not having really up-to-date information, all the time going up a long stream of emails, is quite a painful existence.
What we do is give you visibility around the purchasing process, we give you visibility and documentation around the shipping process; you can always collaborate with us and with your manufacturer on our platform. It moves away from silent information and it moves away from people not knowing what is going on, having long streams of emails, and with all the data that we're generating, we are able to then paint you a picture of how the supply chain is operating and where there's room for efficiency rise.
AB: To what extent do your analytics and data contribute to route optimisation?
AH: [Our platform] contributes to route optimisation, but it also contributes to general optimisation, so optimisation around your supply performance; optimisation around trade links forms a critical part and really tries to give you the data that will help you do things like reducing the need for aeroplanes to drive down your landed costs, or help you manage the right amount of inventory to reduce your inventory level. So it's about route optimisation but it's also about a lot of other intelligence that we can provide to those we serve.
AB: The Port of Singapore recently started using an app that helps drivers manage their cargo. What makes your solution different?
AH: I think it's really interesting that ports and everybody in this ecosystem is really thinking about upping their digital game and increasing the usability of their data and user interface, and as a business like ourselves, we actually benefit when the different parties involved in trade improve their data and improve their access to data.
We provide our customers with a single version of the truth. We have customers importing anything from one to 100 containers a week and when you have to deal with this sort of volume, there are so many different stages of international trade; having everything in one place without having to look into different websites and different things, different spreadsheets for different supplies for different trade links, having that data, being able to manage by exception but also to be able to use that data to improve the supply chain is hugely valuable to our clients.
AB: What results are you seeing so far and what attitude is the shipping industry showing towards digitisation and new technologies?
AH: We're growing considerably. We're working with over 100 clients. We are helping our clients be efficient on their crates but also save a lot of time and money to do other efficiencies that our platform is able to bring; understanding their supply chain better could eventually lead to large savings.
AB: What challenges does digitisation bring? How do you make sure your platform is protected from cybercrime?
AH: In the industry, there is generally a problem with data accuracy. That's not us, but rather other people in the industry not having perfect data and that's a challenge but also an opportunity, because customers today are frustrated about data inaccuracy and are getting things on a spreadsheet that is immediately out of date. What we're able to do is use our data and we'll soon be able to use artificial intelligence as well to improve data accuracy. So whilst it's a challenge, it's also an opportunity for us to provide more value to our clients.
AB: What about challenges like cybercrime and data protection?
AH: We take security extremely seriously; we have people spending their career on data protection and cybersecurity, and we're much less exposed to that than other legacy businesses.
AB: Shipping companies aren't known for rapid innovation. Do you find it hard to get them on board?
AH: A lot of these companies have a background of having some digital presence because obviously, they are managing some complicated businesses and technology is key, but we're definitely seeing a dramatic change of people's understanding of what their customers need and having to deliver on that requirement. So it's definitely getting better. It's not perfect by any means, but that's also where we come in – we use our platform, our data and our resources to try and have everything in one place to improve data accuracy as well.
AB: What are your plans for the future? 
AH: We're going to be expanding our presence across Europe and across the US, as well as in the Far East and we plan to do that later this year and early next year. We already serve clients across Europe and the US.