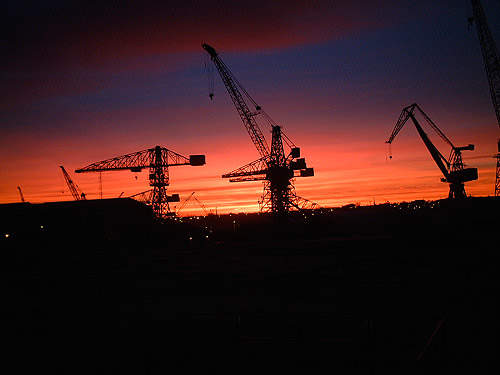 The Scottish Government recently launched a surprise takeover of Ferguson Marine, securing the immediate future of the company.
Shipyard recently hit financial difficulties
The Scottish Government has been seriously considering bringing the shipyard under state ownership ever since the owners announced plans to enter administration, as a result of mounting losses.
Situated on the River Clyde, the shipyard has a workforce of 350 people. It has been in a long-term dispute with the government over a £97m contract to build two ferries for the Clyde and Hebrides Ferry Service.
Intended for Caledonian Macbrayne and government agency Caledonian Maritime Assets Limited (CMAL), the ferries would operate on a low-carbon system of diesel-electric and battery power. However, construction of the vessels is behind schedule and the budget of the hybrid vessels has also increased.
Ferguson Marine stated that the delays were caused by design changes requested by CMAL. The cost of constructing the vessels increased by £90m, which the CMAL refused to pay.
Now the shipyard, which secured £45m in loans, is on the verge of losing £40m on the deal. By choosing to intervene, the Scottish Government is taking a business risk, given that it has already invested large sums of taxpayer money in the struggling shipyard, which has showed few signs of having prosperous future.
Hopes to turn around the company's fortunes
An official government statement said: "Our priority is to ensure the completion of the vessels under construction, secure jobs for the workforce and protect the future of shipbuilding at the site."
Around 60 of the shipyards worked have recently stopped working due to the withdrawal of contract agencies, with the hope of protecting their financial status.
The immediate priority is to re-employ laid-off workers, as their valuable skills will be required if the yards' current contracts are to be completed.
The Scottish Government has also brought in a turnaround director who is tasked with stabilising the business and recruiting a new management team, which it hopes can transform Ferguson Marine.
Concerns over the future remain
Despite the company being saved, some have objected to the decision to intervene, insisting that other options should have explored.
The Scottish Conservative transport spokesman Jamie Greene MSP has stated that the SNP Governments decision to intervene is simply a ploy to cover up the extent of how much the contract has been mismanaged.
Jim McColl, the industrialist who rescued the yard in 2014, also conveyed his qualms about the decision, stating that ministers are abusing their power and has warned against nationalisation.
Another potential issue is that the SNP is now responsible for securing long-term shipbuilding contracts. However, public ownership could potentially make it difficult to bid for contracts as a result of state aid rules