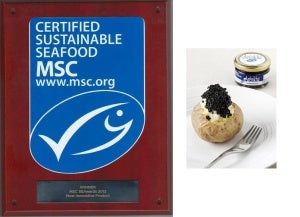 During the European Seafood Exposition, our herring pearl product, ARËNKHA MSC, has received the award for the 'most innovative product MSC 2012' from the Marine Stewardship Council (MSC). Our MSC certified and unique herring pearls have an intense aroma and delicious flavor, and combine perfectly with any dish.
Pescaviar is proud to participate in this project and contributing to the growing market for certified, sustainable fish.
The Marine Stewardship Council's fishery certification program and seafood ecolabel recognise and reward sustainable fishing. This global organisation closely works with fisheries, seafood companies, scientists, conservation groups and the public to promote the best environmental choice in seafood.
Dutch Outfitting Group (DOG) offers high-quality, cost-efficient panels and ceiling systems for vessel interiors. We...