Poly Flex Group
Ship Engine Machinery Mounting Systems, Drive and Steel Shaft Couplings
Poly Flex Group develops a range of engine and machinery mounting systems, drive couplings and steel shaft couplings for the maritime industry.

Address
Tubbs Street,
Clontarf ,
Queensland,
Australia
Phone
Poly Flex Group develops a range of engine and machinery mounting systems, drive couplings and steel shaft couplings for the maritime industry.
Our solutions are designed to minimise engine and driveline vibration, which is a common problem in ship engines. Products are available with Det Norske Veritas (DNV) type approval.
Ship engine mounting systems
Poly Flex mounting systems are suitable for marine propulsion engines and have the required vertical deflection to provide vibration isolation. The mounting systems have a precise minimum thrust and lateral deflection under propulsion load and inertia caused by sea conditions.
Our mounting systems have a failsafe that prevents the engine from breaking away from its bearers in the event of capsizing. Mount components are moulded from Polénite™, a special heat-cured polymer alloy.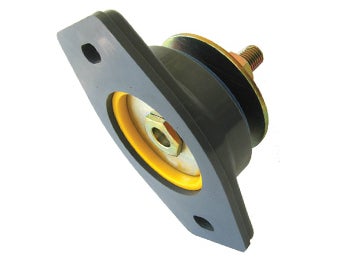 Mounting systems are used in ship propulsion systems to minimise vibration.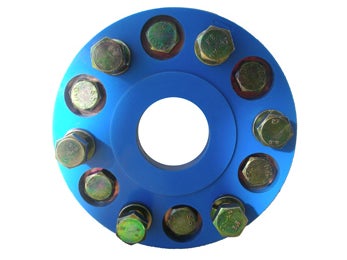 Poly Flex's flexible drive couplings have a working load that ranges between ten Newton meters (Nm) and 30,000nm.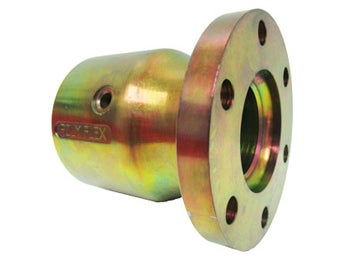 Poly Flex's steel shaft half couplings are manufactured in a high-precision turning centre.
The mounts can be used for a variety of applications, including mining, defence, agricultural and automotive industries, as well as instrumentation.
Flexible drive couplings for marine propulsion systems
Poly Flex flexible disc transmission couplings operate as a damper between the gearbox and propeller shaft to minimise torsional vibration from the ship's engine and gearbox. The couplings reduce the shock of forward and reverse gear changes.
Our couplings work with ship engine mounts by providing the softest element in the engine shaft assembly.
All metal components used by Poly Flex are plated in cobalt zinc, which offers optimal corrosion resistance and durability. Similar to the mounts, moulded components of the couplings are manufactured from Polénite.
Steel shaft couplings for ship engines
Poly Flex steel shaft couplings and spacers are manufactured from CS1040-grade bright steel in our high-precision computer numerical control (CNC) turning centre.
The machining process is carried out to a high level of precision to ensure there is no more than 0.001in (0.025mm) of run-out.
The second stage of the process involves coating the couplings to prevent rust and corrosion caused by natural elements. As with all steel components, the couplings are treated with cobalt zinc. This has better properties compared with standard passivated zinc, which means the couplings are more likely to have a longer lifespan.
Poly Flex also manufactures and supplies customised half couplings, spacers, cotton reels and adaptor plates for ship engine machinery.
About Poly Flex Group
Established in 1981, Poly Flex Group is located in Brisbane, Queensland, Australia.
The company manufactures engine mounting systems and shaft couplings for the marine, industrial, agricultural, defence and mining industries. Poly Flex designs, engineers and manufactures all components that are used in its systems.
Poly Flex Group Pty Ltd
Tubbs Street
Clontarf
Queensland
Australia



Telephone Number




Fax Number




Email Address




Links