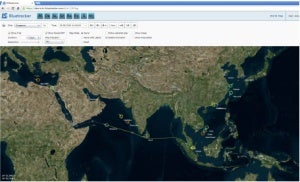 INTERSCHALT, the software vendor, service provider and producer of VDR systems, will showcase product innovations that make shipping more efficient, safer and more sustainable at SMM 2014. INTERSCHALT will present the vessel monitoring system BLUETRACKER and demonstrate in presentations what huge potential it offers shipowners and charterers to cut costs.
StowMan[s], the new dimension of optimised stowage planning, opens up new possibilities of combining strategic decision-making criteria from multiple stowage planning options into an optimised stowage plan within a very short time. The VDR G4[e] meets the latest IMO performance standards.
BLUETRACKER creates the foundation for measures to enhance efficiency
Controlling and cutting costs have never been as important as now, in a time of rising costs for operating ships. A basic requirement for finding the right measures is a systematic analysis of ship-specific key performance indicators. INTERSCHALT presents a software solution that enables analysis on land and also supports the crew directly: the BLUETRACKER vessel monitoring system.
For example, KPIs relating to consumption analysis, such as fuel-efficiency index (FEI), specific fuel oil consumption (SFOC), as well as trim and machine performance, aggregated to supply the ship's and fleet's performance, can be tracked very simply using a web browser.
Measures to enhance efficiency are derived from the analysis and can be used to slash operating costs. On board, the energy efficiency monitor (EEM) supports the crew directly on the bridge, for example by showing the current trim efficiency. As a result of active integration of the crew, direct measures can therefore be implemented to cut costs quickly. BLUETRACKER transfers the recorded data to shore by satellite at intervals of time defined on a customer-specific basis.
Users can access current and historical data, which is visualised in a user-friendly way in charts. That means individually defined KPIs can be analysed at any time and specific reports (for example, SEEMP) automatically generated and optimised by business intelligence (BI) tools.
StowMan[s] supplies strategic stowage planning alternatives
At SMM 2014, INTERSCHALT will present the new industry standard in container stowage planning. Cutting-edge optimisation technology has been incorporated in developing Stow-Man[s].
The main advantages for liner shipping companies and their stowage planners can be summarised as follows:
Control of their own performance (dashboard)
Higher quality of stowage planning, including fewer re-stows
Multiple stowage plans in seconds
Economies of scale, thanks to higher capacity utilisation
Multi-port planning
Hours are usually needed for complete planning in the conventional way, taking into account the ideal trim, with as little ballast water as possible and including all safety rules. Stowage planners can now create several different scenarios and examine them from strategic aspects, instead of just a single stowage plan as used to be the case due to time constraints.
An iterative process thus produces an almost perfect stowage plan based on economic and logistical criteria. Increases in efficiency relate to front-haul utilisation, taking proactive account of the conditions at subsequent ports and flexible management of changes not known at the time of planning ('keeping doors open').
As a result, StowMan[s] creates an excellent basis for alternatives in an extremely short time. That is why INTERSCHALT also calls the solution a 'stowage decision support tool', one that is based on the latest technology of an optimisation engine and opens up a new dimension of stowage planning in conjunction with the stowage planner's know-how.
New VDR G4[e] as an exhibit
INTERSCHALT will also showcase the new Voyage Data Recorder G4[e] at SMM. The G4[e], the [e] stands for 'enhanced', meets the new IMO standards that have been in effect since July 1, 2014, but also offers far more, such as corridor tracking. In this, a defined corridor is laid over the ship's route. An alarm is triggered on a monitor on board and on mobile end-user devices, as well as on land (for example at the shipping company's fleet operation centre) if the ship departs from the set route.
Experts on land can provide support in an emergency. The award-winning system (Seatrade Insider Cruise Awards, Supplier of the Year 2013) increases safety at sea considerably.
The device offers completely new features in the shape of the software application Maritime Data Engine, which runs in the background and can be used to retrieve all VDR data almost in real time via FTP. The network-enabled microphones and Pic-Client are also new.
The advantages lie in compatibility
All INTERSCHALT software solutions can be used individually, but unfold their full potential optimally when working together: The Maritime Energy Efficiency Comprehensive Optimisation Suite (MEECOS) makes shipping more efficient, safer and more sustainable and covers the areas of stowage planning, load calculation, trim optimisation, weather-specific route planning, performance monitoring and fleet management.
The presentations will be held daily at the booths at the following times:
BLUETRACKER: 11am, 1pm, 3pm and 5pm.
StowMan[s]: 12pm.
For more information, please visit INTERSCHALT at SMM 2014: Hall B6, Booth 307 in Hamburg, Germany on 9 to 12 September 2014.