Marine Air Flow International
Engine Room Ventilation Systems for Ships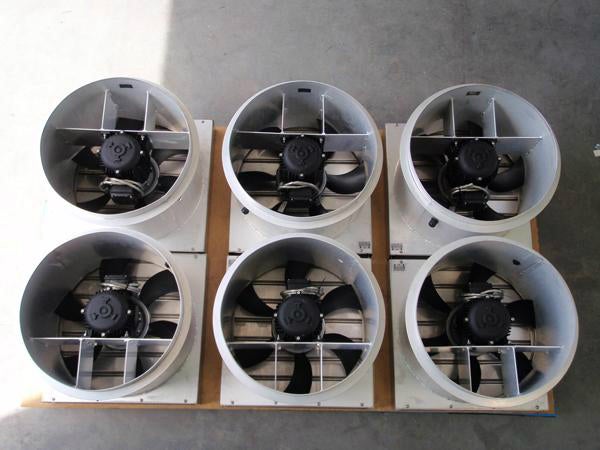 Marine Air Flow International manufactures air intake grilles, alternating current (AC) and direct current (DC) fans and fire flaps (air dampers) for marine applications.
The company's easy-to-install systems help clients combat engine room overheating, salt spray and mist, dust intake, equipment corrosion and smoky exhausts.
Our Australian-made products are packaged and shipped worldwide.
Engine room ventilation systems for marine vessels
Salt spray and mist in your engine rooms have traditionally been one of the most difficult issues to control. Marine Air Flow's moisture-reducing air intake grilles are designed to resolve this problem.
The company's solutions aim to minimise damage to engine room equipment, which can result in faulty turbo engines, blocked air filters, widespread corrosion and degradation.
Ventilation equipment is supplied with full installation kit and instructions, feature no moving parts, and is custom-made to suit a client's requirements.
Engine room fans
Marine Air Flow supplies AC and DC fans to assist with the induction of air in and around engine room.
Available in 12V or 24V variants, the fans can be used to supply combustion engines with air so that they can produce horsepower, as well as support combustion and cooling purposes.
The fans help engines to work more efficiently and extend the mechanical life of the equipment. It provides cooler operating conditions, which can enhance performance and extend the lifespan of engine room components.
Fans can be custom-made to suit a client's requirements, and supplied with a full installation kit and instructions. Variable speed controllers are also available.
Air intake grilles for minimised moisture in engine rooms
Marine Air Flow's engine room separator grilles are used to remove moisture from air being inducted into engine rooms.
Air intake grilles can help reduce operating costs and improve operating conditions in engine rooms.
Air dampers for fire safety
Marine Air Flow manufactures semi-automatic air dampers to restrict the air entering engine rooms to assist fire control. Air dampers are a necessity for any commercial in-survey vessel, and can also be installed on non-survey craft.
Air dampers can be triggered automatically or manually, and effectively close the air supply to the engine room to allow fire suppression equipment to work. They can also be operated independently or in conjunction with air intake grilles.
They can be mounted immediately to the rear of the grilles, on the bulkhead or deck head penetration, or any penetration that serves air into or out of the engine room.
The air dampers are manufactured to be any size or shape, and can be easily installed by owners / operators. Provided with manual or automatic release, the dampers are easy to reset after testing.
The systems comply with the National Standard for Commercial Vessels (NSCV) and Uniform Shipping Laws (USL), but can also be supplied to meet Det Norske Veritas (DNV) and Lloyds requirements.
Directional air diverters for AC and DC fans
Marine Air now manufactures and supplies directional air diverters that can be directly mounted on the discharge side of an AC or DC fan.
The direction is pre-set in the factory so clients will have to establish their required air discharge angle prior to manufacture.
Diverters are ideal for directing the air supply towards specific engine room equipment, enabling clients to provide air to a location that may not currently be in the main air stream.
Combination systems for marine vessels
The company supplies combination engine room ventilation systems that incorporate intake and outlet grilles, DC supply fans and air dampers. These systems are fully fabricated from marine-grade aluminium and can be powder-coated to suit your colour choice.
A full integrated system has the ability to separate spray, mist and water, but also supplies large volumes of fresh air, and closes off the air supply in case of engine room fires. Units can be installed through transom of the hull sides
The are an all-in-one unit that is simply installed from the external of the boat. They can be installed through transom of hull sides by simply cutting the appropriate size penetration and directly glueing / screwing the unit from the exterior of the engine room. The systems provide air flow without risking the ingress of salt mist and spray damaging your investment.
Our combination systems are typically used for small tight applications and restricted budgets, but high air demands.
Air on-demand systems for marine engine rooms
The company's air on-demand systems have been developed in-house specifically for marine engine room applications.
This pulse width modulation (PWM) DC motor controller provides a maximum continuous current of 50A to DC motors, due to its digital microcontroller-based (PIC) design and highly efficient 202A metal-oxide-semiconductor field-effect transistor (MOSFET).
The controller also offers a built-in soft-start feature that greatly reduces mechanical stress on the motor, as well as the electro-dynamic stress on attached cables and battery, while extending the lifespan of the system.
Fully automatic controllers to regulate fan speed
Marine Air Flow provides fully automatic controllers designed to regulate the speed of engine room fans. The controllers feature in-built probes that measure engine room temperatures and directly vary the speed in relation to that temperature.
This maximises performance with minimal power and sound levels in order to create a low-noise environment, while optimising protection for both crew and equipment. The controllers operate in a fixed mode but this can be customised if required.
Extraction fans for galleys and toilets
The company's extraction fans are designed to remove hot / stale air and odours from toilets, galleys and small rooms on ships.
The units incorporate a separator grille to prevent the ingress of salt spray, mist and rain, as well as a built-in shallow duct to mount a 240V AC extractor fan. The complete assembly is installed as an integrated unit on the exterior of engine rooms, making it simple and cost-effective.
Marine Air Flow International Images
Marine Air Flow International