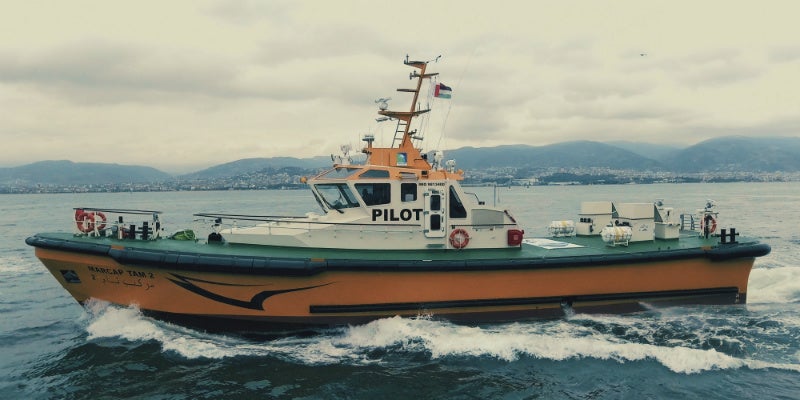 Macduff Ship Design is pleased to announce the successful trials and delivery of two 27m Pilot Vessels, built by Tor Marine in Turkey for Saudi Arabian owners. The vessel deliveries emphasise the continuing strong relationship between Macduff Ship Design and Tor Marine.
At 26.70m length overall – a generous length for a pilot boat – 7m beam and 3.34m depth, the vessels are each designed to carry eight crew and four pilots and operate in the Arabian Gulf. Classed to Bureau Veritas +Mach, Special Service / Pilot Boat with Unrestricted Navigation, propulsion machinery includes two Yanmar 12 AYM – WGT engines rated 1,340kW at 1,940rpm. The vessels each carry 25,000l of oil fuel and 11,524l of fresh water.
In order to optimise the hull-form, a 1:15 scale model was built out of wood and GRP and put through its paces at the Wolfson Unit for Marine Technology and Industrial Aerodynamics at the University of Southampton. Both resistance and sea-keeping tests were carried out in order to ensure the smoothest performance and optimum handling in a variety of sea conditions in the Arabian Gulf.
Following the final design stages and enhancing of the spray rail to improve seakeeping, Macduff Ship Design provided full construction and outfitting drawings to Tor Marine, who swiftly began the build process. The vessels were built and delivered in ten months to the Arabian Gulf ready to perform their duties.
During sea trials, the vessels performed admirably, exceeding all expectations. The owner specification was for the vessels to reach 14.5k at 80% of the engines' Maximum Continuous Rating, however on trials Marcap Tam 1 reached an impressive 16.2k at 80% MCR while Marcap Tam 2 reached 16k. Both vessels reached 18.1k at 100% MCR.
Macduff Ship Design and Tor Marine are looking forward to continuing their working relationship together on future designs.
Macduff Ship Design will be exhibiting at stand PY111 at Seawork International in Southampton from 13-16 June. We are excited to be once again meeting with new and existing clients and look forward to another successful event.
Macduff Ship Design provides naval architecture and marine consultancy services for commercial and fishing vessels. 
Macduff Ship Design completed work on the 90ft Atlantic Titan fishing vessel, which was delivered to Canada.