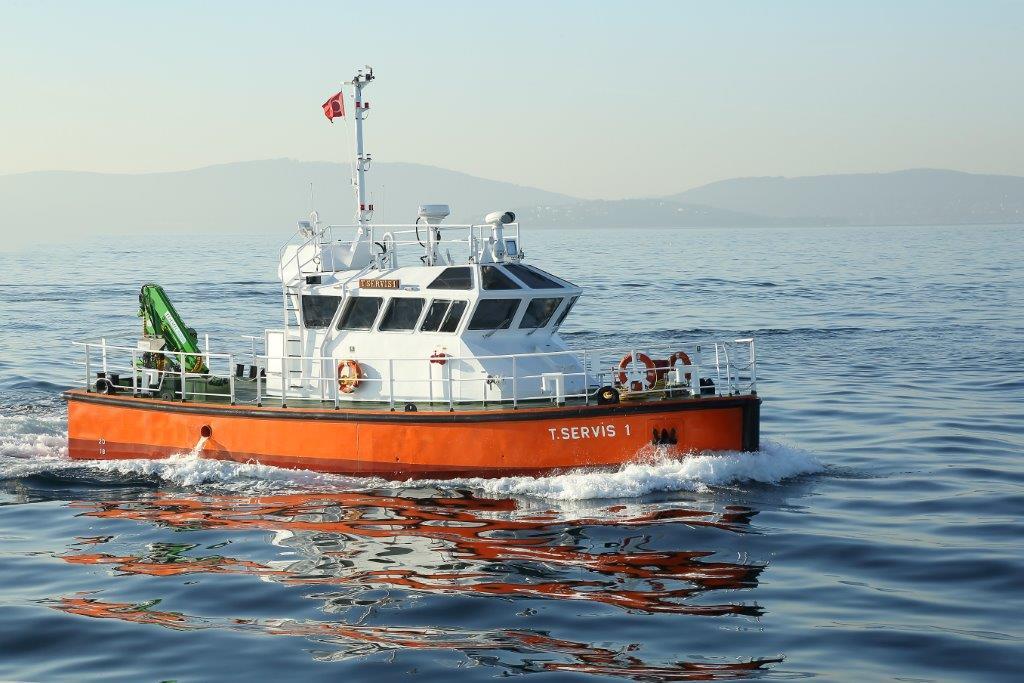 The first of two 14.90m service vessels, built by RMK Marine in Turkey and based on a design by Macduff Ship Design, was delivered to her local owners in February 2016. The second vessel is nearing completion and will be delivered in the next month. The two vessels are part of a larger order which also include five 10.10m mooring tugs and two 19m shallow draft ASD tugs.
The first service vessel performed to expectations at trials achieving all of the owner's varied operational requirements including the minimum 16k service speed. The vessel is designed as a multi-role harbour service boat with the ability to carry a maximum complement of ten people, but also has the ability to carry 5t of cargo on the aft deck.
There is a small Toimil Marine Crane T-055M/2 rated at 700kg at 6.85m aft to allow cargo to be lifted aboard without the need for outside assistance. She is powered by two Volvo Penta D16-750 main engines rated at 552kw at 1,900rpm driving 850mm diameter propellers through Twin Disc MG 5145 gearboxes.
The whole design creates a very versatile vessel being able to achieve a high speed for a vessel of this class, whilst still able to carry cargo and crew. The vessel was certified by Turk Loydu as a service boat and classed +1A5+M AUT-N Harbour Service.
Macduff Ship Design provides naval architecture and marine consultancy services for commercial and fishing vessels. 
Macduff Ship Design completed work on the 90ft Atlantic Titan fishing vessel, which was delivered to Canada.