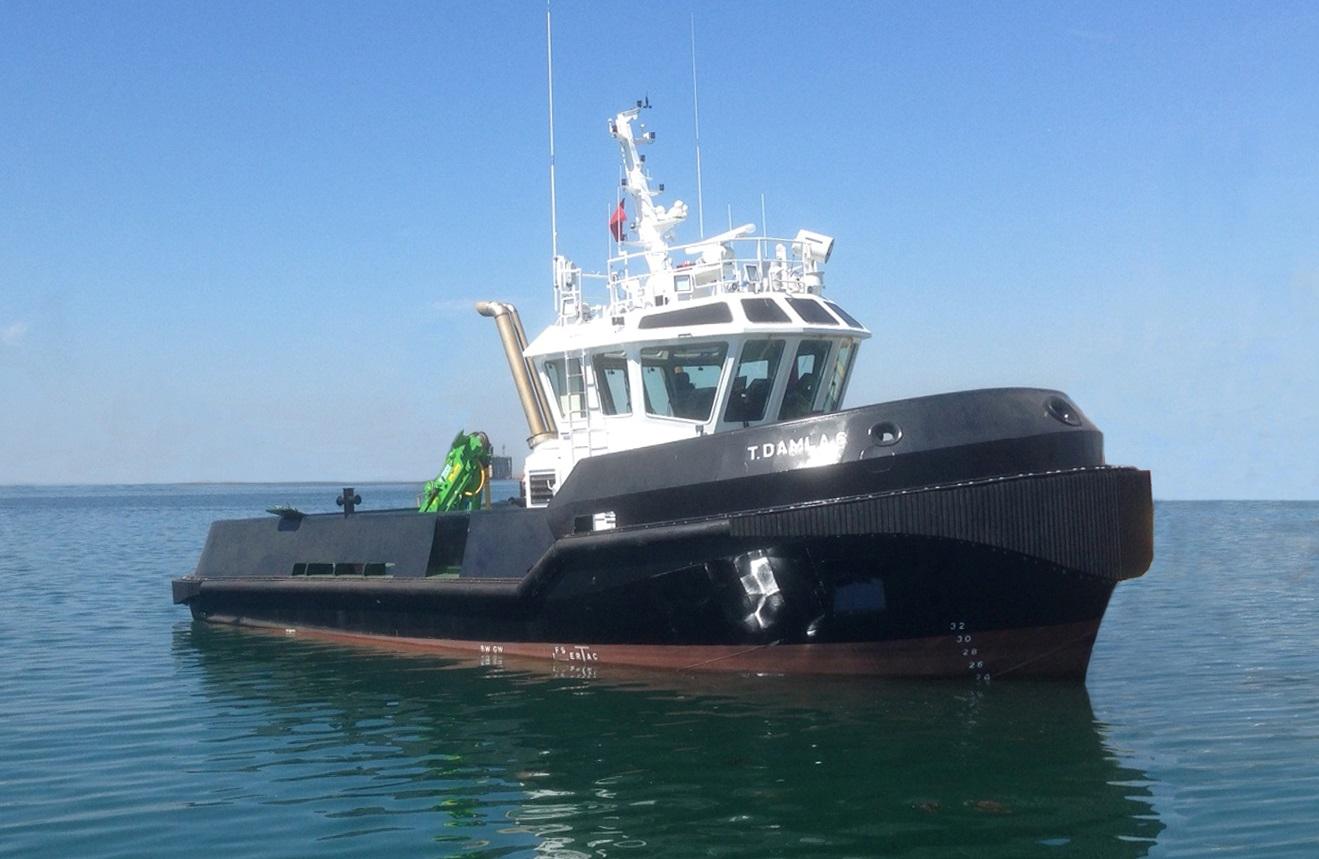 We are pleased to be able to announce the delivery of 'T.Damla 6' and 'T.Damla 7', both 19m shallow draught ASD tugs. The vessels have been completed after an 18-month collaboration between Macduff Ship Design (Scotland) and RMK Marine (Tuzla, Turkey) which has now seen the successful completion and delivery of nine new vessels to three different designs.
All nine of the contracted vessels have been built for the same local owner. The tugs have been built to ABS Class with the Notation +A1, +AMS, +ABCU, Towing Vessel, QR, BP(21), and UWILD.
On trials they have proven their exceptional performance for a vessel of this size, having achieved her contract requirements with a bollard pull in excess of 24t. The vessels are designed as multi-role ASD harbour tugs with the unusual fact that they have a draft restriction of 3m.
The vessels are propelled by two BERG MTA 316 ASD units which are driven by Caterpillar C32 main engines, rated at 746kW at 1,800rpm. On deck they are fitted with a 'H' bitt bollard both forward and aft of the wheelhouse, and to which are attached two 30t SWL disc-type towing hooks.
On the aft deck is fitted a Toimil T-10500 marine crane for cargo operations as well as a capstan, with an electric windlass forward. There is also a fire monitor with a 600m³/hr fire pump fitted to the port main engine. The vessel has a half-height raised wheelhouse which gives excellent all-round visibility when conducting towing operations. Below deck is fitted with crew accommodation for four, in two cabins. There is also a common WC and shower space as well as a spacious galley and crew mess area.
Macduff Ship Design provides naval architecture and marine consultancy services for commercial and fishing vessels. 
Macduff Ship Design completed work on the 90ft Atlantic Titan fishing vessel, which was delivered to Canada.