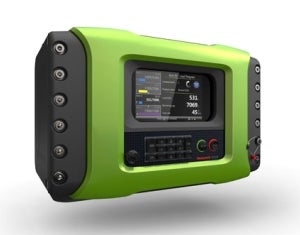 Honeywell Enraf has introduced the Fusion4 MSC-L, the company's most sophisticated multi-stream controller for loading products from refineries and chemical plants into transports such as railcars, tankers and barges.
Highly accurate, scalable and versatile, Fusion4 MSC-L offers a ground-breaking, intuitive device interface to enable every installation, operation and maintenance function to be controlled in the field using a large display and integrated keyboard that works as a complete hazardous-area operating station. The controller can operate up to six loading arms simultaneously, providing safe, reliable control for road loading, as well as tank farm transfers and marine and rail terminal operations.
Honeywell Enraf general manager Richard Thompson said: "The Fusion4 MSC-L lets operators do more with less. It can control more streams with high accuracy than any other device, so users need fewer units. The intuitive interface and display give those in the field full system visibility and control to get more done in less time. The new controller is a hands-on tool for day-to-day terminal operations."
Like the other devices in the Fusion4 portfolio covering blending and additive control, MSC-L offers an innovative user experience. Based on mobile phone and tablet computing apps, on-screen icons make the device uniquely intuitive, cutting training times and reducing the risk of human error. Combined with the installed keyboard, it offers simple, secure and fully functional control of the loading system from the unit itself.
Other MSC-L features are also designed with a focus on cost-effectiveness and versatility:
"The new controller is a hands-on tool for day-to-day terminal operations."

A hazardous-area, explosion-proof design
Unique live data transfer in hazardous areas, with safe, secure two-way data communication using the handheld Fusion4 local access device for rapid transfer of transaction data, configuration files and calibration records
User-configurable and expandable I/Os
Start-up in less than one minute, with calibration wizards and zero downtime upgrades
Real-time stream, I/O type and system diagnostics
Advanced alarm handling for twice as many alarms as any other available device
Compatibility with Honeywell Enraf's safe-area device monitoring software package Fusion4 Portal for remote monitoring and configuration of hazardous-area devices, as well as MID-approved bill of lading printing, scheduled summary printing, alarm management and transaction audit trails to boost efficiency and compliance
The modular design enables legacy Honeywell Enraf systems to upgrade cost-effectively, while multiple protocol libraries and communication network capabilities offers seamless, cost-effective integration with other industry standard terminal automation systems to avoid expensive alterations to existing equipment.
The Fusion4 MSC-L completes the Fusion4 portfolio to provide a comprehensive solution for loading, blending and additive control that includes the Fusion4 MultiPak multi-stream additive controller, Fusion4 MiniPak single-stream additive controller and Fusion4 BioBlend and Microblender blend controllers. Combined, they offer even greater functionality, building on Honeywell Enraf's legacy and a worldwide installed base of loading, additive and blending controllers.
To learn about Enraf Tanksystem's service stations for HERMetic Products, please download this free document.