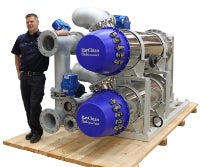 DESMI Ocean Guard's RayCleanTM BWTS has been selected for installation on a series of new container vessels for Maersk Line.
The vessels will be built at COSCO Zhoushan Shipyard, and the ballast water treatment systems (BWTS) will all be delivered in 2016 and 2017.
The order is for seven vessels, each equipped with two RayCleanTM 500 BWTS. Furthermore, the order includes options for two additional vessels.
Maersk Line spokesman Michael Heimann said: "We are pleased with our cooperation, based on which we are comfortable that DESMI Ocean Guard can deliver the right system for this project."
DESMI Ocean Guard CEO Rasmus Folsø added: "We are very pleased with this contract, which is the fruit of a very long and pleasant collaboration with Maersk."
The RayClean system was developed in close collaboration with Maersk Line, and therefore the system meets the requirements of the shipping giant for proven performance under all conditions, low operational cost, and ease of use.
"Total cost of ownership analyses have shown us that the RayClean system will provide considerable operational cost savings to Maersk Line compared to competing systems, due to the low power consumption and long lifetime of the UV lamps.
"At the same time, the RayCleanTM system is certified for use in all salinities and, down to extremely low UV-transmission levels, is not matched by any other system on the market."
UV-transmission is a measure of how dirty and challenging the water is to treat for a UV-based system. The lower the UV-transmission, the more challenging it is to treat the water, according to the IMO and US Coast Guard discharge standards.
Another deciding factor for the selection of the RayClean system was that the system has completed all the required testing for US Coast Guard Type Approval, and a full-type approval application was submitted to the USCG earlier this year.
This contract for DESMI Ocean Guard is the latest in a string of contracts, including supply of RayCleanTM system for the Royal Canadian Navy's new Arctic Offshore Patrol Ships, and retrofit projects on Danish shipowner Nordana existing vessels.
DESMI Ocean Guard now presents a line of new and smaller ballast water management systems (BWMS) that completes a full range of BWMS.
Systems must start up and run reliably and also treat the water in accordance with the IMO and USCG standards.
It is of utmost importance that the crew has been familiarised with water management systems and has enough knowledge to operate and maintain the system.